Even though camera stabilization is improving with each iteration, the increasing megapixels are picking up even finer details in our photos, creating a demand for tack-sharp images and an even greater demand for tripods. A tripod for Canon Rebel T6/T7 will help you capture impressively clear photos.
A tripod is a must when looking to take fabulous shots of nature, the night sky, portraits, or even a selfie. A tripod helps you keep the camera steady so that the images don't turn out blurry from subtle movements found while hand-holding your camera.
It would be best if you had a sturdy tripod for shooting long exposures (~1 second or more) because your hands aren't stable enough.
The question isn't, "Do I need a tripod?" But instead, "Which tripod should I get?" There are many available options on the market, and this article will help you find the best tripod for Canon rebel T6 and T7 cameras with a mandatory buying guide.
Let's dive in:
What is the best tripod for Canon Rebel T6 & T7?
I've compiled 5 great options for you to consider plus a bonus option at the end for those getting started with photography.
Our Pick
GEEKOTO 75-Inch Professional Tripod
The center column can be used vertically or horizontally. The four leg sections can be easily adjusted with a screw-type knob. The bubble level can help you quickly find the balance point of the rack. This tripod is equipped with a 360-degree panoramic view and a metal rotating ball to ensure accuracy when photographing.
Key Features:
Weight: 4.38 pounds
Dimension: 18.9 x 4.13 x 4.13 inches
Material: Carbon Fiber
Max. Capacity: 26.5 Pounds
Max. Height: 75 Inches
Min. Height: 18.88 Inches
Leg Sections: 4
Pros:
Durable aluminum alloy frame.

Extends from 24 to 75-inches.

Supports horizontal and vertical shooting. The detachable leg can be utilized as a monopod, selfie stick, or walking stick.

Great for heavy cameras + lenses.
Cons:
Might be a bit heavy for travelers as it weighs 5.75 lbs.

The horizontal arm slags sometimes.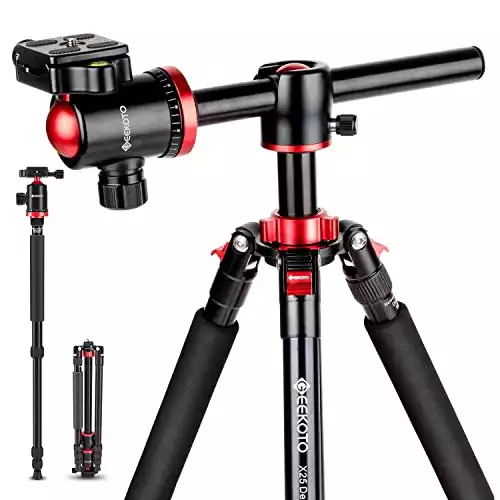 We earn a commission if you make a purchase, at no additional cost to you.
GEEKOTO is a Chinese brand famous for making high-quality camera accessories at cheap prices. GEEKOTO X25 professional tripod is a high-quality, strong, and luxurious from the manufacturer.
Durable
GEEKOTO X25 is made of carbon fiber, the most durable tripod on my list. Not only durable, but the tripod is also amazingly stable. The large magnesium-aluminum tube has a high load capacity, while the anti-slip design ensures the safety of your camera when flying.
Accurate & Flexible
The tripod features a bubble level, ensuring you get the highest balance while capturing photos. The center column can be rotated both vertically and horizontally, allowing you to have panoramic shooting.
360˚ Panorama
The tripod's ball head carries a 360˚ panorama used for wide-angle macro photography. This is a prominent selling feature for the tripod.
Cost-Effective
The GEEKOTO X25 is packed with features that high-end camera tripods possess. But, this tripod's price isn't much compared to them. Chinese manufacturer of durable products is the possible answer for this. Whatever the reason, you won't find this quality tripod at this price range from any brand.
Summary
GEEKOTO X25 isn't for travel photographers. However, if you don't roam with your tripod so much and looking for a premium tripod at a cheap price, I recommend you try this tripod.
Stable & Versatile
Amazon Basics 60-Inch
Lightweight tripod with adjustable height legs and rubber feet. Extends from 25 to 60 inches when the center post is fully extended. Two built-in bubble view levels and a 3-way head to allow for tilt and swivel motion. The quick-release mounting plate helps ensure fast transitions between shots.
Key Features:
Weight: 2.72 Pounds
Dimension: 24.21 x 4.4 x 4.1 inches
Material: Aluminum
Max. Capacity: 6.6 Pounds
Max. Height: 158 cm
Min. Height: 60.5 cm
Leg Sections: 3
Pros:
Includes a quick-release plate.

Legs are equipped with thick rubber feet.

Carrying case included.

Affordable tripod.
Cons:
The tripod doesn't quite fold up as advertised; claiming it to be travel friendly.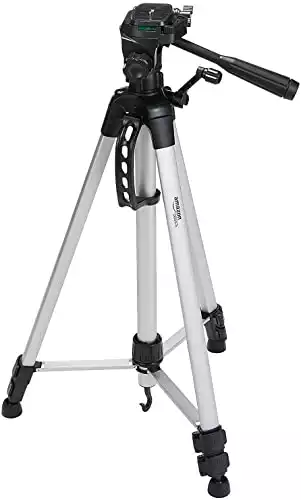 We earn a commission if you make a purchase, at no additional cost to you.
The Amazon Basics 60-Inch Tripod is one of the best mid-weight tripods for those who seek a stable and versatile tripod within a budget. The camera is compatible with most video and digital cameras, including the Canon rebel T6.
Lightweight
Like most Amazon basics products, the 60-Inch tripod is made of aluminum, making it lightweight. Again, the hard plastic that is used during construction makes it durable.
Height Adjustment
The tripod features a height adjustment that allows you to get the perfect height every time. The small handle lets you move, tilt, and swing vertically, while the large knob allows panning of the area.
Bubble Levels
The most fantastic feature of the tripod is its built-in bubble view levels for outstanding stability. These are located above the legs, which allow you to determine whether the tripod is perfectly leveled or not. The first level ensures the platform is even, while the other ensures the vertical adjustment is level. The feature comes in handy, especially while shooting still images.
Summary
Amazon Basics 60-Inch tripod is a compact tripod used at different places. Even though the tripod is used by many professionals, it's recommended for beginners. However, if you want to start with a much lighter and comparatively inexpensive one, the Amazon Basics 50-Inch Tripod is also a great option.
Great Studio Option
Vanguard Alta Pro 263AP
Hexagon-shaped central column moves from 0 to 180 degrees. Premium magnesium die-cast canopy and anti-shock ring. The legs have settings for 25°, 50°, and 80° with easy-release buttons for quick set-up. Instant ISSL System securely repositions the central column in one simple movement.
Key Features:
Weight: 5.73 Pounds
Dimension: 29.5 x 8 x 8 inches
Material: Aluminum
Max. Capacity: 11 Pounds
Max. Height: 69.88 Inches
Min. Height: 28.5 Inches
Leg Sections: 3
Pros:
The build quality is phenomenal when compared to other premium tripods.

Pin-point stability makes it perfect for landscape photography.
Cons:
The tripod is bulky and heavy, so it isn't travel-friendly.

Locks on the legs stop working after a while.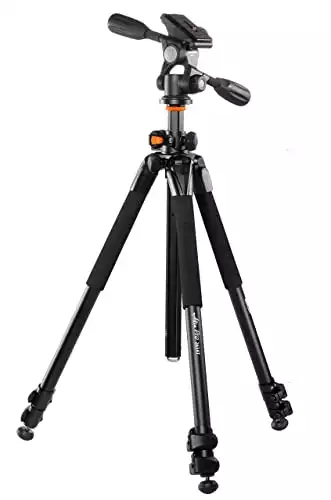 We earn a commission if you make a purchase, at no additional cost to you.
The Vanguard Alta Pro 263AP is a top-of-the-notch tripod popular amongst photographers. That's for all good reasons starting from its robust build quality, stability, and versatility.
Reliable Build Quality
Vanguard is famous for producing high-quality accessories, and Alta Pro 263AP is no exception. The aluminum alloy used in construction provides much strength to the body. The die-cast magnesium alloy is used to magnify the strength of some of the joints and components.
Lifewire a well-recognized tripod reviews site, quotes about the Alta Pro 263AP "The main pivot on the mounting mechanism is the SBH-100 ball head which we found to be among the smoothest movements on any tripods we've tested."
Premium Features
The Multi-Angle Central Column (MACC) feature lets you move the central column at different angles vertically and horizontally. It allows you to go for macro-photography or sometimes wide-angle at ease.
The carbon fiber legs can be extended to 56 inches and pivot outward at different angles. The flip and twist locks can easily lock the angles for a hassle-free set-up.
Worth the Money
The Vanguard Alta Pro 263AP is priced at over $200, which undoubtedly gives it a tag of an expensive and professional camera tripod for the Canon Rebel series. The high-end tripod is sustainably built and provides out-of-the-box performance for the money.
Though you have lots of inexpensive options, considering the two years of the warranty period and the option of extending the warranty for ten years should justify the price.
Summary
Vanguard Alta Pro 263AP may not be a companion to travel with, but it's outstanding for studio photography. This tripod is for professionals who want a rock-solid tripod for their cameras.
Most Flexible
Joby JB01507 GorillaPod
Wrappable legs allow you to secure professional camera equipment to virtually any surface. 360 Degrees panning bed and 90 Degrees tilt and bubble level for optimal position control. Video lights or any device weighing less than 3 kg.
Key Features:
Weight: 13.8 ounces
Dimension: 2.36 x 2.56 x 12.01 inches
Material: ABS, Carbon Fiber
Max. Capacity: 3 Kg
Max. Height: 30 cm
Leg Sections: 1
Pros:
Designed with durable materials.

Versatile functionality.

Great precision control.

Travel Friendly.
Cons:
The flexible legs can't be extended like the regular tripods.

Need time to master controlling the legs.

Possibility of leg joints getting loose over time.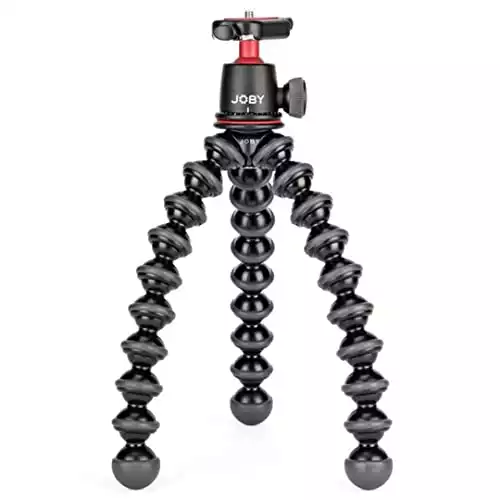 We earn a commission if you make a purchase, at no additional cost to you.
The Joby GorillaPod JB01507 may not extend like regular tripods, but people love its flexibility which can also be used as a stabilizer.
Flexible Legs
The Joby GorillaPod comes with wrappable and flexible legs to quickly get the perfect height and angle. Also, it allows you to shoot on any surface.
Ball-Head Mount
The tripod's ball-head mount offers a smooth 360° panning and 90° tilt movement. Again, there's a bubble level for optimal position control horizontally.
Snap-In Mount
The tripod's mounting plate is a snap-in mount that is very easy to use. You can connect or disconnect anytime with a single hand.
Travel Friendly
The Joby GorillaPod is a compact tripod to be carried while traveling. It doesn't use as a tripod only, also is utilized as a stabilizer.
Another selling point of the tripod is its payload capacity. Despite being very lightweight, it can hold up to 6.6 pounds, which is impressive. It also proves the tripod's strength, making it the best tripod for Canon 6D Mark ii.
Summary
The Joby GorillaPod JB01507 is a nice little tripod. It's recommended if you need to travel with a tripod frequently.
Compact Option
Bosch BT150
The Bosch BT 150 is compact, portable, and lightweight with collapsible legs. Provides extendable height adjustments so the user can expand the tripod from 22 to 61 inches. Features a steady adjustable base that swivels and tightens for precise positioning.
Key Features:
Weight: 2.0lb
Dimension: 23 x 4.5 x 4.25 inches
Material: Aluminum
Max. Capacity: 5 lbs.
Max. Height: 61 Inches
Min. Height: 22 Inches
Leg Sections: 3
Pros:
Compact and lightweight.

Height-adjustable legs allow you to position the camera low or high.

Extremely easy to use.
Cons:
Even though the parts are sturdy, the headgears are a bit sloppy, which sometimes makes it harder to adjust precisely.

We earn a commission if you make a purchase, at no additional cost to you.
Here's another lightweight and good tripod for canon rebel T6. The Bosch BT150 weighs only 2 lbs, allowing you to carry the kit wherever you take the camera with you.
Height Adjustment
The Bosch BT 150 has extendable height adjustment legs to expand it from 22 to 61 inches at different applications.
Moreover, the tripod has an excellent adjustment crank, enabling quick setup with the benchmark anytime.
Compact
The Canon tripod is a compact and lightweight device that makes it easy to carry and transport.
Compatibility
Bosch BT 150 comes with a 1/4-inch to 20 mounting thread of detachable base for conveniently attaching your device on or off the tripod. It is compatible with the Bosch line and points lasers for different applications apart from connecting to your camera only.
Summary
Bosch is one of the most reliable accessory manufacturing brands you've heard about. Bosch BT 150 is also a reliable entry-level tripod that might not be the cheapest on the list but is still very affordable.
The kit only carries BT 150 Compact Tripod.
BONUS: Starter Accessory Kit, Complete with Tripod
If you want a complete set of camera accessories, Ultimaxx 58MM Accessory Kit is the best option. The kit includes a telephoto lens, wide-angle macro lens, batteries, travel charger, tripod, backpack, memory card, card reader, lens cleaning pen, and more. This is undoubtedly the best buy if you are interested in wide-angle macro photography.
Great Starter Kit
Ultimaxx 58MM Accessory Kit for Canon EOS Rebel
Complete accessory kit for Canon Rebel T6 & T7 with all 58mm lenses. Kit includes 2.2x Telephoto Lens, 0.43x Wide Angle Macro Lens, 72" Monopod, 50" Tripod, Professional Backpack, and SanDisk Ultra 64GB Memory Card.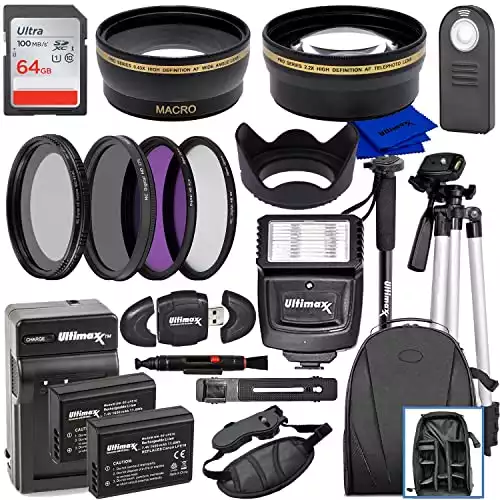 We earn a commission if you make a purchase, at no additional cost to you.
How to Choose the Right Tripod for Canon Rebel T6 for You?
Well, being a three-legged frame typically, a tripod's main objective is to provide stabilization. Its build quality needs to be reliable for precise stability for a long time. Like the build quality, there're lots of other factors you need to consider before buying a canon rebel t6 tripod.
Material
Today, most tripods are constructed with aluminum, magnesium, or carbon fiber. Aluminum is the cheapest material available, but it weighs more. Carbon fiber is the lightest but a bit expensive, while magnesium is somewhere between.
The trade-off is that the aluminum tripods tend to age much quicker than the carbon fiber ones. Also, they may rust over the years of use, while carbon fiber stays from rust.
If you use the tripod occasionally once or twice, the aluminum tripod may be an option. On the other hand, if you need it frequently, you must consider a carbon fiber-made tripod as a long-term investment.
Weight
This is the most critical factor when buying a tripod for a camera. You have two things to consider in this category. How much the tripod weighs and how much weight it withstands indicates how much payload it can bear.
If you want to travel from place to place with your setup, consider buying a lightweight tripod that is ideally not more than 3 lbs. However, lightweight tripods usually offer fewer payloads which might bother you, especially having a DSLR like a Rebel t6.
Here's a trade-off for you. Check back how much weight the tripod for cameras withstands before buying. If it can hold your canon rebel t6 perfectly, it's the one!
Many people search for a canon rebel t6 tripod with a remote. This feature may be helpful but make sure the canon camera tripod with remote has other prime qualities. Especially if the device can't hold your camera, what's the point of shooting remotely?
Adjustable Height
Height is always a concern for photographers who seek tripods for canon cameras. You never know what level of height you need in any given situation. So, it's better to look for tripods for cameras that offer adjustable heights.
You can change the tripod's height depending on the height and distance of the subject you want to capture.
Tripod Head Type
The tripod head holds your camera to the tripod. There're different tripod heads, including pan-tilt, ball, and gimbal heads, though most manufacturers offer a ball head with the purchase.
The pan-tilt head offers the best control over both horizontal and vertical movements. Ball heads are quick to capture, and gimbals are for professionals.
For beginners, the ball head type is the best option. Having said this, the tripod head you choose largely depends on your personal preference.
How Did I Pick?
After going through the buying guide, you've probably guessed how I picked the products for you. I considered the build quality at first. Canon rebel t6 tripod mount size is also essential to consider. Then, performance was my concern. The Canon tripods should deliver the best performance considering their prices.
The weight and payload capacity were also determining factors. I've considered travel-friendly, lightweight tripods as most photographers carry them everywhere. However, there're professional tripods as well on my list. I hope you find the best tripod for the Canon EOS rebel t6 for you.
Conclusion
So, you've seen many options if you're searching for a tripod for Canon rebel t6. I'll update the list whenever I find one worthy of being here. So, don't forget to check the article once in a while if you've not found a suitable one yet.
A tripod may add some weight to your backpack, but it helps you capture the best images. So, choose one wisely and patiently. Good luck.
Related Posts: