To take advantage of the latest camera technologies like Sony A6000, you need a premium tripod. This is why it's important to match your equipment with one that has stability and can withstand any weather conditions while capturing sharp pictures in every situation – even for long exposure shots!
Outdoor photographers love using tripods because they ensure ultimate image quality no matter what happens during photo time-lapses or panoramic landscapes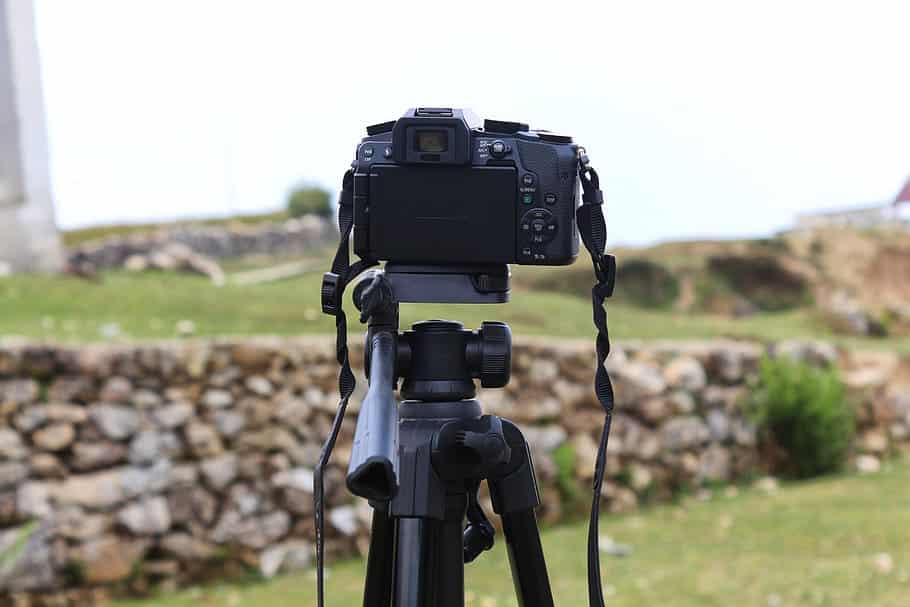 The list below features our top picks among many others:
What is the Best Tripod for Sony A6000?
Here are some of the dependable tripods for basic use when shooting long exposure photos or just extra support for your setup.
Best Overall
Manfrotto Compact Advanced
Key Features:
Head Type: 3 way pan-tilt
Weight: 3 lbs.
Minimum Height: 44.5 cm
Maximum Height: 165 cm
Number of Legs Section: 5
Material: Aluminum
Load Capacity: 6.6 lbs.
Pros:
High-quality, well-made, aluminum tripod

Affordable price point

Lightweight yet sturdy.

Headlock is secure

The locking wheels work as intended and latch securely.
Cons:
No zipper in the carrying bag.

A shoulder strap would be nice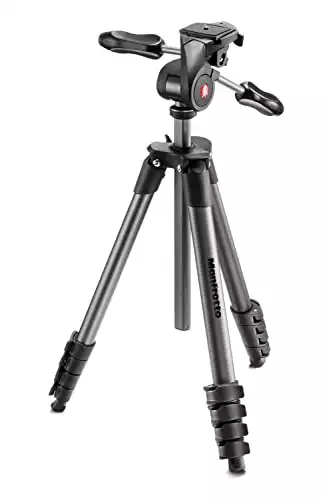 We earn a commission if you make a purchase, at no additional cost to you.
Pan and Tilt Head
This tripod allows you to rotate its head independently along two axes with a 3-way pan and tilt head. As a result, it can provide excellent stability and accuracy while framing your object. Making a minor adjustment to the camera has become a breeze for this kind of head type.
There are two separate ergonomic levers to position the head precisely—one for controlling the pan and tilt movement and the other for leveling simultaneously.
With these two levers, obtaining level, well-framed images and regulating all the movements independently has become more accessible. For added convenience, these levers are foldable to maximize portability. So, when the head is not in use, you can quickly stow and conveniently carry this tripod.
Ultra-Lightweight
Another reason to add this to your camera collection is its weight. It's only 3 pounds, so it will be easy to carry around without effort or awkwardness.
Portable Design
Thanks to its 5-section leg design, this 65-inch long camera stand becomes just 17 inches when folded, which is why it's so easy to pack it up and take it wherever your travel adventures take you. For safe transportation, the manufacturers have provided a padded carrying bag too.
Universal Compatibility
This rock-solid tripod is widely compatible with a standard zoom lens and entry-level DSLR. It has a quick release plate with a ¼ -20" screw which allows compatibility with standard DSLRs weighing up to 6.6lbs.
Runner Up
Endurax 66
Key Features:
Head Type: 3 way pan-tilt
Weight: 3.3 lbs.
Minimum Height: 17.5cm
Maximum Height: 66 cm
Number of Legs Section: 5
Load Capacity: 11 lbs.
Pros:
Professional-grade aluminum.

Thick tubes make it super solid and sturdy.

The pan head, quick-release plate, and tightening knobs are plastic-made but high-quality.

3-way pan head with 360° rotation allows for tilt and swivel motion.
Cons:
The mounting screw on the removable plate barelu stays in place.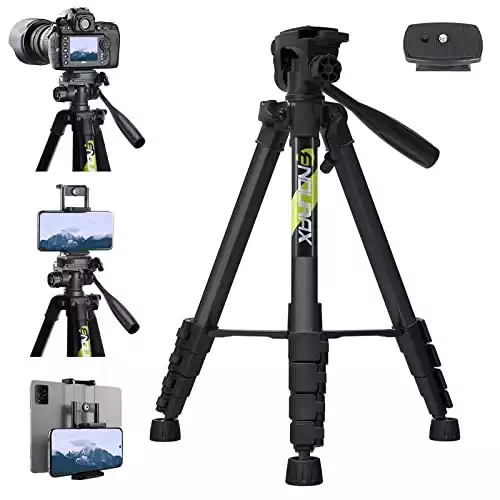 We earn a commission if you make a purchase, at no additional cost to you.
Tall Camera Stand
With 66-inches of maximum height, this tripod for Sony A6000 can meet your various shooting needs. Like the one mentioned above, it has 5 section legs too. So, when folded, it's just 18-inches which can fit into any size camera bag. You can quickly adjust its height using the flip lock system.
Universal Compatibility
Thanks to its 1/4″ quick release plate for being compatible with Nikon D3500, Coolpix D5600, D750, D3200, D5100, d90, Canon EOS Rebel, Sony A6000, and more. Moreover, it has a quick and easy setup smartphone mount too.
Ultra-Stability
This product hits all the sweet spots, a lightweight tripod for Sony A6000. Unlike the cheap-made ones, it is built with a premium thick aluminum tube and precision-injected plastic pan head and knobs–making it solid and sturdy yet lightweight.
The non-slip rubber feet ensure it stands firmly on any terrain. There's a weight hook at the bottom of the center column where you can attach extra weight when you need to be extra safe with your rig.
Improved Bag Design
This Sony A6000 tripod has a carrying bag for easy storage and transportation. The manufacturers recently upgraded its design and provided a more oversized bag. Now it can hold the stand fully assembled without removing the swivel feet.
Budget Pick
Amazon Basics Lightweight Camera Tripod
Key Features:
Head Type: 3 Way Pan-Tilt
Weight: 1.25 lbs.
Numbers of leg section: 3
Material: Aluminum
Minimum Height: 16.5 inches
Maximum Height: 50 inches
Load Capacity: 4.4 lbs.
Pros:
No compromise with the quality; making a solid budget camera tripod.

The zippered carrying case will be handy for transportation and storage.

Its appearance is sleek and functions well.

Users reported the moving parts works smoothly and its extremely lightweight.

The height is sufficient.

Can be folded as used as a small tripod.
Cons:
It shows wobbling issues sometimes when it is fully extended.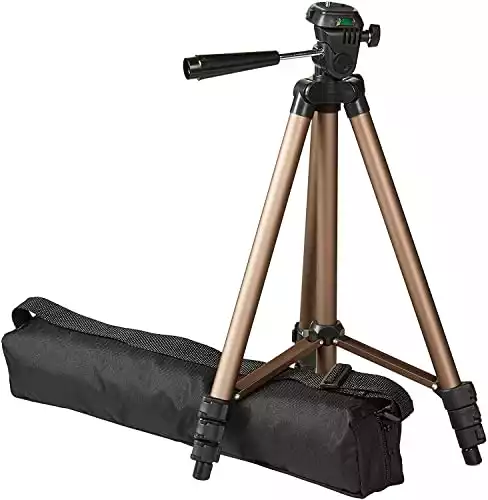 We earn a commission if you make a purchase, at no additional cost to you.
Value for Money
This decent, high-quality Sony A6000 tripod is a steal at this low price. Don't be misled seeing its price tag; it has all the premium perks like more expensive ones. The appearance is sleek and professional, and the color is nice too. For those with a limited budget, here's an inexpensive option for you with unbeatable quality.
Travel-friendly Design
Users love the fact of how light in weight it is. It's only 1.25 pounds so imagine how easy it will be to carry this thing while hiking or traveling. It's only around 16 inches when folded, so packing it inside the carrying bag will be a breeze too. The adjustable height range is perfect for tabletop or regular use. Considering all these factors, it's safe to say that it's a great travel tripod option for Sony A6000 and other DSLRs.
3 Section Lever-Lock Legs
Because of 3 section legs, there are fewer moving parts, making it sturdier and more stable. Adjust each leg individually to whatever height you need and lock the legs to capture photos securely. The feet are rubberized to stand firmly on a variety of terrain conditions.
Quick-Release Plate
To help with fast transitions between shots, this tripod is equipped with a quick-release mounting plate. The head is a 3-way pan-tilt head that supports 360° swiveling and a smooth tilt mechanism to get the perfect shooting angle.
Here's a tip to noticeably improve its stability: Fully extend each leg section first. Now, push every section precisely one inch back into the larger section and then lock it. You will lose 3 inches in height, as now it's 47inches instead of 50inches, but this way it's way more stable with little or no wobble. A phone holder would be handy too.
Carbon Fiber
MeFOTO GlobeTrotter Carbon Fiber Travel Tripod
Key Features:
Panning Range: 360°
Tilt Range: -45°/+90°
Weight: 3.7 lbs.
Numbers of leg sections: 5
Material: Carbon Fiber
Minimum Height: 16.1 inches
Maximum Height: 64.2 inches
Maximum Load: 26.4 lbs.
More Features: Arca-Swiss QR plate, Bubble Level, Zippered bag with shoulder strap, etc.
Pros:
Lightweight frame because of Carbon Fiber.

180° inverse folding option.

Monopod conversion.

It supports up to 26.4 lbs. making it perfect for your DSLR and larger lenses.

5 year warranty.
Cons:
Expensive but justifiable.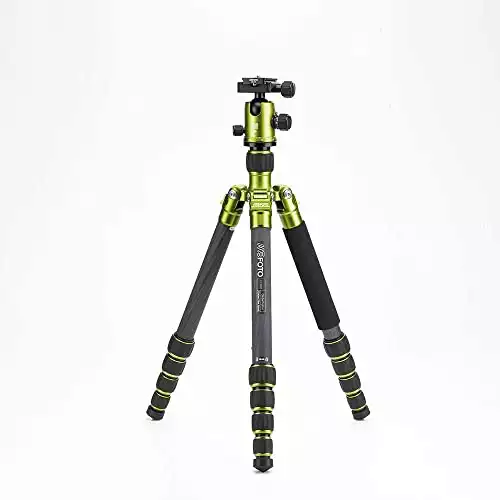 We earn a commission if you make a purchase, at no additional cost to you.
Arca-Swiss Style Compatibility
This stand comes with a precision-matched Q series ball head for easy camera positioning. It supports 360° panning so clicking the accurate panoramas are not a farfetched dream anymore. Uneven pans and head movements are avoidable by equipping an Arca-Swiss style compatible quick release plate and integral bubble level.
Monopod Conversion
It is a unique tripod on my list, turning into a full-size 64.2 inches monopod. You can convert it into a monopod when necessary by screwing its removable center column and tripod legs. There's a foam grip on it for extreme temperatures when the tripod legs get heated up or freeze over.
Center Column Hook
The removable center column comes in handy whenever you need more height than the maximum. Besides, there's a hook beneath, so adding extra weight to the tripod's center of gravity increases its stability and steadiness.
Anti-Rotation Locking Legs
Its twist lock anti-rotation legs enable fast and fumble-free set-up—moreover, its weather and dust resistance. The tripod legs can be inverted and folded back 180° making it small enough to carry just about anywhere. Besides, you're getting a zippered carrying case with a shoulder strap for easy transportation.
Best Mini Tripod
JJC Mini Tabletop Tripod
Key Features:
Head Type: Ball head
Weight: 0.25kg
Material: Aluminum
Minimum Height: 4.5inches
Maximum Height: 10.1inches
Maximum Load: 4kg
More Features: Arca-Swiss QR plate, Removable center column, carrying bag, etc.
Pros:
The head ball operates smoothly and softly.

Its lock knobs are well-built and function seamlessly.

Because of its stainless steel build, it's long-lasting, stainless steel, and sturdy enough to hold up to a 4kg load. As a result, it can be carried in your pocket, belt, or small camera bag. The feet can be folded up or down by 180°, only 4.5 inches. Legs have rubber ends for less slippage.
Cons:
It can be a little unstable in windy conditions with the center column attached.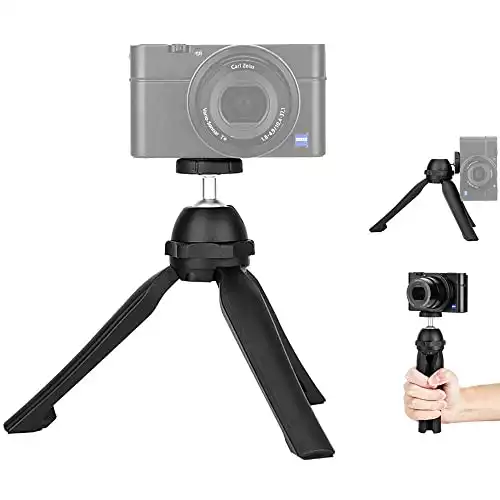 We earn a commission if you make a purchase, at no additional cost to you.
Tabletop or Handheld Design
Here's a mini tripod you should check out for those searching for a light, travel-friendly camera stand for their vlog shootings. It has an excellent stainless-steel construction making it sturdy for outdoor use. You can use it on a tabletop or fold the legs and turn it into a monopod for handheld applications.
Adjustable Shooting Angle
Thanks to its ball head, you can rotate your camera about any position to get the perfect angle. It has 360° rotation, and you can lock and release its position with only one click as it features an Arca-Swiss compatible quick release.
Removable Centre Column
It has a center column that can be extended by 8.5cm when you need more height than the maximum. Again, you can remove it for more stability and attach the rig to this tripod's shoulder.
How I Picked the Best Tripod for Sony A6000
After reading the buying guide, you can probably guess how I chose the camera tripod for Sony A6000 for you. I considered sturdiness, stability, and performance. The build quality comes first. With cheaply-made tripods, you will never be able to use tripods for stability. A well-built aluminum camera stand will be both lightweight and affordable. Carbon fiber is lighter than aluminum, but it's slightly more expensive.
The compatibility and weight capacity were also determining factors, with leg design being another central point to ponder. I kept the user feedback in consideration too. All I can say is I've included only the best sony a6000 compatible tripod here in my list.
What Type of Tripod Do I Need For My Sony A6000?
Are you into travel photography or want a reliable one for indoor shooting? If you travel, how much weight are you willing to carry? Buying a good tripod for Sony A6000 can be a breeze if you figure out what you want from your camera stand.
The expected height range for tripods is 50-63 inches from the ground. But if you're taller than an average person, buy the right-sized one depending on your height. However, make sure its height is perfect for carrying when traveling. Also, pick a lightweight one for easy maneuverability.
In this context, the five sections' leg designs are the best as they are the smallest ones when folded. As a result, you can easily pack it up in your camera bag and hit the road. On the other hand, some say the 3 section designs are way more sturdy and less prone to mechanical issues because of having way fewer moving parts.
Tripod head type: Photographers love ball heads as they can be rotated and positioned wherever they want. The locking screw locks it in the desired position and allows it to capture photos securely.
But, making minor adjustments doesn't help much, which can be annoying. This is where pan and tilt head comes to the rescue. It has two axes allowing the photographer to tilt or swivel independently. Furthermore, making minor adjustments with these types of heads is super flexible.
How to Choose A Tripod for Sony A6000?
By reviewing a few factors, you can bag the best tripod for Sony A6000. Let's have a look at them:
Height
The height requirement from your tripod should depend on your use case. For example, there are mini tripods for tabletop or handheld usage. Travel tripods are longer than that but easily fit into the carrying bag when folded.
Buy the right size according to your height and capturing needs. Make sure you can carry it conveniently when traveling, but it also supports the weight of your camera and lens.
Weight
The tripod's weight is another crucial factor you should consider before purchasing. A lightweight stand is easy to pack around and carry but might not support the weight of heavy cameras.
Tripods made of stainless steel are durable but one of the heaviest to carry. Carbon fiber is the lightest and provides superior strength, perfect for outdoor adventures and traveling. Aluminum is another lightweight option, often the middle-ground between price and weight.
Head Type
Different head type allows for other angle adjusting options. You'll most commonly, find ball head, 2-way, 3-way pan-tilt, etc. Ball head is 360° rotatable, and you can position your rig in any direction imaginable. However, it doesn't perform well for making minor adjustments. In this context, a 3-way pan-tilt is an excellent choice for swiveling and tilting movements.
Leg Design
Leg section design plays a vital role in sturdiness and portability. Less leg section makes it sturdier because of fewer moving parts. But the folded height increases, so you'll need a bigger bag to carry it. At the same time, more sections in the legs make the folded height smaller. However, it may make the tripod shaky because of more moving parts.
Also, we prefer twist-lock legs, where you can lock the legs after adjusting their height.
Stability
The tripod should firmly stand in its position. Rubber paddings ensure that. Again, it must be free from wobbling. The well-built moving parts and solid knobs guarantee shake-free tripods.
Conclusion
So, which tripod did you like the most? In my opinion, Manfrotto Compact is the best tripod for Sony A6000.
If you need more height and load capacity, choose Endurax. Amazon Basics is the most budget-friendly of them all. However, JJC is excellent for tabletop applications. Travelers and vloggers should grab MeFOTO GlobeTrotter Carbon Fiber without a second thought.
Also Read: