Various categories of lenses are available to complement your camera's focusing angle and range, such as ultra-wide, wide-angle, macro, and others.
But I have often heard new photographers asking which one will work better, macro or wide-angle lens!
That's why I will be explaining the differences between macro vs wide angle lenses, which will help new photographers to understand the difference between these two and pick the right one for the right project.
So, what's the key difference between macro vs wide angle lens:
A macro lens allows you to take sharper and close-up shots, including tiny details, while wide-angle lenses are made for distant spaces and large frame compositions like landscapes or interior spaces, etc.
To learn more, read the full article below.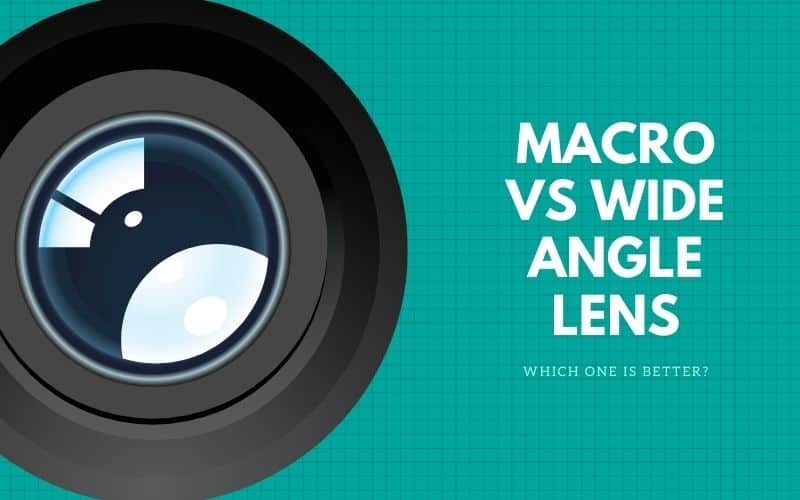 Macro Or Wide Angle Lens: Which One Should I Choose?
Before jumping to the conclusion and choosing the one, you need to have a clear concept of what difference these two lenses have.
Wide Angle Vs Macro Lens:
Wide-angle lenses are called by this name simply because they offer a wide-angle view. On the contrary, Macro lenses are designed especially for getting a sharp close-up of your subject. Now, let's have a detailed analysis of each of their differences-
| | | |
| --- | --- | --- |
| Differences In | Wide Angle | Macro Lens |
| Range And focusing capacity | Wide angle lens creates bigger image of your subject from a distance similar as a telescope. Means it allows creating an image where your subject will appear closer and broader than what you can see in real. | Macro lens allows you to get closer to the subject physically because of the minimum distance between the lens and the subject. It allows you to see the depth of your subject up-close. |
| Distance Covering | Wide-angle lenses will capture the whole view from a distance. Even from a far distance, you will be able to see a clear view of your subject. So, you do not have to be physically closer to the subject. | Macro lenses allow the subject to be reproduced life-size or larger on the camera sensor. They are only able to focus within a shorter distance and you have to be physically closer. |
| Application Or, Use | Wide-angle lenses are widely popular for adventure, outdoor, and landscape photography. Also, work better when your subject is smaller but needs to cover a wider field. | Macro lenses can be used as prime or zoom lenses, where you can take extreme up-close shots of small subjects such as a bug or insect without sacrificing the background color, contrast, or sharpness. |
| Focal Length Range | Wide-angle lenses have less than 40mm focal length and can fit vast landscapes into the frame even when utilizing an ultra-wide lens of 24mm – 18mm. | Macro lenses have a wide range of focal lengths from a minimum of 50mm to a maximum of 200mm. |
Now, Which One To Choose?
When you are photographing within a compressed space like a small room but want to cover a wider area, a wide-angle lens will be a better choice. Since with a regular lens, you cannot encompass the entire subject. Or, if you are doing landscape photography, picking the wide-angle lens will serve you the best result.
If your photography requires taking photos of extreme closeups of subjects, the macro lens will be an ideal choice. It will give you intensely detailed photos of flowers, bugs, or other elements of nature. But remember, it will only work for short-distance photography where you are physically near to the subjects.
So, think thoroughly before you make your choice.
Macro Vs Fisheye Lens (Ultra-Wide Angle Lens):
Let's see the difference between a fisheye and macro lens in here-
While macro lenses are widely popular for their extreme close-ups, fisheye lenses are widely known for their special curve effects and ultra-wide viewing angle.
The Fisheye lenses can create curved edges with a 180-degree angle. That means your taken photos will appear as if you are peering through a fishbowl. But with macro lenses, you will get only the real up-close details of your subject.
Close-up photography with fisheye short focal-length lenses gives images the extremely-strong feeling of perspective. On the other hand, Macro lenses are commonly used for natural elements photoshoots such as flowers, insects, and other similar subjects.
Is A Wide Angle Lens Worth It?
Before I jump to the actual answer to this question, let me clear one thing. Whether a wide-angle lens will seal you the best deal or not, that will depend on the type of photography you will do.
Consider the mentioned scenarios before judging the worth of investing your money-
Are You Going To Shoot Portraits?
If so, then a wide lens will not be a good choice. Instead, you should pick the lenses that come with a mild telephoto range of approx. 85mm.
Are You Looking For A Lens To Photograph Landscapes?
Wide-angle lenses will work great for this job. Therefore, without any doubt, choose a wide-angle lens for your shoots.
Do you want a lens for Wildlife photography?
In that case, a telephoto lens will work better because you will need one that can reach the maximum distance. Surely wide-angle lens will cover distance but not the way you will need for wildlife photography.
How To Determine The Worth?
To sum up, why I mentioned the above pointers, let me clear the fact that all lenses are worth investing your money but
First, determine what type of photography you will do with that.
Then figure whether your chosen lens is capable of reaching the range and capture the perfect detailed posture of your subject or not.
Now, decide whether you want to invest in it or look for some better alternatives.
Do I Really Need A Macro Lens?
Macro lenses are widely popular and recommended for taking close-up shots. Many photographers will also advise you to have a macro lens to do such photography, but you need to consider the need first.
Macro lenses can be expensive, and if your work doesn't require excellent quality photos with 1:1 magnification. Then I will recommend you to consider your options again.
If you just want to take some normal close-up photos, you can choose a decent zooming lens instead. Also, macro lenses aren't lightweight because of the extra motor and other parts attached to their main body. But if you are a professional macro photographer, then it is the best option for you.
Final Thoughts
Since different lenses serve different purposes, that's why you need to know and understand the difference between each type. And after reading the differences explained between macro vs wide angle lens in this article hope you got a better hold of these two.