Whether you are a promising cinematographer or a Gen Z influencer/vlogger, you must be familiar with a camera stabilizer. If you are not, these are the devices that neutralize or compensate for the impact of an unavoidable and unintended camera movement.
Like if you're running on a rocky mountain and you want a smooth shot of the trails or an object you are filming, that's when you need a camera stabilizer.
The variation of types of camera stabilizers can be brought down to just two types really.
One is the mechanical type, which cannot sense gravity and make auto adjustments. Basically, everything except a 3-axis Gimbal.
Another is the 3-axis Gimbal that can make auto adjustments.
Now, read the full article to learn the details.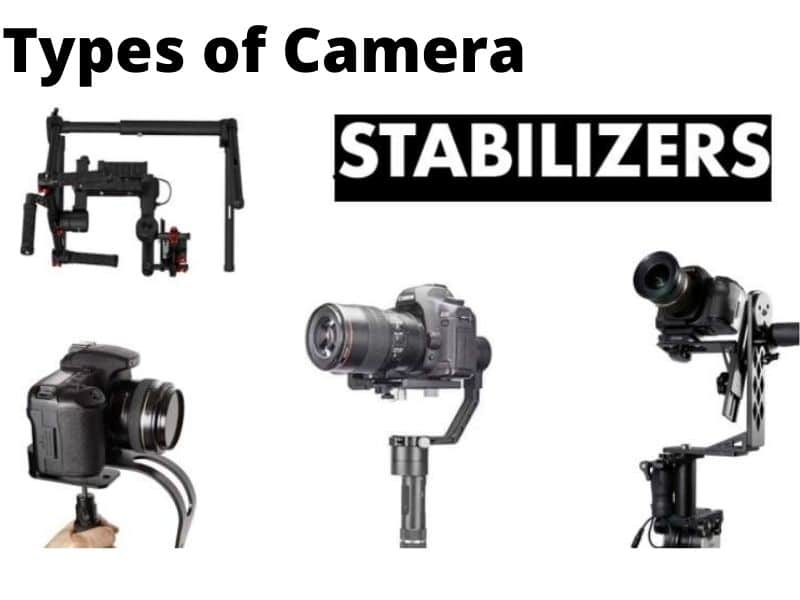 How Does a Stabilizer Do the Stabilizing?
To put it easily, when the camera is moving, the sensor has to capture the jerking scenario. Because the sensor does not have the capacity to stabilize the background (what is being captured) within such a short time.
Moreover, the resolution has to get cut for the camera to capture it. It's a heavy deal actually, let's not go that deep!
Long story short, a camera cannot capture the true dimensions of a 3D scenario if both camera and the image (e.g.: you) are moving.
Now you can reduce the camera and image movement by walking like a mountain lion. But how can you do that if you're at the zoo and suddenly you had to run from a wild monkey?
This is where the stabilizers come in. Stabilizers in their different shape and form, provide the camera with steadiness due to their structure. And according to structure, there are many types of camera stabilizers.
Types of Camera Stabilizers (The Detailed Comparison)
Among the lots of camera stabilizers, some you can hold with your hand, some you attach to yourself, some even fly!
What's confusing is how they work and how much they cost.
Check out this table where you can find all that information at a glance:
| | | |
| --- | --- | --- |
| Type of Stabilizer | Mechanism | Price |
| Top Handle | This is a simple 'L'-shaped handle. The simplest stabilizer out there. You attach one end of a camera here and hold the other rod. The two rods are at 90 degrees with each other. These handles are mounted on top of the camera and carried around. | This costs about $15-$25. This is the cheapest option to stabilize a camera. |
| X-Grip | It is in the shape of 'U'. A camera is mounted on one arm of 'U' so that the camera is horizontal to the arms. You can walk with it similar to the top handle. There are other types of stabilizers similar to this in which the open ends of 'U' are joint and it gives you a double-handed grip. | This costs about $15-$30. |
| Handheld Stabilizers | These are some of those stick-like stabilizers that you have seen most commonly. The camera can be rotated about this axis, and you can add weight to it by expanding the stick. It comes with a Gimbal. | A Flycam Redking costs $200-$300. |
| 3-Axis Gimbals | These stabilizers are capable of making adjustments automatically depending on gravity. These can look like a different range of shapes. Some cameras are balanced on a stick, some are balanced within rectangular shapes and many have two-handled support structures. Some examples are Feiyutech AK-4000, Zhiyun Crane-2, Ronin SC, Feiyutech Carbon Fiber, DJI Ronin M, etc. | Depending on the models, it can be from $300-$800. |
| Vest System Stabilizers | As its name is, it is a vest system that rather than stabilizing, actually supports the stabilizer. It has multi-axis gimbals. What stands out is that it has an iso elastic arm attached to the vest. This along with the help of springs balances the camera. The arm can come out from the side of the vest or emerge as an arm from the back leaning forward that can support the camera with a spring. Steadicam comes to mind while talking about vest stabilizers. The mechanical arm takes off the weight of the camera allowing it to do more creative work. | $300-800 depending on your gear. |
Some Supporting Devices…
There are some stabilizers that come with single-shoulder support. This is mainly used by people covering the news. One such example is the Revo SR-1000 which costs $89. These are not 3-axis Gimbals. They support the right of the camera and in some other areas though.
DSLR Rigs can also be mentioned here. These can also be balanced on one shoulder. This also supports the weight and holds the camera and is entirely mechanical. It is not much of a stabilizer.
There's a thing called Spider Stabilizer. It is called so because it imitates the look of it. But rather than having 8 arms, it has two handles side by side, and the camera is balanced in the middle. The camera is moved mechanically. It cannot adjust automatically. However, they are quite flexible. They cost around $95.
Which Type of Camera Stabilizer is Best for You?
Not every stabilizer is for you. It depends on a range of things. Let's see the priority of things accordingly:
Type of Work You are Doing:
Your priority should be the job you need the stabilizer for. If you are a photographer for national geography, by all means, buy a 3-axis Gimbal. Choose a shape that best suits your comfort.
Vest supports are usually used in Hollywood or making movies. This involves a heavy camera. Don't pull out a tank just to kill one soldier. Be wise!
Budget:
According to the table, you know which stabilizers work for you and how much they cost. If you have a specific company in mind, go to their website and check out the individual prices.
If your budget is on the lower end but you have to buy pro gear, look for them in other places such as eBay, Amazon, etc. Compare prices, use a website for that if you must. Try to catch a sale if you see one.
Know Your Gear
Before buying, please know your gear. Imagine how you will be operating it, think about the pros and cons. Start with the simpler ones if you are a beginner and have to use your camera for backyard vlogging.
Now keeping the above points in mind, here are some product suggestions:
1) FeiyuTech AK4500: This is your 3-axis Gimbal, lightweight and suitable for almost all levels of camera work. Suits more heavyweight cameras nicely.
2) Zhiyun Crane 2S: A handheld Gimbal Stabilizer for DSLRs.
3) DJI Ronin-SC Pro Combo: Handheld Gimbal and allows individual axis balancing.
Conclusion
Keep in mind that to operate the mechanical stabilizers, you need to learn how to move. You need to practice walking steadily because although they can stabilize jerking horizontally, they cannot neutralize the 'up-and-down jerks easily.
This is why a 3-axis Gimbal is preferred among most of the types of camera stabilizers. One more benefit of these stabilizers is that they can be fit into any type of handle. This obviously includes the vest. However, as mentioned before, vests are used for heavy cameras and those remain more or less stable due to their heavyweight anyways.
So, when selecting a camera stabilizer, keep your skills and necessities in the account. This will help you to get a proper stabilizer you can actually use, within budget.
Related Posts: