Now that you have your hands on the Blackmagic Pocket Cinema Camera 6K, the next thing to do is to pick the best gimbal for BMPCC 6K. No matter what kind of film you are shooting, you will need a setup that allows for the most creativity while recording and producing the best possible result, unless you want to make classic movies where the camera doesn't move.
With all joking aside, the elephant in the room is that not all gimbals are suitable to work well with the BMPCC 6K. Below is a list of the best gimbals we think would work great and something you'd be happy with.
Let's dive in!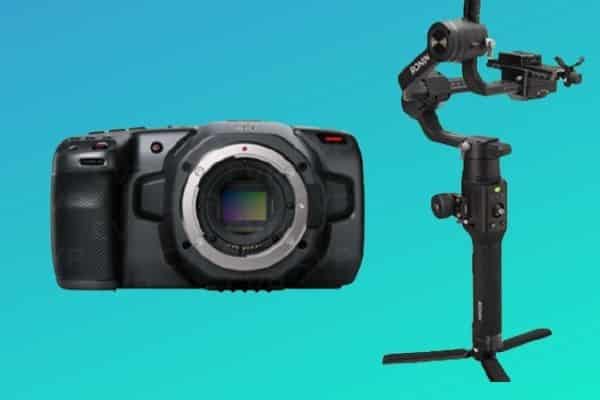 What is the Best Gimbal For Bmpcc 6k?
1. DJI Ronin-S – Most easy to handle and very flexible
2. Zhiyun Crane 3 LAB – Popular for its feature-rich design
3. DJI RS 2 – Comes with a touch of elegance
5. Zhiyun Weebill S – Popular among professionals
Can handle payload up to 8 lbs, Built-in options for advance capturing features, Detachable modular design, helps the camera capture fast-moving scenes,3 axis gimbal, weighs 4 lbs, 12 hours battery life, app support.
Best for Heavy DSLRs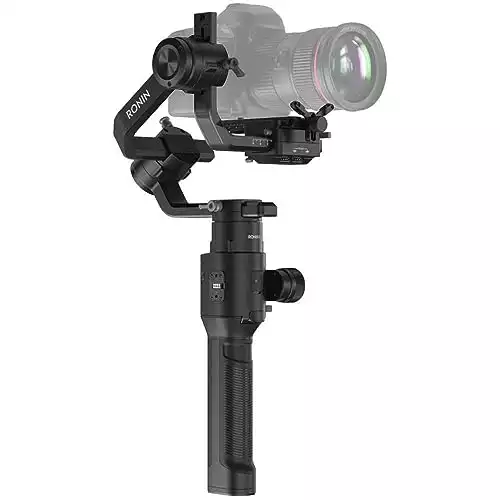 DJI Ronin-S
Buy on Amazon
We earn a commission if you make a purchase, at no additional cost to you.
12/08/2023 04:10 pm GMT
Modular Design
The modular design of this gimbal not only makes it easy to use but also easy to carry. It will fit inside your backpack well, and on top of that, modularity grants you versatility and flexibility like none other.
All-in-one control
This device puts all the controls at your fingertips. You can record fast-moving objects and switch between user profiles using the same button. All while holding the gimbal in one hand!
Ease of use
It has a focus wheel that lets' you change the focus on the go while filming. You can add external motors if you want broader compatibility with different types of lenses. Thanks to Auto-Tune, its powerful torque motors can stabilize the shot even if the platform speeds up to 48 mph.
Summary
This is a good choice if you don't want to compromise quality over price. It covers both basic functionalities and advanced ones pretty well. There are no perfect gimbals, and this one is no exception, but you will have a better experience with the DJI Ronin-S than most others.
2. Zhiyun Crane 3 LAB
Latch on each axis, Touch control system, Versatile design, Equipped with zoom and focus modules, Allows image transmission, can act as a stand, PhoneGo mode.
Zhiyun Crane 3 LAB
Key Features:
Latch on each axis
Touch control system
Versatile design
Equipped with zoom and focus modules

More features:

Allows image transmission, can act a stand, PhoneGo mode, unique gimbal handle, etc.
Pros:
Very comfortable to take long shots.

Internal software works great.

Easy to transport and get creative.

Excellent design and build material.
Cons:
Tends to drift from time to time.

Sometimes overheats.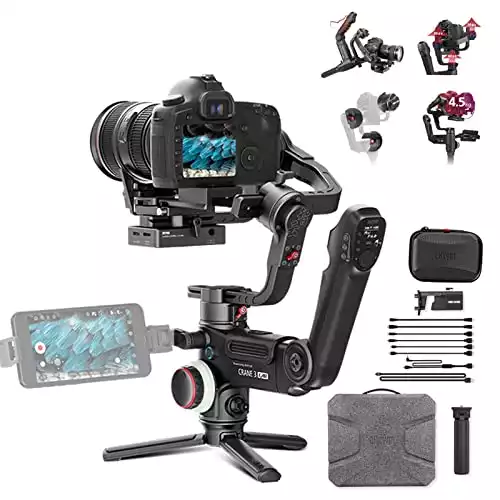 We earn a commission if you make a purchase, at no additional cost to you.
Touch Control System
This system allows taking complete control of your phone. It will feel like you are using your phone to shoot the film. While using your phone, you can also control various gimbal settings while recording.
Advanced Features
To save you time, it comes with different modes like time-lapse, long exposure, panorama, etc. These diversified modes will help unleash your cinematic creativity, especially when you use the PhoneGo feature, which enables the device to capture objects smoothly at high speed.
Synchronous Zoom and Focus
The control panel is all-inclusive as it gives you complete control. It can adjust zoom and focus synchronously (simultaneously), making it one of a kind feature.
Flexibility & Portability
There is a latch on each axis that allows you to condense the size of the gimbal for easier packing and transport. You can also use this as a tripod if the situation demands it.
Summary
I only put Zhiyun Crane 3 LAB after the DJI Ronin-S because of its bulky size. The DJI does not take as much space as this one takes. Moreover, it has made significant improvements over Zhiyun Crane 2S. Other than that, both are serious contenders for the top-tier shooting gimbals.
It uses a stabilization algorithm, has Great payload capacity, has a Full-color LCD touchscreen, Runs up to 12 hours, RSA ports are NATO compliant, carbon fiber axis structure, axis lock, Teflon coated, etc.
DJI RS 2
Key Features:
Uses stabilization algorithm
Great payload capacity
Full-color LCD touchscreen
Runs up to 12 hours

More features:

RSA ports are NATO compliant, carbon fiber axis structure, axis lock, Teflon coated, etc.
Pros:
Very lightweight and travel-friendly.

Easy to balance.

The interface and shortcuts have made it very user-friendly.

Teflon coating made adjusting arm easier.

Long-lasting battery.
Cons:
The app asks for access to Contacts, which might add privacy concerns.

You won't be able to install your own Arca-Swiss plate.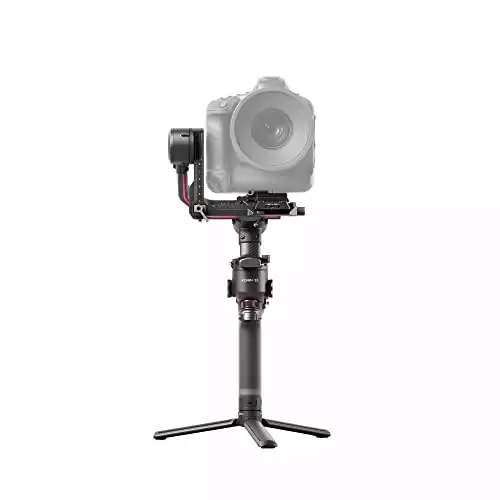 We earn a commission if you make a purchase, at no additional cost to you.
Stabilization
This gimbal uses an advanced algorithm to stabilize the camera. The SuperSmooth mode detects each micro-movements and compensates by adjusting torque. You will get top-tier performance and smoother footage even with a 100mm zoom lens.
Payload capacity
This 2.36 lbs gimbal can handle up to 10 lbs of load. It has one of the best weight payload ratios in the industry. The carbon fiber structure can handle anything you throw at it. It supports enough weight that you can hook up all sorts of accessories to your Blackmagic Pocket Cinema.
Creative Functions
The Force Mobile feature follows the phone's movement for fluid shots. The axis lock keeps the gimbal arms in place for better balance, ideal for attempting particular shots when you don't want the gimbal moving. You can also create a repeatable movement path for tight choreography. Moreover, it can generate a gigapixel panorama with a steady pan.
Summary
If creative filming is your sole focus, you have found your match with the DJI RS 2. Giving the Zhiyun Crane 3 LAB a tough run for its money. You will enjoy the most creative freedom with this gimbal.
Lightweight body, Algorithm-based stabilization, Phone remote control, SmartFollow for object tracking, Sync motion, wireless remote control, long battery life, etc.
DJI Ronin-S Alternative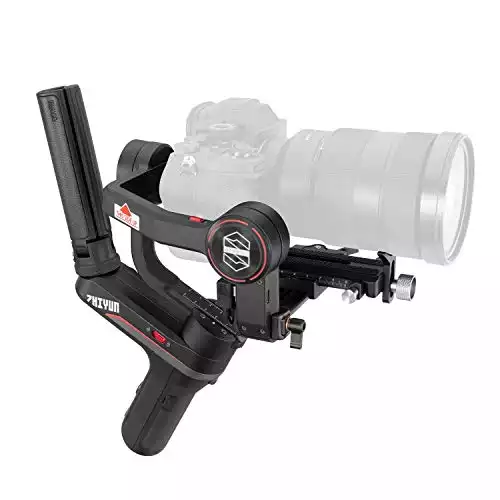 Object Tracking
It comes with SmartFollow 2.0, which allows precise object tracking and takes smoother footage. You will have to trace a box around the object via your phone screen, and the gimbal will do the rest. Allowing you to focus more on the scene you're recording and less on making sure your subject is in the frame.
Modular Design
The modular design allows you to choose from indie filming to total pro. The image transmission module grants you a complete professional solution with an effective workflow. If you decide you don't need it, you can unplug it and carry on.
ViaTouch 2.0
The ViaTouch feature connects the gimbal and camera using your smartphone, making it possible to become a professional monitor to assist you in getting the best shot. You can also change basic camera settings like ISO, shutter speed, Aperture, etc.
Summary
The Zhiyun WEEBILL S handles lighter camera payloads very well. It can also support the Blackmagic Pocket Cinema 6K with and without lenses. Even though it might take a little time to get used to it, it is worth it once you do.
Why do Blackmagic Pocket Cinema Cameras Not Fit On Every Gimbal?
Looking at the BMPCC 6K, you will notice its distinctive shape. Due to its wide body and it does sit well with just any gimbal. To quote theverge.com, "It's a lot fatter and wider than your modern DSLRs and full-frame mirrorless cameras from Sony, Nikon, or Canon." That is where the problem arises.
In addition, the weight, shape, and size all increase when mounted with accessories. At some point, it becomes challenging for gimbals to provide optimal performance for such a heavy camera.
How to Choose the Best Gimbal For Bmpcc 6k (Buying Guide)
Here are the key features you should look for when getting a gimbal for the Blackmagic Pocket Cinema Cameras. The secret is to get the basic functionalities right.
Payload
Having the structure made from Carbon Fiber, the Blackmagic Pocket Cinema Camera 6K weighs less than 2 lbs. You might wonder why you should worry about the gimbal payload, right? Wait, attach accessories like lenses, microphones, etc. The combined weight can easily cross 4 lbs.
That's why you should consider carefully the kind of accessories you will work with in the future and pick the gimbal with the appropriate payload accordingly. If you are unsure, I would suggest going for the maximum payload you can afford. It is always better to have something and not need it than to need something and not have it.
Battery Life
Gimbal battery life dictates how long it can work with the camera. If you are going to shoot for continuous long hours, it is better to have long battery life. Most gimbals can work from 7 hours to 12 hours once fully charged. There are a few that even exceed that with a 14-hour battery life. For example, MOZA Air 2 has a battery life of 16 hours.
It will hamper productivity if you need to recharge the gimbal every few hours. Your shooting style will also impact the battery life, and I suggest choosing one with longer battery life than you need.
Weight & Design
The weight of the device plays a crucial role in comfort. The overall weight might go beyond your comfort limit when the gimbal, camera, and accessories are all together. It will get tiring, but also it might get challenging to shoot for prolonged periods without extreme fatigue.
Sometimes even if the weight is too much to handle, an ergonomic design can go a long way in helping you manage more. Zhiyun Crane 3 LAB is an excellent example because it weighs more than 7 lbs. alone but is designed to make filming easier.
Don't forget to balance the weight and design if you pick something heavy.
Dimension
Dimensions are one of the most forgotten aspects when people get a gimbal. When traveling around to record video, choosing a space-saving gimbal can save you a lot of hassle later.
I think choosing a smaller gimbal for those traveling or recording in tight spaces is better. For shooting in a studio, it would not matter much.
App Support
Different apps come with similar features like those to make your experience even better. Gimbals in a higher price range come with app support that gives you more camera control. You can control the camera and gimbal from a distance. Some allow transferring video through a wireless medium. Such as, using the DJI Ronin app, you easily tune the motors, control adaptive SmoothTrack, get live gimbal data to feed, and more. Do not expect to find the same on cheaper gimbals.
A Quick Overview
| | | | | | |
| --- | --- | --- | --- | --- | --- |
| Products | DJI Ronin-S | Zhiyun Crane 3 LAB | DJI RS 2 | MOZA Air 2 | Zhiyun Weebill S |
| Payload | 7.9 lbs | 9.9 lbs | 10 lbs | 9 lbs | 6.6 lbs |
| Battery life | 12 hrs | 7.5 hrs | 12 hrs | 16 hrs | 14 hrs |
| Weight | 4 lbs | 8.7 lbs | 6.4 lbs | 7.7 lbs | 2 lbs |
| App support | Yes | Yes | Yes | Yes | Yes |
| Dimension | 7.28 x 7.95 x 19.13 inches | 8.07 x 14.41 x 13.03 inches | 6.4 x 13.3 x 10.9 inches | 9.06 x 9.45 x 18.5 inches | 7.48 x 5.51 x 11.73 inches |
Frequently Asked Question (FAQs):
Does the Bmpcc 6K have autofocus?
These cameras support single-point autofocus. It won't follow or continuously focus on an object unless you attach the required modules to it.
Is Blackmagic mirrorless camera?
Yes, Blackmagic Pocket Cinema is a mirrorless camera.
Is the Blackmagic 6K worth it?
If you are shooting semi-professional or professional videos then it is worth it. This is the camera is not really for regular video shooting.
How much does a Blackmagic camera cost?
The price is just around $2,000 dollars.
Conclusion
Choosing the best gimbal for Blackmagic Pocket Cinema (BMPCC) 6k is crucial in video making. DJI Ronin-S is a great candidate if you are looking for solid performance. I would suggest MOZA Air 2 for those who usually shoot for long hours at a stretch. Considering the features and capabilities, these are the best gimbal for BMPCC 6k.
Related Posts: