Hey there! Welcome to my best gimbal for Sony ZV1 and ZV-E10 review of 2023.
If you haven't experienced it yet, let me be the first to tell you that there's nothing more aggravating (or embarrassing) than reviewing your b-roll after a shoot and seeing how shaky your footage is. Regardless of whether it looks like I just recorded an earthquake or the vibration of a text notification on my phone, I get nauseous watching it and dread telling the client I screwed up.
A gimbal stabilizer allows you to take smooth and fluid-like videos with just about any type of camera. Using a three-axis gimbal will take your filming skills to the next level as you can record cinematic-like scenes (and greatly increase the amount of usable b-roll you have to work with).
Let's get into it.
What is the Best Gimbal for Sony ZV1?
I examined over 4,300 Amazon reviews over 40 hours and ranked each product according to vital gimbal features to bring you this review. YOU BETTER READ IT. I've ranked each product based on payload capacity, battery life, and ease of use.
These are the top 3 out of all that I evaluated:
Zhiyun Crane M3 – Best gimbal overall with the most bang for your buck.
Zhiyun Crane M2 – Previous model to the Crane M3, best for those on a tighter budget.
DJI Ronin-S – Best gimbal for heavier DSLR cameras.
Best Overall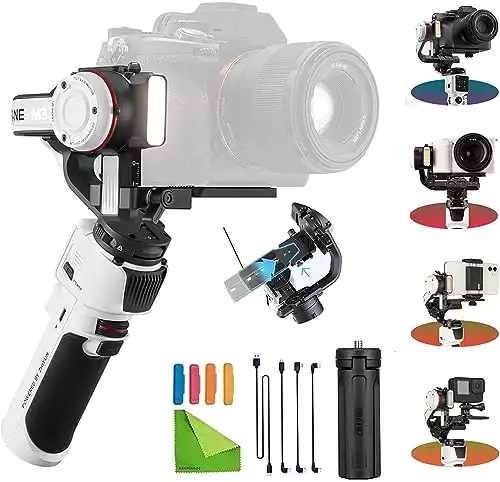 Key Features
Payload Capacity: 3.96 lbs./1.8 kg
Battery life: 8 hours
Weight: 2.2 lbs.
Dimension: 11.02" x 2.91" x 6.18"
Axis Stabilization: 3-Axis
Honorable Mentions: Integrated fill light, compact design, 1.22" touch OLED screen, upgrade compatibility, PD fast charging, easy adjustment wheels, cable control.
Pricing
If you ask me, the pricing for this Zhiyun Crane M3 falls right into the sweet spot. The price you're paying and the features you're getting are a bargain that simply cannot be beaten (very easily, anyway). All of which helps put this camera gimbal in our top spot.
Pros & Cons
Pros:
Compact and lightweight. Muscle fatigue will take a lot longer to set in, meaning you can outlast your camera battery before getting tired of holding this thing.
Easy to reach controls. One-handed operation makes for instant mode switching.
Ideal for lightweight, compact cameras. It's a perfect match for mirrorless cameras that don't weigh a whole lot.
Cons:
No battery charge indicator. It's hard to know exactly how much battery life you have left.
Unresponsive display. Occasionally, the software or the display freezes, which requires a power cycle.
Overview
Alright, folks, listen up! The Zhiyun Crane M3 gimbal stabilizer is THE choice for Sony ZV1 users. It's like the superhero of gimbals, light as a feather yet tough as nails. It's not just for Sony; it's a party for action cameras, phones, and mirrorless cameras, too, with an 800-lumen integrated fill light to dazzle your shots.
Handling this thing? Easier than telling a joke! It's compact in size, comfy, and balances like a pro. Quick-release system? Boom, it's in, it's out – no fuss.
Now, the sweet stuff: a bright 1.2″ display, perfect for the sunniest days, and you can swap camera batteries on the fly without rebalancing.
As videographers, we sometimes don't have the luxury to 'deal with' our gear when our attention needs to be on the creative angles and capturing the moment. Take it from me: Nothing will kill your mojo faster than getting tripped up by your gear not working the way you expected it to at the moment you needed it most.
Runner Up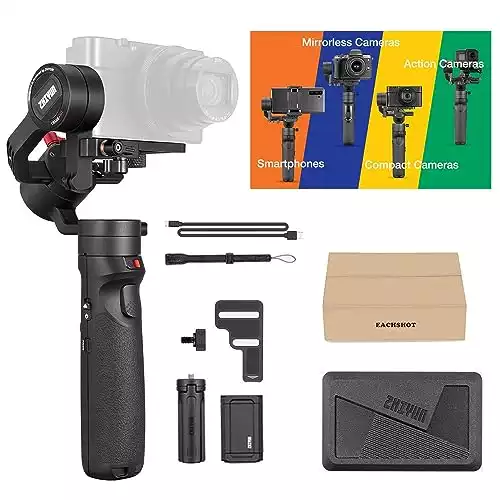 Key Features
Payload Capacity: 1.67 lbs
Battery life: 7 hours
Weight: 1.1 lbs
Dimension: 10.5" x 2.7" x 5.4"
Axis Stabilization: 3-axis
Honorable Mentions: Multiple gimbal modes, OLED screen, allows phone charging, lock mode, travel friendly.
Pricing
For a videographer on a budget, take a serious look at this one. It's the older model of the Zhiyun Crane M3, but it has the foundation for making this portable gimbal worth considering.
Pros & Cons
Pros:
Wireless Shutter Control. Connect your gimbal to your device for extra camera control.
Lightweight Gimbal. No one wants a tripod to prop up their arm because their gimbal is too heavy to use for long periods of time.
Great for traveling. It's something we love because it doesn't take up a lot of space in our bag (giving us more room for other goodies).
Cons:
Non-removable battery. Once the battery is done, you're done. You'll have to set this off to the side for a couple of hours to recharge before picking up where you left off.
Lighter payload. This is fine but limits you to a range of mirrorless cameras and other compact cameras.
Overview
Check this out! This gimbal stabilizer is like your best friend, and it is super easy to use right out of the box. With just one button, your camera's on or off with this slick quick-release system. And hey, no more hassle with adjusting all those axes; we've got automated axis locks and scale marks to save you that headache.
Now, we've got this fancy OLED display that's like the control center for your camera – mode, Bluetooth, battery life, it's all there. Plus, we've got cool modes pre-set for you, like Vortex, POV, PhoneGo, and more. Diving into settings is unnecessary; pick one of the various shooting modes and start rolling!
Battery anxiety, anyone? Forget it! You can charge this baby with a power bank. And the WiFi and Bluetooth connections? They're like magic wands, giving you wireless camera control and creative freedom.
Oh, and wait, there's more! You can charge your smartphone with this thing, and it's like this gimbal stabilizer knows all the popular phones out there. There's no camera shake either; they've got that axis thing figured out. So, bottom line, the Zhiyun Crane M2 gimbal for Sony ZV-1 is all about comfy, hassle-free filming, no matter what you slap on it (as long as it's nothing more than a mirrorless camera)!
3. DJI Ronin-S – Best for a Heavy DSLR Camera
Best for Heavy DSLRs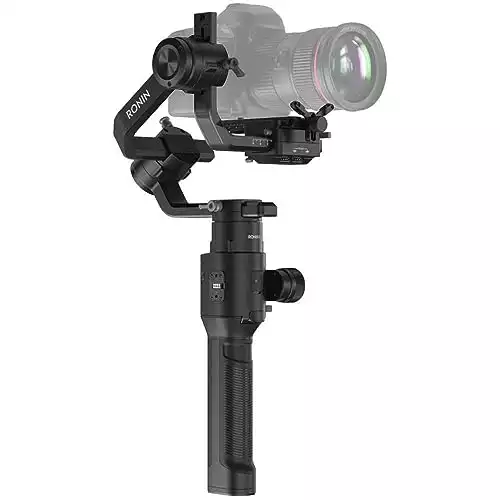 DJI Ronin-S
Buy on Amazon
We earn a commission if you make a purchase, at no additional cost to you.
09/22/2023 07:36 am GMT
Key Features
Payload Capacity: 8 lbs
Battery Life: 12 hours
Weight: 4.07 lbs
Dimension: 7.28"x 7.95" x 19.13"
Axis Stabilization: 3-axis
Honorable Mentions: Offers a suite of advanced features, compact design, built-in battery, and quick-release system.
Pricing
There's no way around it. This is expensive! But as the old saying goes, you get what you pay for. If you're looking for a versatile gimbal that also delivers a true cinematic effect, then this will be worth the investment.
Pros & Cons
Pros:
Feels premium grade. This gimbal, from the metal frame to the rubber grip, will feel solid in your hand. It can even double as a tripod.
Butter smooth camera movement. The panning and tilting are so smooth that it adds to the cinematic quality any videographer wants.
Easy to get going. DJI has made it so easy to get a camera mounted, balanced, connected, and ready to start filming in no time at all with intuitive controls.
Cons:
Extra time to learn. It can be a bit difficult to remember how to use each gimbal mode before it becomes second nature.
It's heavy. For some, the combined weight of the gimbal and camera can be difficult to hold for long periods of time.
Overview
Hold on to your hats, 'cause this DJI Ronin-S gimbal is the real deal for all you high-speed adventure seekers! We're talking lightning-fast action, and this thing's got a trick up its sleeve called SmoothTrack – it's like having a film crew in your pocket, capturing everything with crystal-clear smoothness. And switching between upright and sling mode? Piece of cake; just hit a button and go!
Now, let's talk design – it's like they got a bunch of geniuses to make this thing. It has a compact size, is comfy to hold, and can handle the beefier DSLR cameras like a champ! We're talking an 8 lbs. payload, so your camera options are wide open.
But wait, there's more! You can strut around like a pro with this in one hand. Long battery life? It's got your back for a solid 12 hours. And if you're going at the speed of a sports car, don't worry; this gimbal can keep up at a crazy 46 miles per hour. Need to adjust the camera's focus on the fly? There's a wheel for that, too. Get ready for high-speed action with this DJI Ronin-S gimbal!
DJI Ronin-S Alternative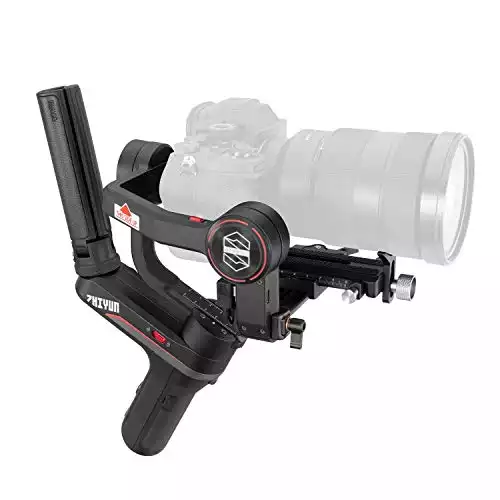 Key Features
Payload Capacity: 11.02 lbs
Battery Life: 14 hours
Weight: 2.04 lbs
Dimension: 11.81"x 7.52"x 2.76"
Axis Stabilization: 3-axis
Honorable Mentions: Auto payload tune, sling mode, always-on focus, instant mode switching.
Pricing
If you're looking for a gimbal that supports heavy cameras, but don't want to put a lot into it because you're just starting out, then this is worth putting at the top of your list. It's a great balance (no pun intended) between professional performance and price.
Pros & Cons
Pros:
Six operation modes. Let the gimbal do some of the work so you can exercise your creative freedom.
Easy to hold. The gimbal itself only weighs 2 lbs, meaning you can hold this for quite a while before needing a break.
Motor Power. The last thing you want is something that struggles under the weight of a heavy camera and lens.
Intuitive control functions. Perfect for those new to gimbals who don't want the hassle when out on a video shoot.
Cons:
Use the lock function carefully. Others who have bought this have reported it is prone to breaking.
Stabilizing can be tricky. Practice makes perfect, but don't be surprised if things take some extra tweaking.
Overview
Ladies and gentlemen, check this out! This WEEBILL S gimbal stabilizer is perfect for your Sony ZV1. It's packing some seriously sweet features. First off, there's this Auto Payload Tune – it's like a motor whisperer, always adjusting for your camera. And guess what? All the regular camera settings are just a thumb's reach away! The camera's focus, zoom, you name it – there are buttons for days!
Now, let's talk easy-peasy. That OLED display? It's like a neon sign in Times Square, and it makes accessing the multiple operation modes feel like a walk in the park. You can fine-tune motor strength, follow speed, and more, all from the handle. And don't even get me started on the axis lock system – it's a time-saver; no constant readjustments here. Oh, and if you're feeling fancy, you can beam images to your phone in real time with that TransMount Image Transmission Module.
But wait, there's more! They've thrown in the 8th Instune algorithm – it's like your gimbal's doing a happy dance to keep things smooth. Need a long battery life, you say? It'll go for a marathon of 14 hours, and you can swap 'em out like fresh socks. Plus, they've got creative modes like GO Mode for fast-action shots and POV Mode for that all-around view. It's like a gimbal with a Ph.D. in filmmaking!
Best Adventure Gimbal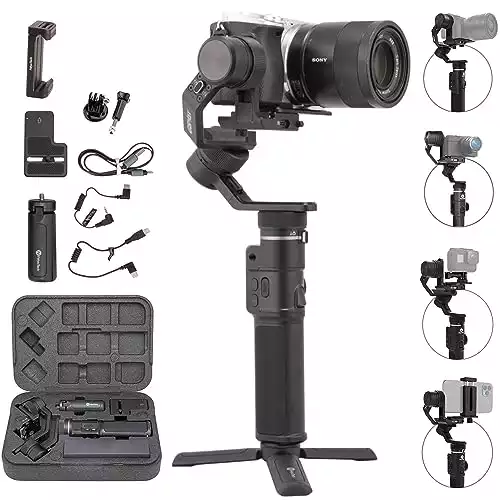 Key Features
Payload Capacity: 2.6 lbs
Battery Life: 9 hours
Weight: 1.48 lbs
Dimension: 11.81" x 7.87" x 3.23"
Axis Stabilization: 3-axis
Honorable Mentions: Splash-proof, motor lock, quick release plate, OLED screen, better compatibility with cameras.
Pricing
The price for the FeiyuTech is reasonable considering that what the gimbal lacks in payload and battery life, it makes up for in resistance to the outdoors.
Pros & Cons
Pros:
Outdoor friendly (err, resistant). Feel confident using this near water or on dirt roads without fear of putting the motors in harm's way.
Smartphone control. Take things to the next level, whether it's remote control or pre-programmed functions.
Adapters for Smartphones and action cameras. Sometimes, a DSLR is the wrong camera for the shoot. But we still need stable footage from even the smallest of cameras.
Cons:
Max-payload woes. Performance degrades when attempting to max out the payload limit with heavier gear.
Constantly rebalancing. You'll need to routinely rebalance this if you're using multiple types of cameras with it.
Overview
Alright, let's dive into this! This gimbal is like the Swiss Army knife of videography. First, that big OLED display – it's like having your personal info board. Battery? Check. Control Mode? Check. Bluetooth? Check, check. You're never gonna be in the dark about what's happening with your gimbal.
Now, let's talk about this multi-function magic focus ring. It's like a wizard's staff for your shooting modes. Zoom, focus, rotation – you name it, this ring's got it covered. ISO, exposure – it's all there, right at your fingertips.
And hold onto your hats, adventure seekers, 'cause this thing's tough as nails. Waterproof, dustproof – it's like a superhero in the elements. If you're out in the wild or near water, no worries. Plus, it's compact, like half of an A4 paper – easy to carry wherever your journey takes you.
But wait, there's more! It's made from space-grade aluminum alloy – yes, space! Lightweight and comfortable to hold, with grippy silicone sides for extra strength. And the battery? It'll go for a solid 9 hours, so you can capture smooth footage all day. Bonus – You can even reverse charge your phone or compact camera. It's like the gimbal that thinks of everything!
Important Gimbal Features
Every camera gimbal will offer something different to better suit the filming needs of videographers, vloggers, and action seekers. Because the price of gimbals can be relatively the same, you'll want to focus on getting the gimbal that matches your filming style first. Getting the wrong gimbal can directly impact the footage you hope to get with your Sony ZV1.
Consider these features when selecting the best gimbal for Sony ZV1:
Axis Stabilization
Gimbals that only have a tilt axis or roll axis are two-axis stabilizers. The only good thing about them is their low price. A three-axis gimbal allows for smoother panning, rolling, and tilting. Although gimbals with three-axis stabilization are a little pricier, their performance justifies their value.
Payload Limit
The Sony ZV1 body is relatively lightweight (0.66 pounds) without a lens or other accessories. But some camera setups can weigh several pounds, directly impacting your gimbal's ability to function correctly. Using the Sony ZV1 with a gimbal leaves you little to worry about and several options of gimbals to consider.
A minimum payload limit of 1.5 pounds would more than accommodate your needs. You can go for more if you wish to use it with other heavy cameras.
Weight
The weight of the gimbal will play an essential role in the shooting. If you get one too light, there will be too much movement to compensate. As a result, the battery will drain faster. On the other hand, overweight gimbals will make you tired quickly. It will also be harder to move around when carrying a heavy one.
I suggest you find a comfortable weight range, and if you still can't decide, go for the lighter ones. Besides, swapping out the battery is much less tiring than lugging around a heavy one.
Dimension
The best gimbal will be the one that your filming environment won't constrain. For example, imagine you are filming in a tight space, like a crowded room where it is hard to move around—such a scenario where the size of the gimbal will play a significant role. The smaller the gimbal you have, the more flexibility you will have.
Larger gimbals have their advantages because they have extra room to add features we wouldn't see on smaller, more compact gimbals.
Battery
Your gimbal will require charging whether it has non-removable or removable batteries. With removable batteries, you can swap them at a moment's notice and carry on working. But it will likely take up extra space carrying around backup batteries, a fair trade-off if you're looking for extended shooting sessions.
You'll find that non-removable batteries last longer than 8 hours, but once they are depleted, you'll have to wait for them to recharge, which could take hours to reach a full charge.
Build Materials
Entry-level gimbals are typically made from plastic and are not durable under rugged conditions. High-end gimbals are made of reinforced plastics or high-grade aluminum, offering more durability for action shooting and occasional falls.
Because Sony ZV1 is in the neighborhood of $750, I suggest going for the higher end of the spectrum. They will be much safer for your mirrorless camera and allow you great flexibility.
App Support
Make sure that their app supports Android, iOS, or both. The mobile app lets you wirelessly control the gimbal and adjust settings like ISO, exposure, shutter speed, and more directly from the phone. This functionality comes in handy when you want to film a tricky shot. We think the Zhiyun Crane M2 & Zhiyun Crane M3 have excellent app support.
How can a gimbal stabilizer benefit you?
Have you ever wondered why you should buddy up with a gimbal stabilizer for mirrorless cameras (aka: Sony ZV-1) or trusty DSLRs? Well, let me tell you, it's like adding a pinch of "Oomph!" to your YouTube game.
Picture this: You're out there in the wild, trying to film your latest vlog, and suddenly, your hand decides it wants to join a salsa dance competition. Shaky-shaky, wobble-wobble – it's a mess! That's where gimbal stabilizers swoop in like your video guardian angels.
Now, let's talk about the Sony ZV-1. It's a lean, mean vlogging machine, but even the tiniest handshake or a stroll down the street can turn your masterpiece into a chaotic jigsaw puzzle. Enter the gimbal, stage left. These bad boys let you tilt, pan, and roll that camera without turning your footage into a rollercoaster ride. Smooth and steady, baby!
And here's the persuasive part – with a compact gimbal in your arsenal, you'll wave goodbye to wasted scenes and those clips that make your audience reach for the motion sickness bag. So, there you have it! Gimbals are your secret sauce to turning shaky shambles into smooth cinematic goodness with precise control.
H2: Buyers Guide: How We Conducted Our Research
Product Reviews: Reading customer reviews from people who have already purchased the product to gain insights into its quality, performance, and any potential issues.
Product Descriptions: Reading the product descriptions provided by the manufacturer to understand the item's features, specifications, and uses.
Questions and Answers: This is particularly useful for clarifying doubts and getting additional information from the manufacturer.
External Research: Visited manufacturer websites and read professional reviews on other websites.
Using a combination of these methods (and some others), I gathered comprehensive information to help others make confident decisions about purchasing their next gimbal.
Bottom Line
Camera gimbals? They're not just an accessory; they're your ticket to capturing movie-like magic. Trust me, if you're after that silky-smooth, cinematic vibe, you need one of these in your gear lineup. And when you're rolling with a lightweight champ like the Sony ZV1, it's practically a must-have. Your filmmaking journey is about to get a whole lot sweeter, and the results? Oh, they're going to be jaw-dropping.
Now, let's talk about standouts. The Zhiyun Crane M3? It has quite the reputation, beloved by enthusiasts and big-league pros. And then there's the DJI Ronin-S – from a brand known for its premium builds and master of capturing video.
Here's the deal: In my opinion, these two gimbals are the cream of the crop. But hey, whichever one you choose from this bunch, you're in for some seriously butter-smooth shots. Get ready to make your camera dance!
FAQs
What's the deal with camera gimbals?
A camera gimbal is like having your own mini movie magic machine. It's all about keeping your camera steady, even when the world around you is doing the Macarena. Do you want those smooth shots? That's what it's all about!
Is a gimbal worth it for your camera?
Now, here's the million-dollar question. Is a gimbal worth it? Well, it depends on what you're up to. If you're all about those silky-smooth shots, making action-packed movies, or strutting your stuff as a vlogger, then yes, it's like a magic wand for your camera – a very versatile tool. But, if you're taking still pictures or you're more stationary than a statue, maybe a good old tripod is your buddy.
Which is better: gimbal or tripod?
Ah, the ultimate showdown! Gimbal vs. tripod! It's like comparing apples and oranges, honestly. Gimbals they're the kings of motion, perfect for when you want your camera to dance. Tripods? They're the solid rocks of the photography world, keeping things still and steady. You pick the tool that suits your gig. Sometimes, you need both in your toolbox!
What are the downsides of a gimbal?
So, here's the scoop on gimbal drawbacks. First off, they can be a bit of a cash grab, not the cheapest toys in the store. And they're like puzzles with all their shooting modes and need to calibrate 'em, which can feel like a Rubik's Cube sometimes. Do they have a long battery life? Well, it's not forever; you might need a spare or two – which can add bulk to your gear bag. Plus, getting those slow-motion shots while messing with the fine-tuning knob can be like learning to juggle flaming swords. But hey, every tool's got its quirks!