Both Canon and Sony make the best cinema cameras. In late 2020, they bring their latest video-centric cameras on the market namely, Canon C70 and Sony A7SIII.
Canon Cinema EOS C70 was developed with the idea to combine the EOS series with the Canon EOS R series. This camera offers exceptional image quality with professional video features that are perfect for documentary and corporate level videography.
Sony A7SIII is another high-end video camera with incredible processing power. It provides high-quality stills and videos to be used as a professional camera.
Even though they're designed to serve the same purpose, both cameras have distinguished features that make them stand out. This article regarding Canon C70 VS Sony A7SIII will discuss them in brief so that you can come to a conclusion and choose the right one for you.
Without further delay, let us start with the review.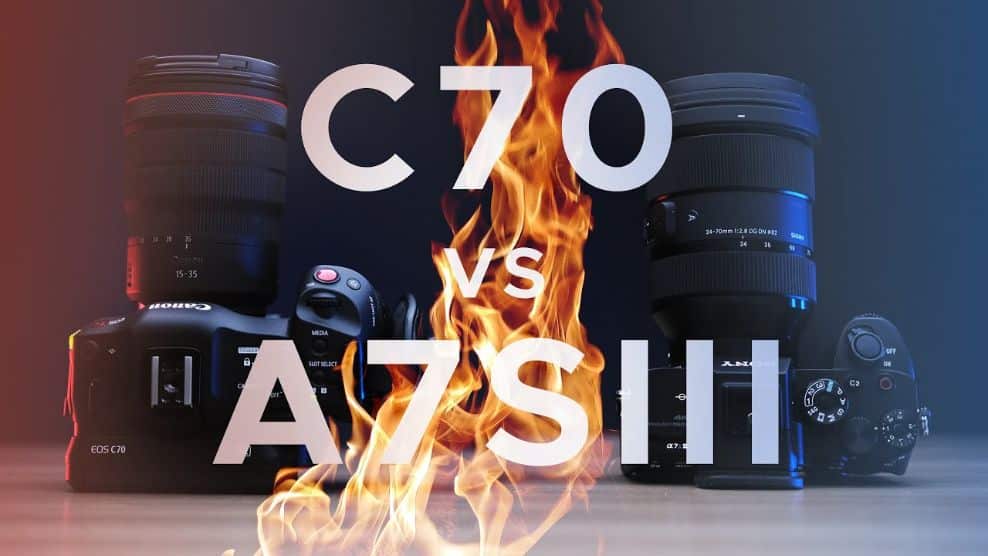 A Quick Comparison
| | | |
| --- | --- | --- |
| Feature | Canon C70 | Sony A7SIII |
| Sensor Type | CMOS | CMOS |
| Resolution | 8.85 MP | 12.1 MP |
| Sensor Format | Super-35 | Full-Frame |
| ISO Sensitivity | 100-102,400 | 80-102,400 |
| Mount Type | RF Mount | E Mount |
| Dynamic Range | 16 stops | 15 stops |
| Image Stabilization | Digital stabilization | 5-Axis IBIS |
| Image File Format | XF-AVC: MXF MPEG4: MP4/HEVC: MP4 | Stills: JPEG, HEIF, ARW (RAW) Movies: XAVC S, XVAVC HS |
| AF Tracking | Yes | Yes |
| Video Resolution (Max.) | 4K/120fps | 4K/120fps |
| Slow-Mo Recording | 4K/120fps 1080p/180fps | 4k/120fps 1080p/240fps |
| Audio Inputs | 2 – Mini-XLR inputs, External microphone terminal (3.5 mm) | Built-in stereo microphone, optional external stereo microphone |
| Recoding Limit | Unlimited | Unlimited |
| Headphone Jack | Yes | Yes |
| Display Type | Articulating Touch Display | Articulating Touch Display |
| Display Resolution | 2,760,000 dots | 1,440,000 dots |
| Screen Size | 3.5 inches | 3 inches |
| Connectivity | Wi-Fi, Bluetooth | Wi-Fi, Bluetooth |
| GPS | Yes | Yes |
| Weather Resistance | No | Yes |
| Weight | 7 pounds | 1.35 pounds |
| Dimensions | 6.3 x 5.1 x 4.6 inches | 3.8 x 5.08 x 2.75 inches |
| Price | Check Latest Price | Check Latest Price |
You can see from the chart above that both Canon C70 and Sony A7SIII contain some of the best video features to date. Both of them hold their weight in different perspectives.
Canon C70 VS Sony A7SIII
Canon C70 specs are quite similar to the Sony A7SIII specs. However, they have significant differences as well. Let's have a look:
Image Resolution
Both Canon C70 and SonyA7SIII produce decent stills even if they're designed especially for making videos.
If you do a lot of low-light shooting, then Sony A7SIII would be the better option. This is because of its low resolution 12 MP sensor and Sony seems to have more sensitivity in the shadow parts of the images.
On the other hand, if you want noise-free images that look more natural, the Canon camera has a better realistic color palette. It renders most of the realistic colors using CLOG3 and color grading.
The images look truer to life on Canon camera than Sony.
Video Capability
The Canon EOS C70 comes with a Super 35 sensor that is quite powerful to shot videos. Additionally, the 8.85 Megapixels allow 16 stops of dynamic range to record flawless videos.
Both the camera has the same native ISO range (100-102,400). Also, both of them can shoot up to 4K videos at 120 fps with unlimited record time.
Sony A8SIII moves a step further by recording with the 10-bit of depth and 4:2:2 color sampling for greater flexibility in color grading and post-processing.
You cannot, however, record RAW with the devices. The Sony A7SIII handles RAW over HDMI.
Lens Options
The C70 comes with Canon's latest mirrorless RF lens mount making it the first EOS camera to have this lens system. Moreover, the company has announced its mount adapter EF-EOS R 0.71x which allows you to attach EF-mount lenses to the C70.
The EF-EOS R 0.71x optical adapter acts like a speed booster that lets you use the EF lenses on the smaller Super 35 sensor by increasing the lens speed by one stop.
When it comes to Sony A7SIII, it has Sony's universal E-mount that allows you to from a wide range of lenses starting from full-frame, cinema, and APS-C with full capability. The high-quality lenses enhance the option and creativity of the filmmakers nowadays.
So, when it comes to choosing lenses, both video cameras offer a wide range of choices to make.
Battery Life
When it comes to battery life, the Canon C70 review clearly wins over the Sony A7SIII review. The camera lasts for more than three to four hours of continuous use once it is fully charged.
The battery is located outside of the body and lets you use even a higher capacity battery for more lifetime. The camera has a CG-A20 battery charger that charges quite efficiently.
Sony A7SIII comes with the Sony NP-FZ100 batteries. The battery life isn't remarkable as compared to the Canon camera providing power for over two hours of continuous use.
However, considering the newest technology and options being placed on the camera, the battery life isn't bad at all. One advantage of the Sony camera is that it has no heat issues.
So, Which One to Choose?
Now, I consider you've not already purchased one but looking for the best camera for the price.
The Sony Alpha A7S III eliminates overheating issues successfully. Also, it allows you to shoot continuously till the battery finishes. Again, the body is weather sealed and quite lightweight to carry anywhere in any weather condition.
The 12 MP Sony sensor delivers a decent resolution of the stills that should meet your need. Being the longest Full-Frame mirrorless camera, it gives you a wide range of lenses to choose from. The camera is a great contender to be a favorite option for filmmakers with its incredible low-light capabilities.
However, the Sony camera needs a CFexpress Type A memory card to shoot at its highest resolution and frame rates which might be a deal breaker for many. Moreover, even though both the cameras have articulating screens, Sony lacks robust menu functionality.
The Canon EOS C70 aims to let you record at 4K better than anyone does. Its 16-stops dynamic range at 4K 120 fps in addition to the EF-EOS R 0.71x mount adapter simply make it a video powerhouse that anyone would love to have.
Then again, the Canon camera has a bulky body design that makes people uncomfortable while traveling. Also, it's not quite fit to record in harsh environments. The canon C70 price is quite higher than the other one.
The Verdict
It's quite impossible to make a clear winner between Canon C70 and Sony A7S III. However, being an expensive option, the Canon camera offers better specs than Sony. If money isn't a concern for you, I recommend choosing the Canon C70 for an amazing video-making experience.
It doesn't make Sony A7S III a bad camera at all. It is certainly one of the best cameras for about $3000.
Related Posts: