The Sony ZV-E10 Mirrorless is an excellent camera for vloggers and other content creators because it offers a dynamic combination of versatility, portability, and affordability.
Since the ZV-E10 supports interchangeable lenses, you can get the most out of your camera by achieving multiple photography styles through specific lenses.
This article is the exact place to find out if you are looking for the best lenses for Sony ZV-E10. I'll also discuss what to consider when shopping for lenses so that you can make educated decisions.
Let's dive in.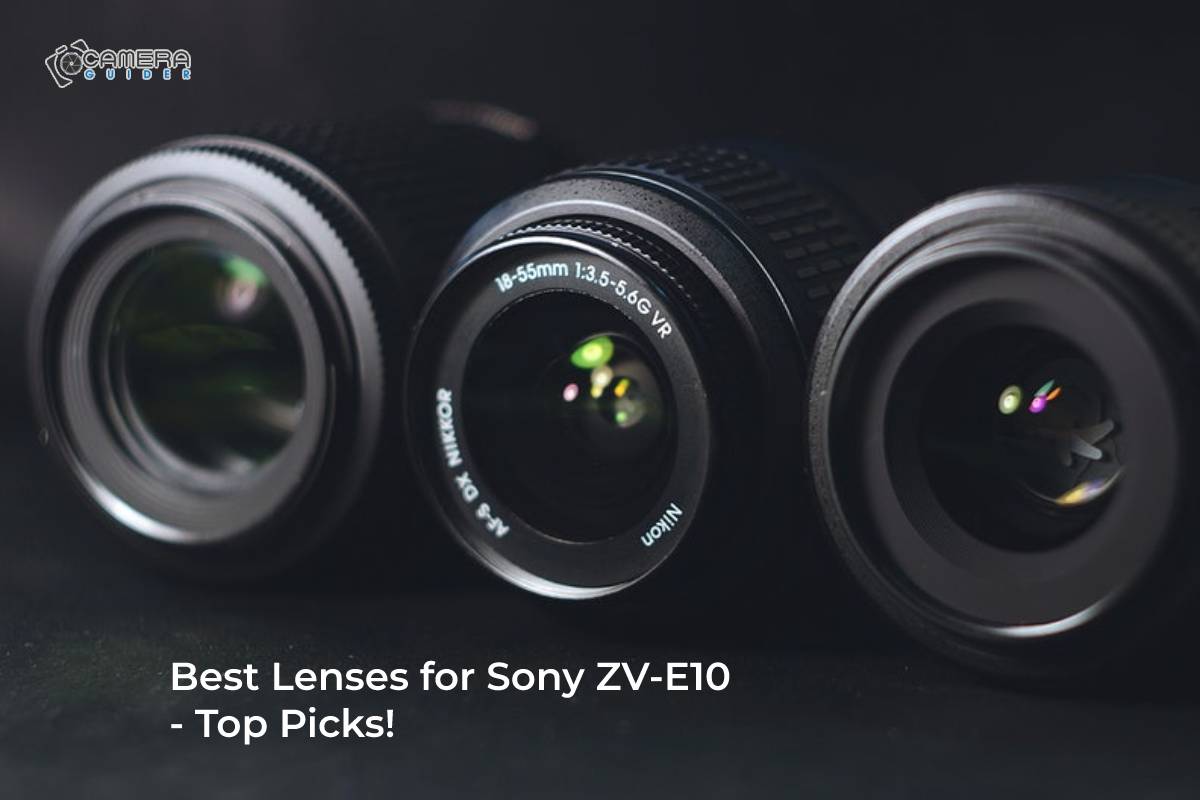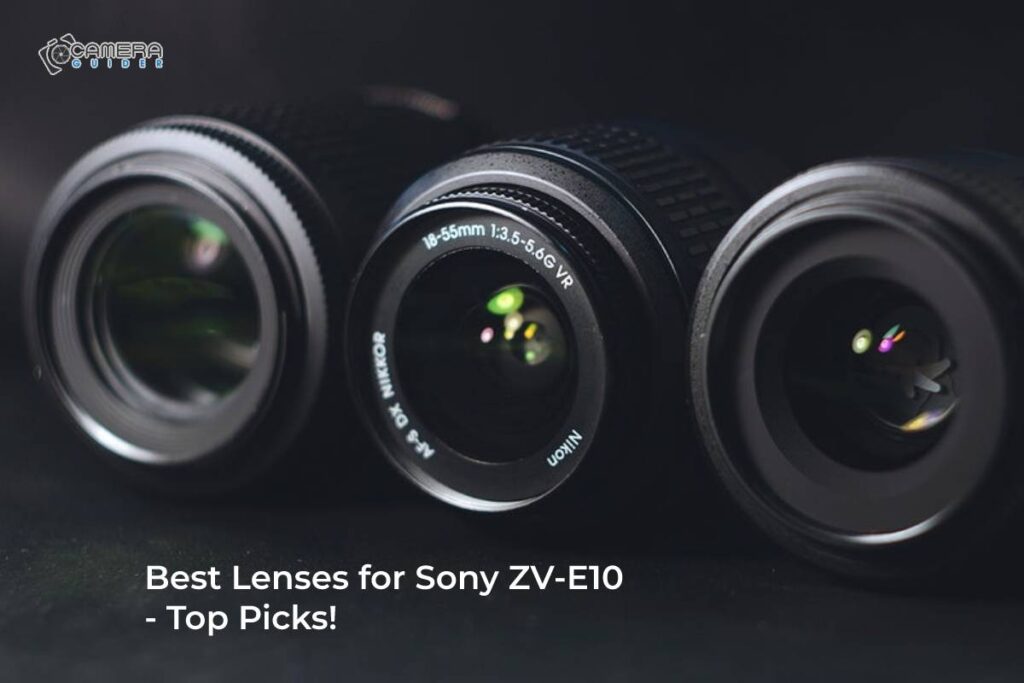 What are the Best Lenses for Sony ZV-E10?
There are several options to choose from, but here are the five best lenses for the Sony ZV-E10:
Considering the build quality, aperture level, focal range, and stabilization, these are my top picks:
1. Tamron 17-70mm f/2.8 Di III-A VC RXD
Best Overall
Tamron 17-70mm
Key Features:
Focal length: 17-70mm (25.5-105mm full-frame equivalent)
Aperture range: F2.8
Stabilization: Optical
Optical construction: 16 elements in 12 groups
Weight: 1.2 lbs.
Pros:
High aperture throughout the zoom range

Minimal focus breathing

Quick and close autofocus

Dust, splash, and fluorine protection
Cons:
It often shows some flares.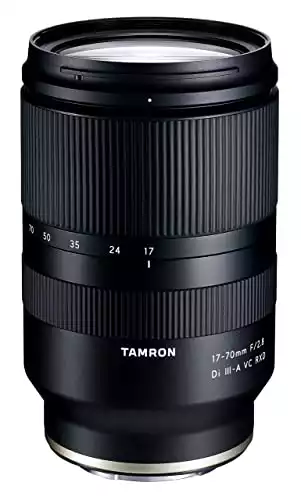 We earn a commission if you make a purchase, at no additional cost to you.
The Tamron 17-70mm F2.8 is a general-purpose lens specially designed for Sony's APS-C, E-mount mirrorless cameras. Even though it is designed for cameras with APS-C sensors, the Tamron 17-70mm can still be used with full-frame models.
With the constant f/2.8 maximum aperture, it has become a popular choice amongst photographers who travel a lot and look for a lens on a budget. It also is great for shooting videos, thanks to its optical stabilization and lack of focus breathing.
Auto and Manual Focus
Tamron 17-70mm provides an impressive AF performance even though it incorporates a motor-based autofocus drive. However, you may still experience random shifts in focusing distance, but it is pretty rare when it happens.
While the lens isn't a macro one, it can still focus very close. At the wide-angle, the minimum focus distance is as little as 19cm, with the highest magnification. Again, at telephoto, you can focus on about 40cm distance with slightly lower magnification.
Fast f/2.8 aperture
Content creators love this lens because it maintains the f/2.8 aperture throughout the zoom range.
We often see variable aperture lenses that darken as we zoom, but the situation is different here, thanks to its high optical performance. It allows you to capture the subject with sharp details from wide-angle to telephoto.
The large aperture also has several advantages, such as allowing more light in lower light conditions, beautiful bokeh (blurry backgrounds), and great depth of field control.
Also, the optical design ensures crisp, high-resolution image quality at the edges of the image.
Lens for Aspiring Photographers
The Tamron 17-70mm is a great first lens for beginning photographers because it produces sharp photos throughout its entire zoom range with the help of the fixed aperture. The video quality is clear and stable, thanks to the built-in optical stabilization.
The lens may not be perfect with frequent solar flares, but it is affordable. It costs a few hundred dollars less than other premium models that only add appeal.
Hence, this would be a great candidate as a vlogging lens for your Sony ZV-E10 or beginner photographers!
Best Budget Lens
Sony - FE 50mm F1.8
Key Features:
Focal length: 50mm
Aperture range: F1.8
Stabilization: No
Optical construction: 6 elements in 5 groups
Weight: 0.41 lbs.
Pros:
Sharp images from edge to edge when stopped down.

Compact and lightweight.

Minimizes distortion.

Excellent bokeh and fast AF.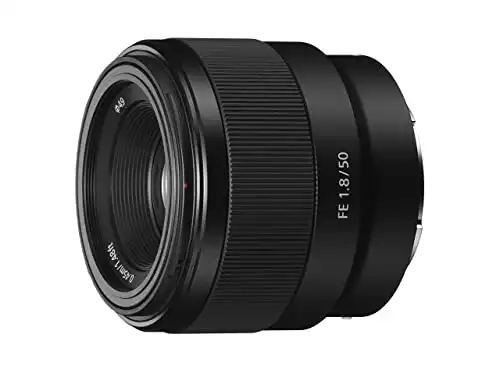 We earn a commission if you make a purchase, at no additional cost to you.
If you're looking for a compact and lightweight camera lens for your ZV-E10, Sony FE 50mm would be a great option.
Mobile and Manageable
This lens is often billed as the go-anywhere, do-anything lens because its size won't be a burden. The prime lens is very compact and weighs only 186 grams. Moreover, the size and weight of the lens are an excellent match for the ZV-E10.
Bokeh and Texture
The Sony FE 50mm is a prime lens and creates beautiful background bokeh thanks to its large f/1.8 aperture and 7-blade circular aperture.
This 50mm is the best lens for portrait photography because the creamy, blurry backgrounds look stunning.
The lens's double-glass optical configuration with an aspherical element reduces the aberration and solar flares to produce sharp and high-quality rendering throughout the entire frame. The exact mechanism is used to minimize field curvature and distortion.
DC Motor Focus
The lens includes a DC motor system designed for optimal focusing precision. The system offers smooth autofocus and manual focus control. It also enhances the focus speed as well as ensures a quiet operation.
The lens also includes a large aperture to capture excellent low-light pictures. However, it omits optical stabilization, which may be a concern of many while buying the lens for the money.
Best Travel Lens
Sony 18-135mm F3.5-5.6
Key Features:
Focal length: 18-135mm
Aperture range: F3.5-5.6
Stabilization: Optical
Optical construction: 16 elements in 12 groups
Weight: 0.72 lbs.
Pros:
7.5x zoom with high magnification power.

Minimal distortion and vignette.

Optical design helps achieve high resolution.

Fast and accurate focus.
Cons:
Not as wide-angle as others.

Low aperture.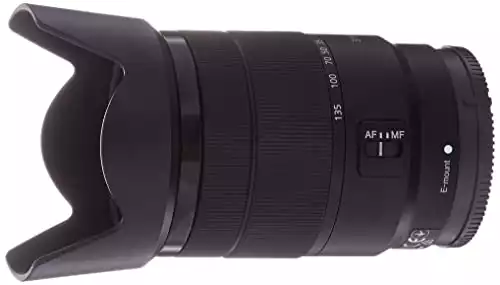 We earn a commission if you make a purchase, at no additional cost to you.
Sony 18-135mm would be an excellent choice if you're looking for a versatile zoom lens. Its powerful 7.5x zoom helps ensure it's the only lens you need to take when traveling.
7.5x Zoom Yet Compact and Lightweight
The "Travel-friendly Zoom" lens has a wide focal range extending from 18mm wide-angle to 135mm telephoto. With the help of the versatile focal length, it covers a wide range of subjects and contexts. Again the 7.5x zooming capability allows you to capture detailed images standing even at farther distances.
The zoom lens takes surprisingly great macro shots with the 0.29x maximum magnification and the 135mm focal length.
Again, it weighs only 325 grams, making it lightweight and compact to carry anywhere easily. It provides ample reach for day-to-day shooting and landscapes, portraits, and wildlife.
High-Resolution Images
Overall, Sony 18-135mm E-mount lens produces sharp and crisp photos with minimal chromatic aberration.
The lens incorporates a new optical design with one aspherical element to consistently provide high resolution from the image center throughout the zoom range.
The two ED glass elements successfully suppress chromatic aberration and vignette. However, chromatic aberration may appear in certain situations, such as high-contrast photos.
Fast, Precise & Quiet Focus
Sony 18-135mm f/3.5-5.6 has a linear motor technology that quietly drives the focus group quickly with precision.
If you want to snap hand-held pictures, especially in dimly lit interiors or night scenes, the lens's built-in optical image stabilization will surely help.
It helps capture blur-free images when shooting tripod free.
Best Portrait Lens
Sigma 56mm for E-Mount (for Sony)
Key Features:
Focal length: 56mm
Aperture range: F1.4
Stabilization: No
Optical construction: 16 elements in 12 groups
Weight: 0.61 lbs.
Pros:
Sharp and crisp images.

Wide aperture for shallow depth of field.

Fast and accurate autofocus.

Value for the money.
Cons:
No stabilization and splash protection.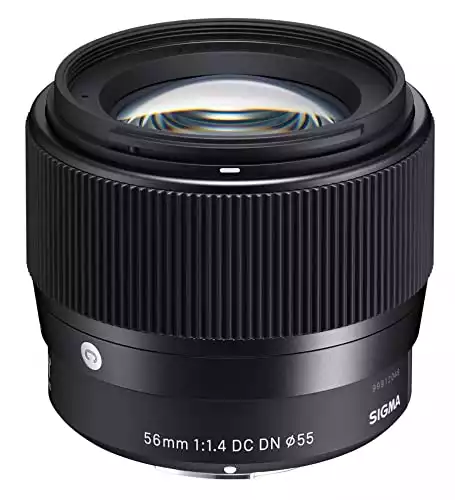 We earn a commission if you make a purchase, at no additional cost to you.
The Sigma 56mm f/1.4 is a portrait-oriented lens with premium build quality and is lightweight. The lens stands out by producing beautiful background bokeh and sharp images, much like the Sony FE 50mm F1.8 Standard Lens above.
Quick Autofocus
Sigma lenses have a reputation for having fantastic autofocus. It seems that Sigma knows very well how to keep up with the Sony branded lenses, and having a third-party lens shouldn't be a concern when comparing the quality of OEM lenses.
The maximum focusing distance is as close as 50cm which is pretty good for a 1:7.4 size magnification lens. This 56mm is a fixed lens, so you cannot adjust the zoom focal length.
Crisp, Sharp Photos
It is the image quality where Sigma 56mm F1.4 shines! It is one of the sharpest APS-C lenses available on the market and maintains precise details across the whole image frame.
The lens bokeh also excels, making it an ideal portrait photography lens. It keeps the subject focused, and the surroundings get a beautiful blurry effect, thanks to the wide aperture of f/1.4.
Value for the Money
Sigma 56mm f/1.4 is the most expensive lens among the Sigma prime lenses (16mm, 30mm, 56mm F1.4) but still provides excellent value.
This 56mm Sigma lens supports multi-zone focusing, ideal for moving subjects. Its autofocus is fast and accurate, and the sharpness of the images and bokeh it creates are worth the money.
For a lens under $500, the Sigma 56mm f/1.4 provides fantastic value as a top-performing portrait lens.
Best Macro Lens
Sony SEL90M28G FE 90mm f/2.8-22 Macro
Key Features:
Focal length: 90mm
Aperture range: F2.8
Stabilization: Optical
Optical construction: 15 elements in 11 groups
Weight: 1.3 lbs.
Pros:
Very sharp images with minimal distortion.

1:1 magnification.

Fast auto/manual focus switching system.

Includes optical image stabilizer.
Cons:
Only stops down to F22.

A bit pricey.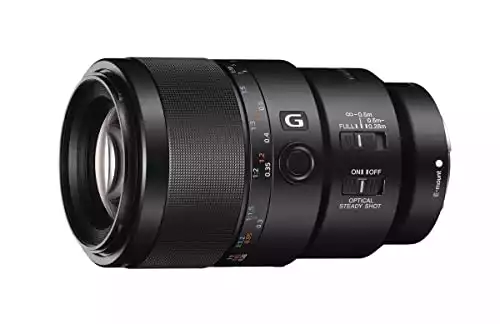 We earn a commission if you make a purchase, at no additional cost to you.
Many people are into macro photography and search for a lens dedicated to the job. Sony FE 90mm won't disappoint you if you choose it for your macro photography.
Outstanding Clarity
Sony FE 90mm uses a floating focus mechanism for optimum suppression of the close-focus aberration.
The system maintains an outstanding clarity from edge to edge of the image area from infinity to the closest focusing distance while reducing the lens size.
The telephoto focal length of the lens allows you to capture impressive macro images of insects and other subjects that need distance between them and the front of the lens.
Fast Focus Switching
You will miss the shot if you need to remove your eye from the viewfinder to change between auto and manual.
This lens's focus ring is easily accessible, and you can switch between auto and manual focus simply by going back and forth with the focus ring. There is a non-slip surface to ensure a reliable operation.
You can lock the current focus setting conveniently by pressing the focus hold button on the lens barrel.
Macro Shots
The lens includes 15 elements in 11 groups, and the floating elements are used to maintain sharp close-up quality.
Its closest focusing distance is 0.28cm with a maximum magnification ratio of 1:1. AF uses a Super Sonic Motor, which ensures a fast and precise operation.
How to Choose the Best Sony ZV-E10 Lens – Buyers Guide
As you've gone through the lenses above, I'm confident you already know which one you want to get for your ZV-E10.
However, if you haven't already and want to explore more options, you may wish to have a guideline for choosing a lens.
I have your back! This section will discuss what to consider when evaluating other Sony lens options. Please have a look before randomly choosing one:
Focal Length
The most important consideration while choosing a new lens is its focal length. It determines how much you can capture in a single frame.
The focal length determines how close or far you can be from a subject. If the lens only shows a single measurement number (i.e., 50mm), it's a prime lens.
Using a prime lens will encourage you to get creative with every photo shoot.
With a prime lens, you're the one that has to move because the lens won't. You have to think about it because the area might not allow you to get far enough away or close enough to the subject.
If the lens has two measurement numbers, such as 24-70mm, it is known as a zoom lens, and the numbers refer to the range it covers. It allows you to capture subjects from various distances.
However, a long focal length can compress the subject and its background, while a wide-angle lens may exaggerate the distance between the subject and its surroundings.
At first, buying a prime lens may seem pointless, but the strength of prime lenses is taking sharper and clearer photos.
They also have faster maximum apertures and are lighter and smaller when compared to zoom lenses. That's why prime lenses are beneficial for specific purposes, for instance, low-light photography or portraiture.
Wide Angle, Standard, or Telephoto?
It truly depends on what subject you photograph to determine which lens to use.
Wide-angle lenses are great for landscapes with focal lengths under 35mm or so. You can capture more of the scene without resorting to panoramic photos.
Standard lenses have focal lengths between 35mm to 70mm. These are widely used for portraiture and street photography as they have a similar perspective to the human eye.
Telephoto lenses have a focal length starting from 70mm, and it goes up to 300mm and beyond. These are popular when capturing wildlife and sports because you can be far away from the subject but still get a great close-up.
Aperture
Choosing the correct aperture is also essential for vloggers and other content creators. It is a measure of determining how much light the lens can gather. Aperture is marked or referred to as F4, 1:4, or f/4, but all mean the same.
The lower the number, the wider the aperture is, allowing it to gather more light. It would be best if you aimed to buy a lens with an aperture as low as you can afford (the lower, the more expensive).
Wider apertures allow you to use faster shutter speeds when shooting fast-moving objects. It increases the bokeh, which brings an aesthetic to the image.
Image Stabilization
Image stabilization is another crucial factor to consider. It increases the chance of getting sharp images by correcting vibrations from hand-shake or wind.
Being a travel blogger, a lens with image stabilization is an absolute must.
The Sony ZV-E10 comes with in-body stabilization, but many lenses offer a stabilization mechanism built-in to compensate for blurry effects. This feature is especially effective when using a telephoto lens.
Build Quality
The more expensive the lens gets, the more robust its build quality is. Usually, the kit lenses that come with the camera are lightweight and made of plastic. If you can spend a bit more, you can get a durable one.
If you plan on doing a lot of outdoor or adventure photography, you may want it to be water and dustproof.
Frequently Asked Questions (FAQs)
Which lens is best for Sony ZV-E10?
It largely depends on what sort of photography you are using the camera. If you are into portraiture, you should look for a prime lens that creates superb bokeh even in low light conditions. For extreme close-ups, you may want a macro lens. However, for day-to-day usage, a standard zoom lens would do great.
Do I need a microphone for Sony ZV-E10?
Most cameras have a built-in microphone, but if you want to use them professionally, you should add an external microphone for the best audio quality.
A popular external microphone is a shotgun mic placed on the top of the camera with a windsock. Check out this article for the Best External Mic for ZV1 and ZV-E10.
Do vloggers use gimbals?
Gimbals aren't absolutely necessary for vlogging. However, if you want to reduce the camera shake and improve the stability and quality of your video recordings, you might consider adding a gimbal to your collection. The Best Gimbal for Sony ZV1 and ZV-E10 article will help you find a suitable one.
What lens mount does the Sony ZV-E10 have?
The ZV-E10 used the Sony E mount. When looking for additional lenses for your Sony camera, make sure it is compatible with Sony E.
Conclusion
There are many options, and your use case will determine the best lens. However, getting each lens will surely build out a sweet arsenal of lenses to choose from for every occasion. Getting a standard lens (like the Tamron 17-70mm f/2.8) becomes the best lens for the Sony ZV-E10 if you can only afford one lens.
Related Posts: