Video and audio quality go hand-in-hand; if either one of those is suffering in your production, you will more than likely lose your audience.
One might argue that audio quality ranks above video quality because if the sound is too soft, crackly, or inconsistent, your video isn't worth watching for the sake of the pain in my ears.
A high-quality microphone records audio clearly and ignores unwanted background noises and interferences. Eliminating background noise enhances the quality of your audio (and consequently your video) because there are fewer distractions.
Here is a list of the best external mic for ZV1 and ZV-E10 to improve your vlogging production quality.
Let's dive in.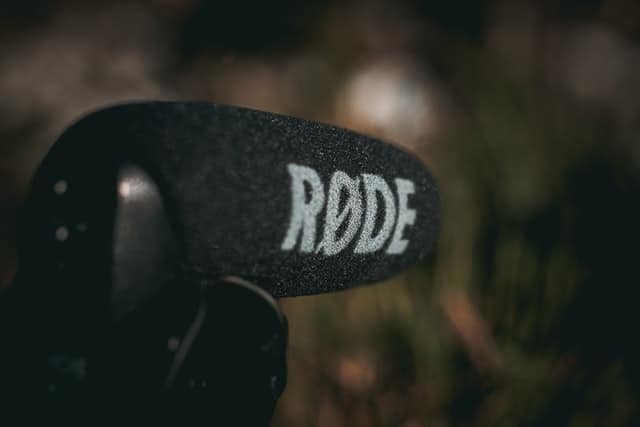 What is the Best External Mic for ZV1 And ZV-E10?
The mic is portable and durable while still offering a unidirectional pickup. It provides excellent resistance to wind and vibrations.
2. Rode Microphones Wireless GO II
The professional-grade two-microphone wireless microphone is capable of recording high-quality audio. It is compact yet powerful. It records two subjects at a time with two transmitters and a receiver.
This Sony microphone for ZV-1 features a straightforward control system. The "Gun" and "Zoom" modes allow it to operate differently based on usage.
4. Rode VideoMic GO Microphone
The VideoMic GO is larger than Rode VideoMicro mic with a narrower pickup pattern. It offers an enhanced off-axis rejection for tighter directionality. The device runs on plug-in power with no control switches.
5. Saramonic SR-XM1 Omnidirectional Microphone
This is the most affordable microphone on the list. It is compact, lightweight, and super easy to use. It doesn't need any battery and features a built-in swivel head.
If you're switching from the camera's built-in mic, the Rode VideoMicro ultracompact camera microphone would be one of the best options, with improved sound quality and noise reduction capabilities.
Rode VideoMicro
Key Features:
Frequency Range: 100Hz - 20kHz
SPL: 140dB
Sensitivity: -33 dBV/Pa at 1 kHz
Dynamic Range: 120 dB
Pattern: super-cardioid
Weight: 42 g
Warranty: 1 Year
Cable Length: 3.5mm
Pros:
Durable, high-quality, build.

Runs on plug-in power.

A furry windshield minimizes wind noise.

Shock-mount eliminates vibrations.

Detects sound unidirectionally

Easily mounted to a camera.
Cons:
Works great when the audio source is within 4-5 feet of the mic.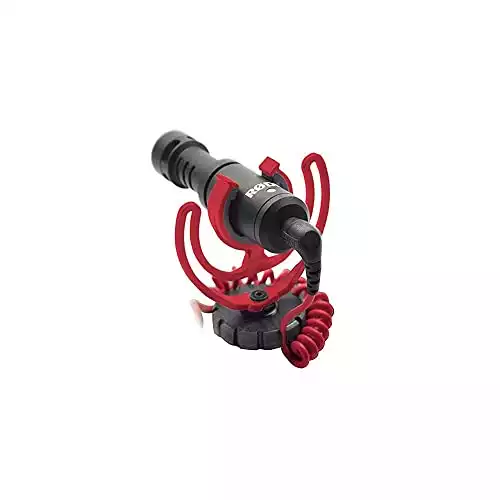 We earn a commission if you make a purchase, at no additional cost to you.
Compact Yet Durable
The microphone is only 3 inches long and weighs 1.5 ounces. So, you wouldn't have any trouble carrying it or adding a lot of extra weight if you're using a gimbal.
Its durable aluminum body helps in RF rejection, and the ceramic coating reduces the chances of glare.
Directional Sound Pickup
Rode VideoMicro comes with a cardioid polar pattern to pick up sound from just in front of it while attenuating sounds that enter from the back. The active and directional condenser elements provide clear audio.
Detachable Shock-mount
Rode utilizes a rugged Rycote Lyre suspension-style shock-mount which prevents the transfer of vibrations from the camera while recording. Additionally, there's a camera shoe mount at the bottom of the shock mount to ensure an easy attachment to your camera.
Shoe mounts are typically universal, allowing this Rode VideoMicro to be used on many different types of cameras.
My Take On It
I find it compact, durable, and doesn't require any external power. It is ideal for journalists or vloggers who run and shoot with their Sony ZV1.
If you're a content creator looking for the best wireless microphone for Sony ZV-1, then Rode Wireless GO II is perfect. It's a two-microphone system with one receiver.
Rode Wireless GO II Dual Channel Wireless Microphone System
Key Features:
Frequency Range: 50Hz – 20kHz
Pattern: Omnidirectional
Maximum SPL: 100 dB
Sample Rate: 44.1/48kHz
Bitrate: 24
Operating Time: Up to 7 hours
Weight: Transmitters: 30g, Receiver: 32g
Pros:
Two-channel wireless system.

Intuitive operation with a compact design.

Onboard storage functionality.
Cons:
Pricier than others on the list and also more expensive than its predecessor.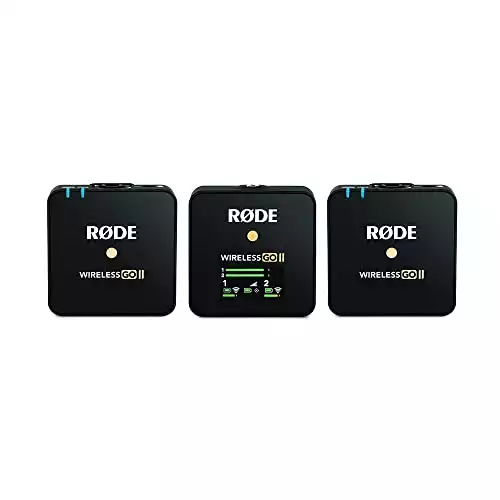 We earn a commission if you make a purchase, at no additional cost to you.
Dual-Channel Wireless System
The wireless mic also has an onboard recording with RØDE Central, a nice feature to ensure that you have audio to go with your video if the camera doesn't record the audio source correctly. The adjustable gain control allows you to modify the output.
You can record and control each channel separately and combine them in post-production.
Compact and Powerful
The updated GO II comes with the same pocket-sized form factor as the earlier one. The transmitter and receiver are lightweight and compact, occupying only a tiny bit of space in your camera bag.
The most convenient thing is that this wireless mic comes in a handy pouch to keep everything secure and together in place. The receiver can also be mounted to your camera using the hot shoe.
Professional-Quality Audio Recording
The Wireless GO II delivers a professional-level audio quality, while the transmitters and receiver are automatically paired to ensure seamless connectivity.
Additionally, the wireless microphone comes with twist-and-lock furry windshields so that you can record crystal-clear audio in adverse weather conditions.
My Take On It
This external mic stands out because you can record two different sources simultaneously. Great for interview-style videos and reduces the burden on a single shotgun microphone to hear both people.
Even though VideoMicro works better than Sony ECMGZ1M, many people love using this simple, budget-friendly shotgun microphone.
Sony ECMGZ1M Gun / Zoom Microphone
Key Features:
Frequency Range: 150Hz - 15kHz
SPL: 120dB
Type: Shotgun
Weight: 45 g
Warranty: 1 Year
Cable Length: N/A
Pros:
Impressive sound quality.

Dual-mode of picking up sound improves its versatility.
Cons:
Struggles a bit while reducing wind noise.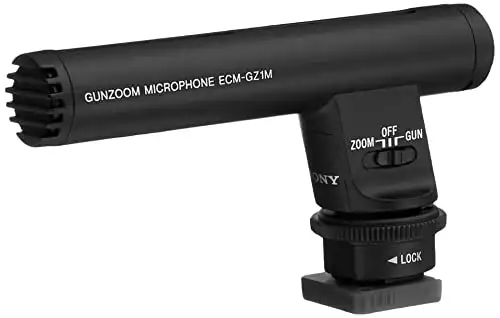 We earn a commission if you make a purchase, at no additional cost to you.
Simple Control System
ECMGZ1M comes with a straightforward interface that is easy to use and ready to be used immediately. You only need to mount the Sony mic on your camera's hot shoe mount and connect through the jack.
Dual Modes
This Sony microphone offers two modes to choose from; Gun and Zoom mode.
The Gun mode locks the mic's pick-up pattern, while the Zoom mode allows it to dynamically adjust depending on how much you zoom in or out with your camera. The pick-up pattern gets narrower when you zoom in gradually.
My Take On It
With a wide frequency range, ECMGZ1M provides a consistent sound reproduction while rejecting unwanted noise. However, the Sony ECMXYST1M Stereo Microphone will be a better choice if reducing wind noise is extremely important to you.
The Rode VideoMic GO is another high-quality external mic for Sony ZV1. This shoe-mounted shotgun mic is a big hit considering its popularity amongst enthusiast shooters who want to ensure you're listening to their videos with excellent sound quality.
Rode VideoMic GO
Key Features:
Frequency Range: 100Hz - 16kHz
SPL: 120 dB
Sensitivity: -35 dBV/Pa at 1 kHz
Dynamic Range: 96 dB
Weight: 0.43 lb
Warranty: 1 Year
Cable Length: 20 to 35 cm
Pros:
Rode VideoMic GO runs on plug-in power.

Utilizes the super-cardioid polar pattern to focus on the sound in front of it.

Integrated shock-mount inhibits vibrations.
Cons:
Electronic interference might be heard when recording near an electronic unit that broadcasts (i.e., WiFi router)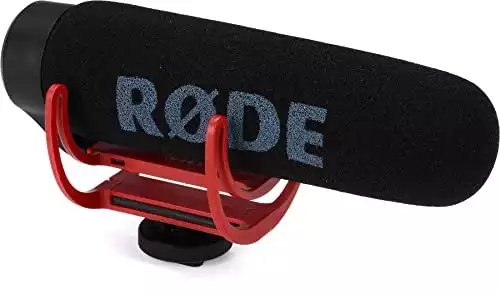 We earn a commission if you make a purchase, at no additional cost to you.
Frequency Range
The frequency range supports 16Hz to 100KHz. Frequencies above 100Hz usually come from electrical components or other appliances you don't want in the final audio.
Integrated Shock-mount
While rubber bands are used in many shock-mounts, Rode VideoMic GO utilizes a rugged Rycote Lyre suspension-style shock-mount that doesn't get snapped or stretched.
Also, this integrated Sony ZV1 external mic setup eliminates the transfer of vibrations from the camera.
No External Power
Unlike other microphones of the same series, the Rode VideoMic GO doesn't require batteries to work. The device also has no external controls to adjust. All you need to do is to plug the cable in and start recording.
My Take On It
The Rode VideoMic GO surely improves the audio quality of your recording. It is simple and easy to use. Also, the pricing is just too good for the quality.
If you're looking for a budget-friendly microphone to record your content, you'll be hard-pressed to go wrong with this. Saramonic SR-XM1 is a simple and lightweight microphone that also provides high-quality audio.
Saramonic SR-XM1
Pros:
Lightweight and ultra-compact.

Doesn't require any battery or charging.

Built-in swivel head.
Cons:
Static buzzing noises with the latest Hero Go-Pro models
Key Features:
Frequency Range: 35 Hz to 15 kHz
Pattern: Omnidirectional
Maximum SPL: 74 dB
Weight: 21 g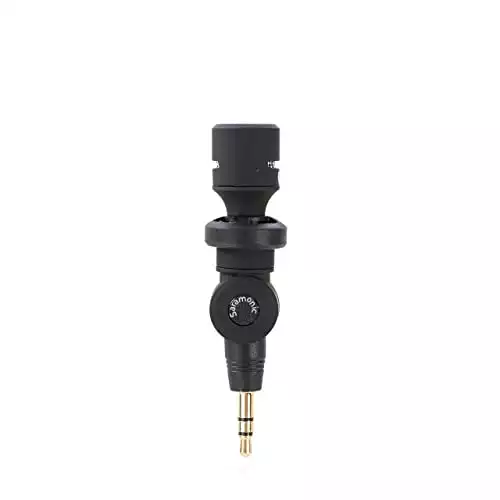 We earn a commission if you make a purchase, at no additional cost to you.
Ease of Use
The affordable microphone is simple to use. Its built-in swivel allows it to focus on the direction that you want to record. You only need to plug it into your device to start recording.
The omnidirectional pickup pattern gives you a smooth and even audio recording. Also, its built-in shock mount helps to avoid unwanted vibrations and noise.
Wide Compatibility
In addition to connecting to the Sony ZV-1 and ZV-10, the SR-XM1 connects to a wide variety of cameras. You can record high-quality audio with GoPro Hero action cameras as well.
Lightweight
It weighs less than an ounce, making it preferable to carry everywhere.
My Take On It
The Saramonic SR-XM1 is a go-anywhere solution that offers high-quality audio options over your existing built-in microphones. The SR-XM1 is affordable, lightweight, and multi-directional, making it perfect for journalists or on-the-spot recording.
How to Choose the Right Microphone for Sony ZV-01?
Many external microphones are available on the market; here's a detailed buying guide of features to consider before purchasing.
Types of Microphone
The working principle of a microphone is to capture sound energy in the form of waves and then convert it into electrical energy. There're two different methods for doing this.
Condenser: These types of mics are more sensitive than dynamic ones and pick up high frequencies. They are used in more predictable environments, like recording a song or voiceovers. Condenser mics need power from an external source to work.
Dynamic: Dynamic mics work great even in noisy environments. They are pretty durable and long-lasting. Dynamic mics are commonly used on stages while performing or outdoors.
Polar Patterns
The next big thing is to figure out what you want the mic to record. Whether the microphone only records what is in front of it or records sound all around you.
These recording patterns are known as polar patterns. Here're some examples of polar patterns:
Cardioid: This pattern is also known as the "heart-shaped" pattern, which is used to pick up vocals primarily just in front of the microphone. It records a bit of sound from the surroundings. That's why this mic is mainly used while recording music.
Super cardioid: These mics have an even narrower pick-up range than the earlier one allowing a higher rejection of ambient sound. These mics are primarily used to pick up noise from a single sound source within loud environments.
Bi-Directional: This type of microphone can detect sound from both the front and back, making it popular amongst podcasters. The mics are usually pricier than others as well.
Omnidirectional: Omnidirectional microphones detect sounds from all directions equally around them. These mics are useful for recording a large group of people.
Frequency Response
Frequency response refers to the range of frequencies that a microphone can pick up, such as 20Hz to 20KHz.
However, a microphone with a long-range frequency response doesn't necessarily mean to be good. Because the capability of that microphone largely depends on how responsive it is to specific frequencies.
Sensitivity
Sensitivity shows up often when you're looking for numbers in specs of different microphones. It refers to how sensitive the mic is to sounds. It is a measure to determine the quietest sound that the mic can pick up.
The lower the sensitivity, it detects the slightest sound in the final recording.
Impedance
Impedance refers to the accessibility of the mic to AC or audio signal. Microphones with lower impedances are good at retaining audio quality when using longer cables.
Frequently Asked Questions (FAQs)
Does Sony ZV1 have an external mic?
No. the Sony ZV1 doesn't come with an external microphone. The camera has an enhanced built-in microphone, even with a windsock. However, to get the best audio experience, using the best external mic for ZV1 is highly recommended.
How to Attach A Microphone to Your Gimbal?
Many vloggers use a gimbal with the Sony ZV1 while recording their videos. You can attach a microphone to your gimbal in different ways, but the Hoodie set-up is the most popular one. You need to place the screw in the bottom. Then, place the microphone on the hoodie. After that, place the hoodie on the handle of the gimbal. Finally, attach the cable to finish the process.
Conclusion
Bad audio indeed makes your videos become some of the worst. However, with a quality external microphone, you can dramatically improve the quality of your videos with clear audio.
We're a big fan of the Rode mics because their quality and value strike a good balance, especially when getting started with your vlogging setup.
Related Posts: