If you are looking to double the battery life as well as to improve the ergonomics and overall handling of your camera, then you should consider a vertical battery grip. There are a handful of options available, and only you can decide what the best battery grip for Sony A7III is.
Sony VGC3EM Vertical Grip is the best overall grip according to my research not only because of its rigid build quality, but also its high capacity and weather-resistant sealing.
Neewer Vertical Battery Grip would be another popular choice with numerous functionalities.
These are great options, but there are some others you might want to take a peak at. If you're in search of a battery grip for the Sony A7III, this article is worth reading.
Let's dive in.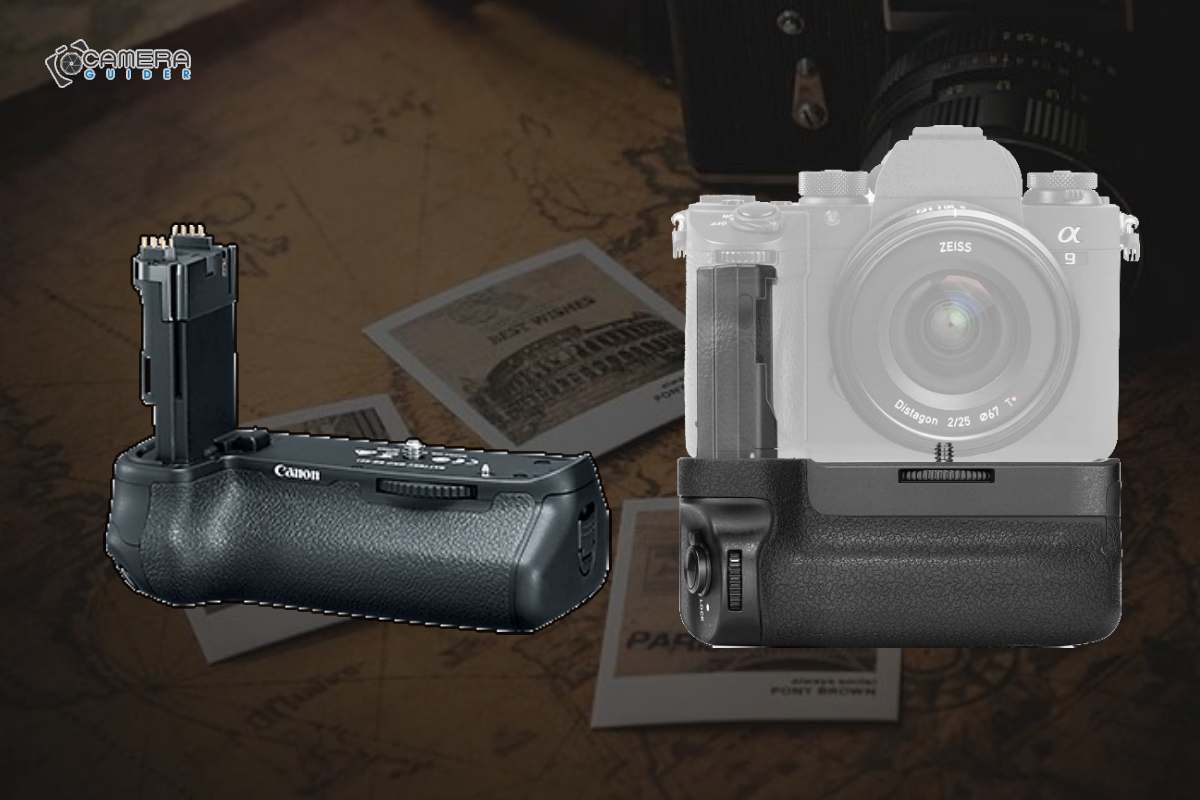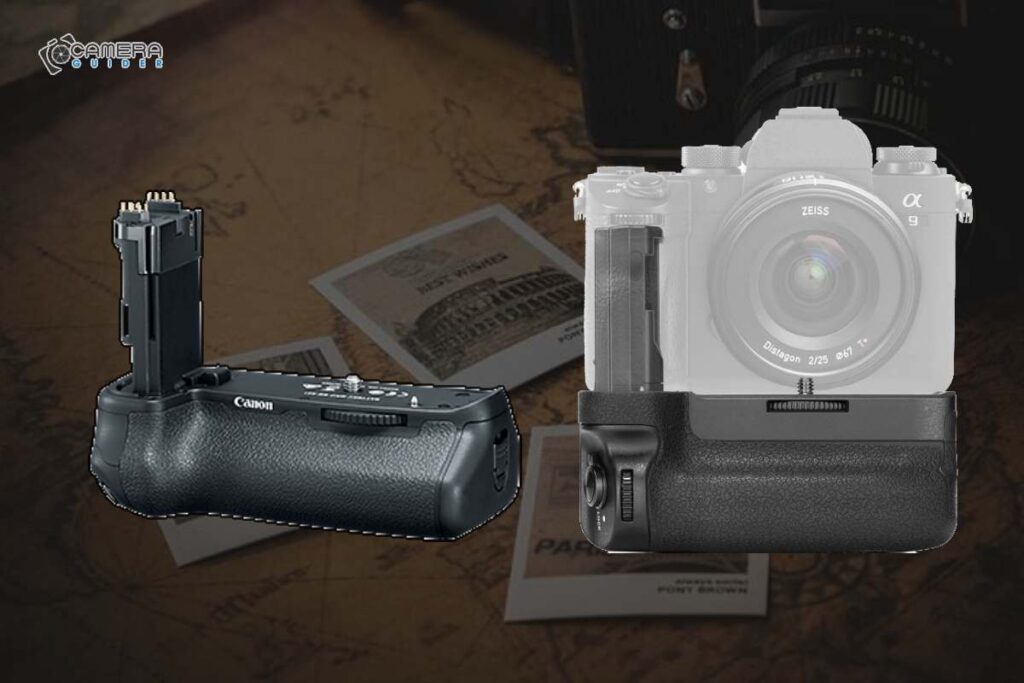 What is the Best Battery Grip for Sony A7III?
Ultimately, the best battery grip for your camera will depend on what you're hoping to gain. If you're looking for something that is simply for ergonomic, you can get a grip extension that is exactly that. If you're looking to increase your battery life and have a more comfortable vertical shooting experience, there are grips for that too.
Best Overall
Sony VGC3EM Vertical Grip
For Sony α9, α7R III, α7 III
Key Features:
Material: Magnesium alloy
Battery Power: NP-FZ100 x 2pcs
Color: Black
Weight: 272 g
Dimensions: 5 x 2.5 x 4.25 inches
Pros:
Doubles the battery capacity

Enhanced ergonomics

Shooting both vertically and horizontally

Sturdy exterior
Cons:
Small space between the camera body and grip

A bit pricey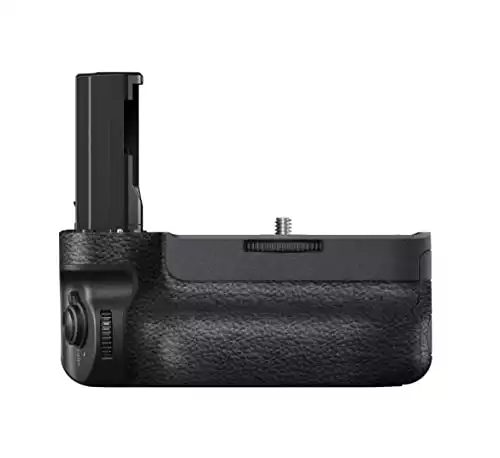 We earn a commission if you make a purchase, at no additional cost to you.
Sony VGC3EM is the best battery grip that you can find for the Sony A7III with lots of functionalities and compatibilities.
Longer Battery Life
The VGC3EM can host up to two NP-FZ100 batteries. It doubles the camera's capacity. When the power of the first battery goes down, the other battery takes charge automatically. You can also see the remaining charge as a mean of percentage.
You can also charge the loaded batteries within the grip using the camera's USB port without even detaching the grip from the camera itself.
High-quality Build
The Sony camera grip is made of high-quality magnesium alloy to protect it from any damage and keeps it lightweight at the same time.
Weather Resistant
Its dust and moisture-resistant sealing is not only applied on the key and controls, but also on the ports and electric contacts to make it perfect for harsh shooting conditions.
Dual Controls
Sony VGC3EM offers a grip design to control the camera in both vertical and horizontal positions. This has been possible with the identical keys and controls on the back of the camera body.
There's a lock switch surrounding the shutter button to prevent any accidental pressing of the shutter with your palm when shooting horizontally.
Runner Up
Neewer Vertical Grip
For Sony α9, α7R III, α7 III
Key Features:
Material: Metal + Rubber
Battery Power: NP-FZ100 x 2pcs
Color: Black
Weight: 272 grams
Dimensions: 5 x 2.44 x 4.25 inches
Pros:
Twice the battery power

Charge up fast and hold it well

Attachable to a tripod

A cheaper option than Sony VG-C3EM
Cons:
No weather-resistant sealing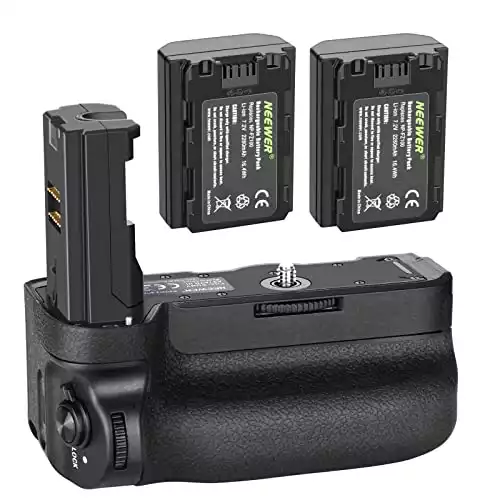 We earn a commission if you make a purchase, at no additional cost to you.
The Neewer vertical battery grip is another great camera grip for the Sony A7III and Sony A7 RIII improving the tactile feeling of the cameras.
It is a direct replacement for the Sony VG-C3EM. Additionally, the gear comes with a ¼ inch bottom screw thread to get attached to a tripod.
The Neewer battery grip comes with two 7.2 V lithium-ion 2280mAh rechargeable batteries to ensure that you are getting a long battery life.
The moment you add the grip to your camera, you will have twice the battery life.
Apart from that, when you add this to the camera, the battery life will be shown on the LCD as a percentage. And, when one battery runs out, the other one starts providing the power.
The battery holder is quite lightweight thanks to the rubber material that has been used to make it. It also is very easy to carry around when you are out. It improves the ergonomics of holding the camera, especially if you need to hold it for a long time.
The professional level vertical camera grip comes with a shutter-release button, front and rear dials, AF-ON buttons, and many more. These buttons share their functions with the ones that are assigned on the back of the camera's body.
Additionally, there's a lock toggle that lets you disable the shutter button and use the stand only.
Best Value for Money
Meike MK A9 Vertical Grip
For Sony α9, α7R III, α7 III
Key Features:
Material: Metal with rubber coating
Battery Power: NP-FZ100 x 2pcs
Color: Black
Weight: 420 grams
Dimensions: 5 x 2.64 x 4.33 inches
Pros:
Cheap alternative to Sony's official grip

Works as a wireless remote receiver

Coated with the high-quality rubber for perfect feeling
Cons:
Grip doesn't feel great to handle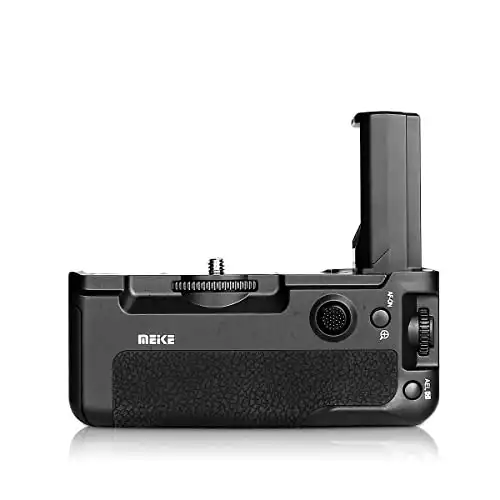 We earn a commission if you make a purchase, at no additional cost to you.
If you find the Sony VG-C3EM quite expensive, Meike brings a cheaper alternative for the Sony camera bodies. This grip is very similar to Sony's official one but still costs almost one-third of it. The grip may doesn't give you a robust feel as Sony VGC3EM, but the battery tray is rather better built.
The battery grip is designed to make your vertical shooting comfortable. Hence, it includes a shutter release, two custom buttons, an AF button, and two control wheels and its on and off button.
The grip also functions as a wireless remote receiver when connected with the remote controller that comes with the package. It operates on 2.4GHz radio signals and the operating distance is about 100 meters.
Apart from the signal of triggering only, it also works as a timer, an intervalometer, and a light trigger as well.
Meike MK A9 also supports the screen lock function and lock display mode so that you accidentally don't press the shutter button.
Most Comfortable
Sony GPX1EM Vertical Grip
For Sony α9, α7R II, α7S II, α7 II, α99 II
Key Features:
Material: Aluminum
Battery Power: No
Color: Black
Weight: 73.7 grams
Dimensions: 2.2 x 0.83 x 3.74 inches
Pros:
Improves comfort and stability

Portable and lightweight

Durable aluminum construction
Cons:
No additional battery can be placed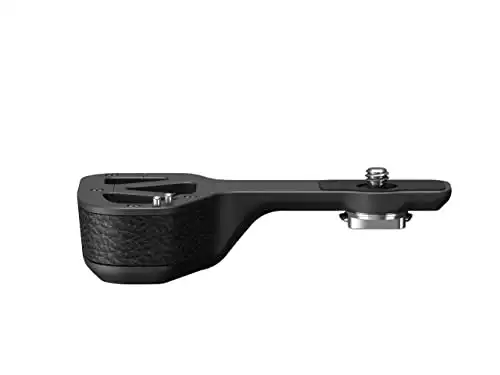 We earn a commission if you make a purchase, at no additional cost to you.
If you're looking for a tiny little battery grip to improve the ergonomic while shooting, the Sony GPX1EM grip extension would be a highly recommended one to go for.
The device is made of high-quality aluminum while ensuring the lightweight yet robustness of the grip extension. It features a sophisticated design and the same material is used on the full body to keep a uniform and comfortable feel when gripped.
The Sony grip extension is really straightforward to connect with your camera. It can be mounted to the camera's tripod socket easily. It results in a larger and taller grip for a better ergonomic shooting setup and is essential when you're holding the camera for a long time with a long telephoto lens.
Meike MK-X1EM is similar to the Sony GPX1EM camera grip but it comes in almost half of the other's price. It is an inexpensive version of Sony GPX1EM while needing to remove the grip to access the battery of the camera.
Meike MK-X1EM metal bracket hand grip enhances the comfort while gripping the camera. Apart from improving the ergonomics, it enables a greater balance of the camera, especially when you are using a large and heavy lens.
The bracket hand grip is equipped with 1/4 screw holes to be used with different products other than Sony A7III with 1/4 screw. It also incorporates a quick-mounted slide on the bottom so that it can be easily used with any tripod head.
Why Would You Use a Battery Grip?
Well, a battery grip is attached to the bottom of the camera with a feature of a secondary shutter release.
In recent times, we are experiencing that the cameras are getting smaller. If you own a portrait-oriented camera, it is sometimes rather difficult to control.
A battery comes as a savior which makes it comfortable to hold the camera and improves the ergonomic control of the camera to handle it easily.
If you are particularly using a large telephoto or zoom lens that is mounted to your camera, a battery grip will ensure stability.
However, the most crucial advantage of a battery grip lies within its name as it holds extra batteries. It eventually doubles the battery life of the Sony A7III and you can enjoy shooting without getting worried.
The price of the battery grip varies from manufacture to manufacture. However, you should get a good one within $400 to $500.
Generally, all camera manufacturers bring battery grips for their cameras. But one only fits a limited number of models as it needs to fit the camera's body shape and specifications. This article brings the battery grips that fit Sony A7III mostly with a few other models.
How to Choose the Best Battery Grip?
Well, now it is time to get to know what things do you need to look for while buying the best battery grip for Sony A7III and the newly released A7 IV.
Compatibility
Okay, this is really the most crucial thing to look for whether the battery grip you are going to buy is compatible with the camera you own. Otherwise, it's a complete waste of money, and let me remind you that camera grips are not cheap at all.
Most camera manufacturers build camera grips but those are mostly dedicated to specific models. Make sure you choose a grip that goes with the Sony A7III.
If the camera grip isn't compatible with the camera, you won't be able to use the features no matter how many it offers. The products listed above are compatible with the model and are designed to use it particularly.
Battery Life
The common rule is for enhanced battery performance is that the bigger the battery's capacity, the more time you can shoot without having any break.
While choosing a battery grip, battery life and capacity are hence very important to consider.
There are some manufacturers who claim to back up for a certain number of shots but don't get fooled by those. You may not be able to shoot the number of photos they claim.
Again, some batteries can back you up for up to 2000-3000 photos with their regular capacities, while others allow you to shoot 4000-5000 pictures in their maximum capacities. So, take some time to research and find a battery grip with the best battery life.
Durability
Your camera grip should be reliable and durable to last long. It would be best if it comes with a water and dust resistance feature.
You may want to explore different places with the camera and if the camera grip gives you trouble, it won't be a pleasant experience for sure.
The build quality of the battery grip should be sturdy and robust enough so that it stays fine from any physical damage.
Warranty
With so many options in hand, you should not settle with an average warranty period. It is a general rule to look for a product with a longer warranty. It keeps you backed up if the product troubles you such as electrical and mechanical.
Some companies offer only a one-year warranty, while others provide more than that. So, be a little bit tricky while looking at the warranty period.
Safety
You must make sure that the camera grip is safe to use with your device. Search for different ratings and reviews of the gear to get the best idea about the product.
Frequently Asked Questions (FAQs)
Is a battery grip worth it?
Yes! A battery grip doesn't only make the camera comfortable to hold, but also allows you to control the keys conveniently.
It improves the stability for shooting, in particular, if you are shooting with a large telephoto lens mounted to the camera.
Gimbals are also used to enhance balance for shooting. If you own a Sony camera, you may be interested in buying the best gimbal for Sony ZV1 and ZV-E10.
How do I install battery grip on Sony a7III?
To install a battery grip, you need to remove the battery cover first. There is a switch that you need to flip and attach to the camera body.
Make sure that it fits perfectly before starting shooting with the camera. You may see the video to know how to install and remove battery grips.
Does battery grip increase FPS?
A battery grip increases fps with the help of multiple batteries to boost the performance. However, the increase may not be significant but it increases by little means.
Is Meike Battery Grip good?
Meike is a well-known camera accessory manufacturer for decades. But the best way is it is known for making battery grip that is good value for money.
It builds grips that are quite similar to the quality of Sony's ones and performance is also comparable. But they cost almost three times cheaper than Sony's official camera grips.
So, if you're looking for the best-valued grips, Meike camera grips wouldn't disappoint you.
Conclusion
If you are having trouble holding your camera comfortably, a battery grip would be the probably be the best solution for you. It will improve the ergonomics to make it easy to hold the camera and also enhance the overall balance.
Related Posts: