To take your photography to the next level, you need to start introducing light into your photos. As a beginner, you will need to get set up with some quality speed lights. Having the "best" or the most expensive flash isn't advantageous when you're just getting your feet wet. Godox is an amazing, affordable, brand you can trust as your first flash.
On top of that, Godox has a known track record of compatibility with Sony cameras. You have come to the right place if you are looking for a flash for your Sony camera. You'll love the creativity and the new look that your photos will take on.
Here's a list of great Godox speed lights worth your consideration:
Let's dive in: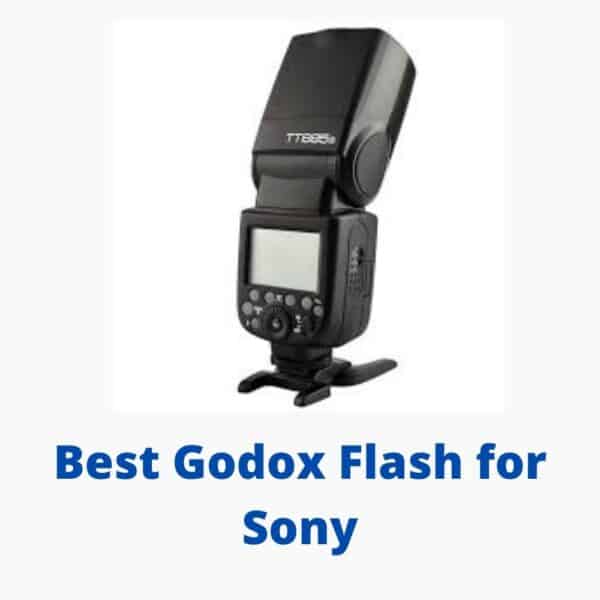 What is the Best Godox Flash For Sony?
1. Godox V860II-S – Best Overall
2. Godox TT685S – Runner up
3. EACHSHOT Godox TT350S – Best Budget
4. Godox V1-S – Easy to Use
5. GODOX AD200Pro – Most Versatile
Now, let us take an in-depth look at the best flash for Sony A7III and other Sony cameras. Once you are through, you will have a good idea of which one fits you.
This flash has a 2.4G wireless transmission system built into it. The rechargeable battery has a 2000mAh capacity, ensuring better performance for continuous shooting. The full TTL functionalities support will ensure you get the optimal flash.
Best Overall
Godox V860III-S Flash
Pros:
Comes with flash exposure compensation

Auto-zoom and manual zoom

High-speed sync mode

Wireless transmission system
Cons:
You won't get ATG AF Assist bean when using an A-mount with a transmitter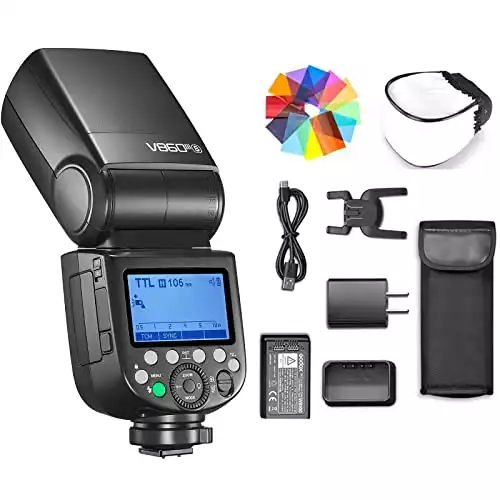 We earn a commission if you make a purchase, at no additional cost to you.
There aren't any better Godox flashes for sony that can compete with Godox V860IIS. It will provide the premium shooting experience a photographer always looks for.
Wireless Transmission
This V860IIS model comes with 2.4GHz wireless transmission. You will be able to remotely execute flashes over a long distance of 100 meters. Now, if you combine it with TTL of multiple flashes, you can use them together just the way you want them.
Powerful Battery
The battery that comes with a pack is an 11.1 volt, 2000mAh Li-ion polymer battery. Once fully charged, you can take approximately 650 full-power flashes. Its recycle time is 1.5 seconds which will come in handy when shooting fast-paced objects. This battery automatically shuts down after being idle for 90 seconds to save power.
High-speed Sync
Its support for high-speed sync will allow you to use a fast shutter speed. You won't have to deal with black side troubles when used efficiently. Also, you can shoot big movies very quickly.
Summary
This flash will aid your shooting in more ways than you can imagine. Using all of its advanced features, you will be ready to take your photos to the next level. Considering the price, features, and build quality, it is one of the best Godox flashes for sony.
With the inclusion of this TTL-compatible camera in your equipment set, shooting will become a lot simpler. It is fully compatible with Sony Wireless Lighting System. Moreover, it can function as a secondary flash or an optical wireless master. You can power it with four separate AA batteries.
Runner Up
Godox TT685II-S TTL
Pros:
Built with the wireless X system

High-speed synchronization

Comes with TTL and FEC features

Simple power management system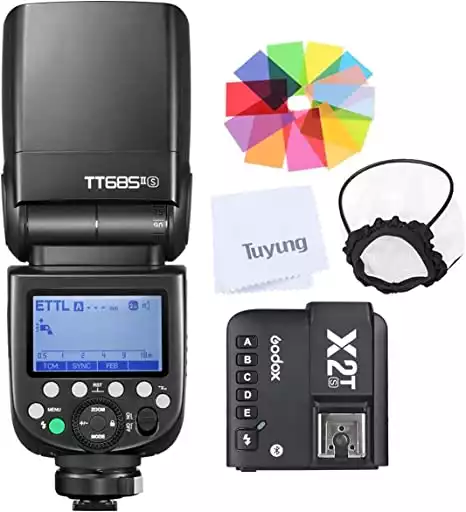 We earn a commission if you make a purchase, at no additional cost to you.
This Godox TT685S only lacks behind when it comes to battery. Otherwise, it was a tough competitor for the top spot. Our top choice comes with a superior battery than this one.
Flash Coverage
It has a flash coverage of 20 to 200 mm. You can stretch the lower point as low as 14 mm if you get a wide panel. With this coverage, you can do almost all sorts of experiments. The flash duration can be between 1/300 seconds to 1/20000 seconds.
Adjustable Angle
You can tilt the flash anywhere from 0 to 360 degrees. And, vertically you will have the freedom to rotate it 90 degrees and horizontally 270 degrees. This means you can adjust the flag just the way you want it. It will make shooting according to your needs a lot easier.
LCD Display
It comes with an LED dot matrix LCD screen. This intuitive display is easy to view and displays information in real time. The widescreen distribution makes it easy to work on. The control panel below the screen is beautifully designed and simple. All the function keys are evenly distributed.
Summary
This one would be a good choice if you want a Godox flash for Sony A7III that works out of the box. Also, it will work on most Sony cameras. It is also very easy to use, and the manual is self-explanatory.
This flash can work as both a master and a slave unit. So, you will have great flexibility and better use of the lighting. The compact size will allow you to easily carry it around. The vertical and horizontal rotation help you set it up at almost any angle you want.
Best Budget
EACHSHOT Godox TT350S
Pros:
Can withstand overheating.

Various degree adjustable angles.

Comes with TTL functions.

Can be used as both master and slave.
Cons:
Has a relatively short battery life.
We earn a commission if you make a purchase, at no additional cost to you.
Godox TT350S comes at an affordable price. It is great if we consider the features it brings to the table. There are not many that can compete when it comes to the price tag.
Compact Size
The compact size is one of the best things about this flash. It will fit right inside your palm without any hassle. When carrying a bag, it will take up very little space. This compact size will be very convenient if you are often on the run.
Full TTL Function
Even though it is compact, the makers did not compromise any features. You will have full TTL functionalities at your disposal. That means you will enjoy the better flash intensity. It also comes with FEC, manual flash, multi-flash, and more, not to mention the front & rear curtain sync.
Convenient LED Panel
The LCD panel has a red background that is easy to see under all conditions. It has evenly distributed four function buttons. You can easily read and switch functions even in complete darkness.
Summary
If you are on a tight budget, this one can greatly benefit you. It has most of the essential features at a very affordable price.
The highlight of this flashlight would be its stable color temperature. This Godox 76Ws flash will keep the color stable across the whole temperature range. Due to the use of a magnetic mount, this flash can be easily mounted on the camera at a moment's notice.
Easy to Use
Godox V1-S
Pros:
Comes with a magnetic mount.

Remote Sony TTL power control.

Easy to use both on and off camera.

Autofocus assist beam.
Cons:
Come with a bit expensive price tag.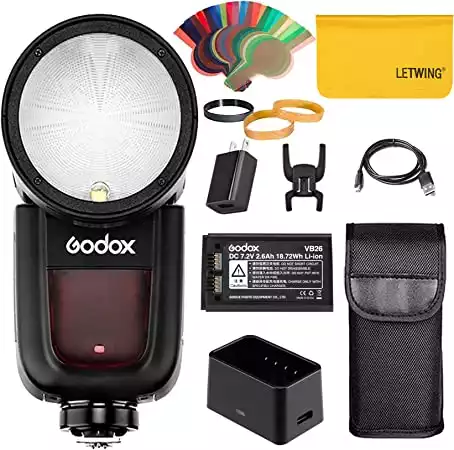 We earn a commission if you make a purchase, at no additional cost to you.
This is a flashlight you can take into any scene. It will work out of the box and requirement very little maintenance. On top of that, this unit is very easy to use with a Sony camera.
Magnetic Rim
Having the right light is essential in any photoshoot, and you don't need the flash attached to the camera 24×7. That is where the Smart Magnetic Mount comes in. Thanks to that, you can mount the flash within a second when necessary. Taking it off the camera is also easier and faster than ever.
Speedy Recycle
This flash has a recycle time of 1.5 seconds. This means you will need to wait 1.5 seconds before using it again. Unless you look into specialized flashes, 1.5 seconds is the lowest it can get.
Natural Light
You will get stable flash color across all temperatures. At an entire range of power, the color will stay at around 5600k. With the shape of the flash being round, you will get natural soft light at the edges. You can also use a fresnel head to shoot with soft light.
Summary
Although the price of this flash is a bit higher, you won't regret the purchase. It has excellent design and build quality. Moreover, it is very easy to use in all environments.
The bare-bulb head feature allows you to take off the cape. Doing so would create 360 degrees of nearly shadowless, soft, and bright light. This lightweight flash is very easy to carry around. It can be considered one of the best off-camera flashes for sony.
Most Versatile
GODOX AD200Pro
Pros:
Very large AV panel.

Stable color temperature.

TTL/ manual / multi-flash mode.

Large capacity battery.
Cons:
Keep a lookout for the sharp corners.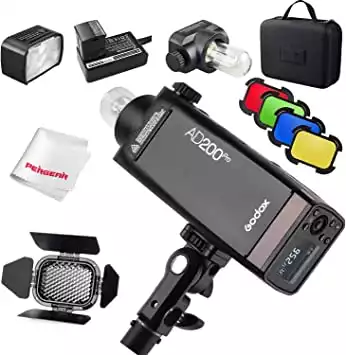 We earn a commission if you make a purchase, at no additional cost to you.
When it comes to the versatility of a flash, Godox AD200Pro is unbeatable. It comes packed with all the features necessary to be versatile in any environment.
Interchangeable Flash Head
One cool thing about its flash head is that you will have more than one option. You can use the round head, fresnel head, Speedlite head, or the bare-bulb head. They all create light with different shades and variants. You can take many creative shots if you use them wisely.
Large Capacity Battery
The removable lithium-ion battery is removable. You can take 500 full-power flashes with this battery. The flash power can be adjusted in 9 steps from 1/1 to 1/256. So, you can accurately set how much flash intensity you want.
Lightweight and Portable
The flash only weighs around 5 lbs. The portability, compact design, and lightweight build will let you take it anywhere without hassle.
Summary
This one would be a good choice if you need to shoot objects in a constantly changing environment. It will hand you all the necessary advantages you need to have a successful shoot, no matter what kind of environment you are in.
How to Choose The Best Speed Light Flash For Sony?
Guide Number
Guide number states how far the light will reach when the camera is at optimal settings. The higher the number, the farther the light goes. For example, a guide number of 120′ can have an object farther away than a guide number of 60′.
Price goes up as this number increases. So, choose your pick according to your shooting requirement.
TTL
The term "TTL" stands for "Through the Lens." In short, it throws infrared light on the object before the flash is fired. Once the infrared light bounces back, it does some background calculation to optimize the flash power. Having this feature will help you achieve optimal lighting.
Recycling Rate
The flash cannot light up continuously with zero delays. A certain amount of time must be passed before it is ready to shoot again. This time is referred to as the recycling rate.
If you shoot in a high-speed environment, this can be an essential factor. For most photographers venturing into flash photography, you won't be bothered by a slightly slower rate.
Wireless Transmission
Having wireless transmission on your flash will take your shooting to a new level. Once you cut the cord you will never want to go back. Older cameras and flashes are often not compatible with wireless flashes. Going wireless will allow you to setup off-camera flashes for even more creative and professional lighting configurations.
Master & Slave
Speed lights can be configured in a "master" and "slave" when you have a multi-flash setup. The "Master" flash will be triggered by the camera, and the "Slave" flash is often triggered by the light from the Master when fired.
Sync Speed
Sync Speed indicates the fastest shutter speed you can use when the flash is attached. If the sync speed does not match, it might result in photos being too dark. If the shutter speed is too fast, the light from the flash won't reach the sensor and will be ineffective.
Battery Power
If you need continuous shooting or going away on a trip, you should opt in for more power. In a general flash, batteries can handle 300-500 photos once fully charged.
If you require more power, I would recommend getting an additional rechargeable battery. Then you can swap a new one when the juice runs out in the current one.
Swivel & Tilt
This is an essential factor that is often forgotten. Make sure the flash has a maximum swivel and tilting capability. Having the freedom to set up the flash the way you want will greatly reduce hassle and workload because you can point the flash where you want it, preventing harsh lighting on your photos.
Frequently Asked Questions (FAQs)
Are Godox flashes good?
The Godox flashes are not only good but also better than most. They have an excellent reputation and work great with Sony cameras.
Which Godox flash is best?
It is hard to define the best depending on specs alone. The best Godox flash is the one that fully fits your needs. I would say Godox V860II-S is the best one.
How long does Godox flash last?
If taken care of properly, they will last more than three years.
Is Flash Point and Godox the same?
Is Godox a good brand?
Considering the features, they have very attractive prices. Their system is very much flexible, and affordable
What is a TTL flash?
TTL technology uses infrared flash bursts before the actual flash fires. The light can then adjust settings based on the information infrared flash provides before shooting the real flash.
How long does the Godox V1 battery last?
Godox V1 battery lasts more than 400 full power shots.
Conclusion
There are all sorts of flashes that work with Sony cameras. But, only a few can match the quality and price point of the Godox flashes. All the units on the list are proven and thoroughly tested.
You can pick any of them that suits your environment. If you still can't decide, I recommend Godox V860II-S as all the necessary features.
Related Posts: