To make camera shoots better, people often use accessories like battery grip. You might be wondering, why would anyone use a big device under the camera.
Folks who like to take good shoots would love to have the advantage of little accessories to improve the quality of pictures, even if it holds a few downsides.
Here's the answer to your question 'are camera battery grips worth it'!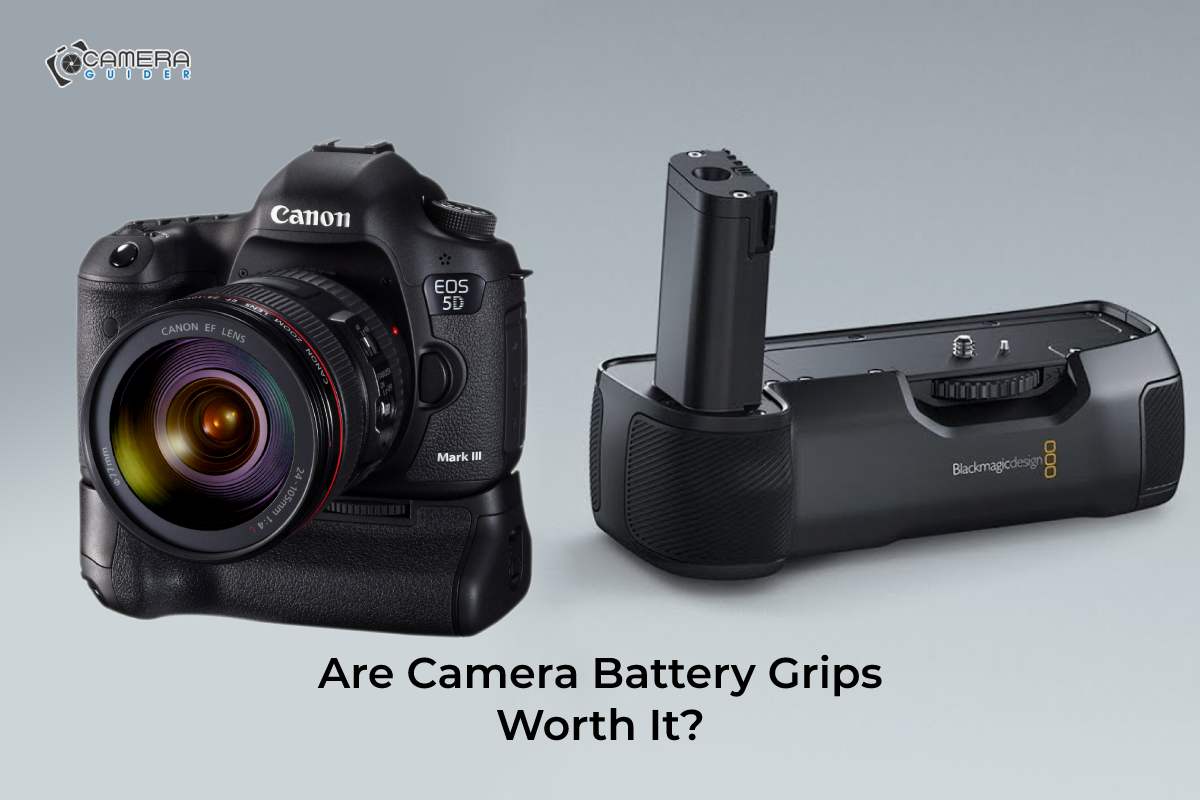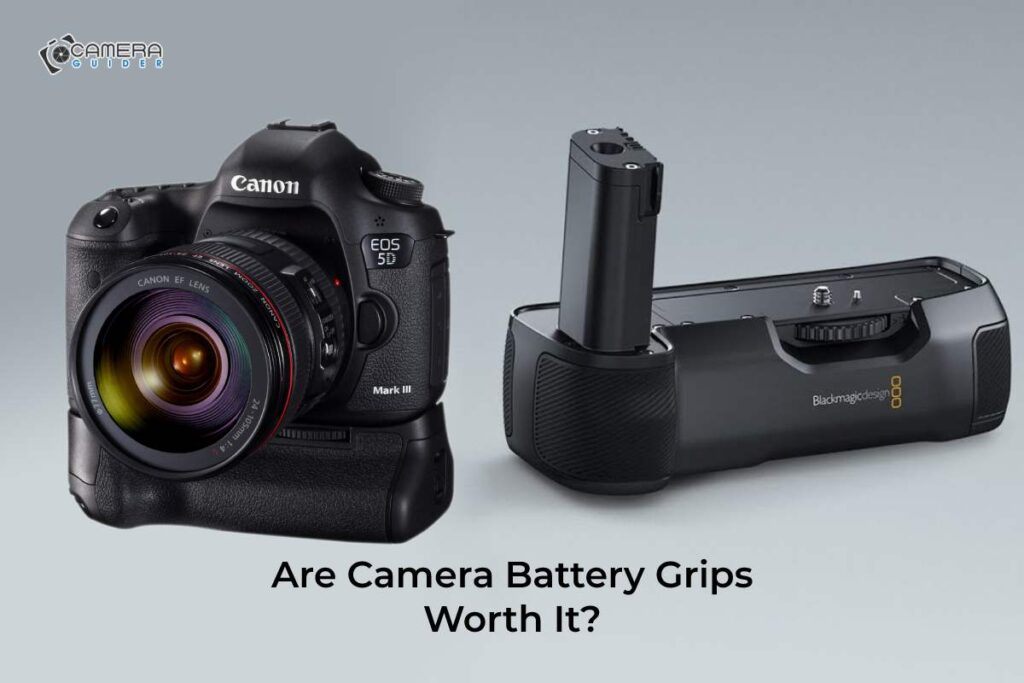 Are Camera Battery Grips Worth It?
By saying worth it or not without knowing what is the point of a battery grip, it might not point out the real fact.
As an attachment to the camera, it has both pros and cons even though the bad sides are just a few. So, is a battery grip worth getting? It's yes and no at the same time! Let me explain down below.
Camera Battery Grip Benefits
The battery grip has a lot of pros and capabilities to improve the performance of the camera in many ways. Take a look at its plus point.
For Portrait Photography, It's Great.
With the added shutter keys (on the side), the battery grip works excellent mainly when taking shoots of beautiful places in portrait mode. This unique trait helps a lot without reaching the camera to hit the shutter button. Which nearly all find handy.
So, do professional photographers use battery grips? Yes, most of them use them to click aesthetic portraits which has deep details.
Pretty Simple to Hold the Camera.
In a camera that is attached with a battery grip, it will be quite easy to hold. This basically allows the camera to stay on the hand while your palm is resting. Besides, you are able to place your fingers in a great room to grip and click the shoot.
You can use a stable and effective one. There are some of the best battery grips for Sony A7III, Canon, Nikon, and other popular cameras which you can try.
While it can let you use larger lenses without feeling a lack of extent for hand. Also, you can deal with the weight of the lenses better thanks to more space for hand movement.
Support Extending the Battery Life.
A lot of folks ask does battery grip increase battery life or if it is just a show-off thing. Well, it does extend the battery life of the camera by adding more space to insert another battery. Meaning the battery grip help to double the power.
And this thing is a huge point if you take a lot of photos at once and don't check the battery status. Not only that it will benefit you in battery life but also let you click pictures even if one dies via another battery support during usage.
In fact, a few battery grips let users use AA batteries which are versatile and powerful for long-term applications even if the batteries aren't recharged properly. It might reduce extra spending too.
Ideal For Video Recording.
Another great thing about the battery grip on the camera is it lets you capture nice video recording. Since the video recording eats up battery life like a zombie, the battery grip helps stop the drain of the battery faster.
While it helps give more memory to the camera so that you can do the planned video recording for a good duration.
For Time-Lapse Mode, It's Exceptional.
It's true that the time-lapse trait of a camera drains the battery a lot. As this feature let you click several frames of the portrait at a period of time and then makes the shoot speedy, this needs more battery power.
Quite like video recording but for a short time, the battery grip support during the time-lapse and help not drain a lot of battery power.
Low-temperature Performance Is Good Though.
During the winter or rainy season when the temperature is below 0° F to 32° F, the battery grip supports the battery life. In these kinds of weather conditions, it helps the battery to drain a little to keep the camera functioning.
Comfortable On the Upright Position.
A battery grip contains a lot of buttons and keys to be presented almost in arranged format to use in parallel positions.
Thanks to the setup, it helps take vertical and horizontal shoots without using much effort. Still, it might be a little perplexing at first, but you'll learn fast as the button is fixed in position.
After you make a habit, this will seem a piece of cake to change the settings even without seeing the viewfinder while clicking photos rapidly.
Intensify The Frame Rate.
Despite it might seem unreal, the battery grip can increase the frame rate. Exactly how? It is being attached that helps the camera to raise the performance by receiving power to function well and encourage FPS (Frames Per Second) to raise.
A couple of cameras might perform better when using the original grip. Meaning some let you shoot 15 to 30 minutes by doubling the FPS from 30p to 60p.
Camera Battery Grip Cons
Now, it's time for criticisms of the battery grip. Although it has 3 bad sides, still some might find these tough to work with. And for them, the battery grips are not worth it. The following sections will answer why.
The Size Is Weird for Small Hand.
For small or tiny wrists, the battery grip can be a big mess. As it adds a lot of space which is a negative point for people with small palms to hold comfortably for a long period.
A Bit Bulky to Carry.
By adding the battery grip to a camera with lenses, it will surely be bulky to hold. A newbie might find it difficult to deal with when using the camera.
However, the pro photographers can lift it due to the experience. In short, the battery grip is not a great option if you like to have a lightweight camera feel with no gear extension.
Need A Great Amount to Buy It
To enjoy the advantages, you need to sacrifice a few things including the bucks. Get ready for a big amount of money to invest in a battery grip that charges around $230 to $10,000 based on the quality.
Since you have to pay, I would suggest going with a quality option which suits the skill of your photography. Or try out 2nd hand items which would be great for short-term application.
Aside from these, aim for other handy camera accessories if money is a problem rather than not having benefits from the battery grip.
Summary: In spite of the fact that it has 3 cons, still looking at the plus sides, the battery grips do seem pretty worth it.
Ending Notes
Still wondering are camera battery grips worth it? Hope that's not the case! TBH, it totally worth it especially if you concentrate on the good sides since the drawbacks are case specific.
And if you ask me for an opinion, I suggest buying the battery grip as it is a fab picture enhancing accessory and handy in various fields. That's all for today. I'll catch you in the next guide. Bye!