Until recently, it was extremly rare to be caught using the words "cheap" and "4k" in the same sentence. Thanks to technological advancement, many 4k cameras aren't only available at cheap prices, but also have become excellent alternatives to professional cameras for filmmaking.
Recording in 4k provides significant advantages even if you deliver the final output at 1080p resolution. With the extra pixels found in 4k footage, you can do things like panning or digital zoom during post-production to show more details or make the scene more interesting. Depending on which camera you get, they'll come with built-in stabilization to improve the quality of your video files.
We understand that camera equipment can be expensive and can be a difficult barrier for entry when you're looking to get started and don't have a lot of funds to support your new effort. Below are some great starting options for you to consider, starting with the least expensive: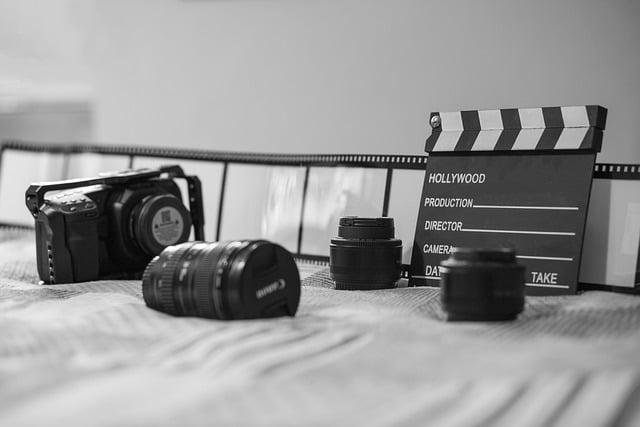 What is the Cheapest 4K Camera For Filmmaking?
AKASO EK7000 Action Camera
4K 25 fps & 2.7K 30 fps video with 12MP photos at up to 30 fps, wireless wrist 2.4G remote control sports camera, long battery life, built-in Wi-Fi & HDMI, 100 Feet waterproof, designed to withstand extreme environments.
Key Features:
Weight: 635 gm
Megapixels: 12 MP
Video formats: 4K at 25fps
Connectivity: Wi-Fi
More features: 2.4G remote control, 2x rechargeable 1050mAh batteries, 100 Feet waterproof.
Pros:
Very inexpensive compared to other action cameras.

Lots of accessories come with it.

Can be used for time-lapse and burst-photo functions.
Cons:
No in-camera stabilization is present.

The camera body isn't waterproof without the case.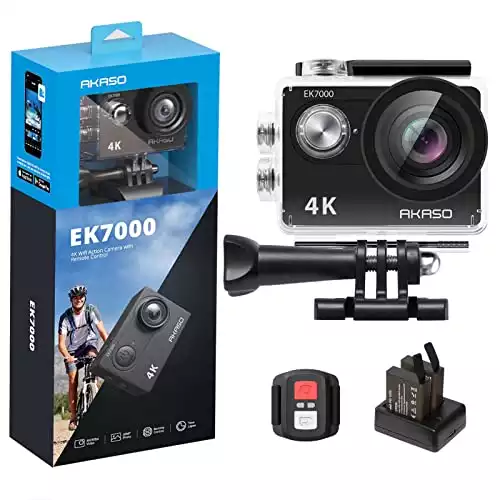 We earn a commission if you make a purchase, at no additional cost to you.
AKASO EK7000 is the least expensive on our list and probably one of the best 4K video cameras under $200, shooting at 25fps. The waterproof camera (with a case) lets you get adventerous and broadcast recordings via live-streaming on your social media networks.
Multi-Function
EK7000 offers different shooting modes such as loop recording, burst photo, and time-lapse. You can also mount this action camera wherever.
Instant Sharing
The 4K camera is Wi-Fi enabled, which allows your smartphone to connect to via the use of an app. The app helps to preview your photos and videos, making it extremely convenient to share on social media.
The camera comes with a waterproof case which allows you to dive up to 30m without worry.
Panasonic LUMIX G7 Mirrorless Camera
Continuous shooting speed: 7, optical sensor resolution: 16 megapixels, 3x optical zoom, high visibility electronic viewfinder, fast & precise AF, built-in Wi-Fi. 4K ultra HD video at 30fps.
Key Features:
Mount: Micro Four Thirds
Weight: 410 gm
Megapixels: 16MP
ISO range: Auto, 160 to 25600
Video formats: 4K at 30fps
Connectivity: Bluetooth, Wi-Fi
More features: 3-inch LCD, Max burst: 7fps, EVF, high-Speed AF with DFD Technology, silent shooting, starlight AF.
Pros:
Compact and lightweight for a mirrorless interchangeable lens camera.

It includes three 4K photo modes.

The controls are straightforward.

AF is precise and fast.

Affordable price tag.
Cons:
No in-body stabilization.

No headphone jack, so you need to rely on the on-screen audio monitors for the best output.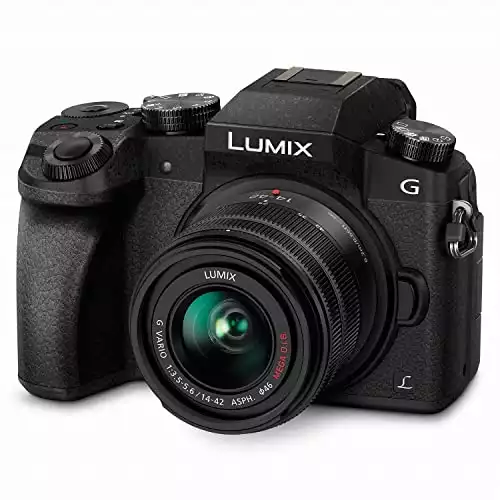 We earn a commission if you make a purchase, at no additional cost to you.
LUMIX G7 is a mirrorless interchangeable lens camera with a micro four-thirds sensor from Panasonic. This lightweight and compact camera delivers excellent low-light performance and the capability to record at 4K 30 fps. Making it one of the most desirable entry-level cameras for filmmaking.
High-Speed Auto focus (AF)
LUMIX G7 comes with Depth-From-Defocus (DFD) AF technology that instantly adjusts the focus by measuring the subject's distance. Also, the intelligent autofocus tracks the subject's color, size, and motion vector, enabling quick and precise focus lock.
Intuitive Controls
The compact and lightweight semi-DSLR offers straightforward access to main functions. You'll have the aperture control and shutter settings on the front and rear dials.
Low-Light Shooting
LUMIX G7 has 4EV low light autofocus, letting you capture subjects using only moonlight as a light source. You can even operating the camera without breaking the silence of nature at night with no shutter noise. And guess what! It delivers impressively high quality images and videos without grain in low light.
Easily Expandable
This Panasonic model allows you to expand with optional accessories like the DMW-FL580L external flash and DMW-MS2 stereo/shotgun microphone.
This 4K compatible camera includes a micro USB, HDMI, and a remote-control connection for your convenience.
Panasonic LUMIX G85 Mirrorless Camera
16-megapixel micro four-thirds sensor results in a 10 percent boost in fine detail, mirrorless interchangeable lens camera, 3 inches screen size, image stabilization, 5x optical zoom, 2160p video recording resolution at 30fps, electric viewfinder.
Key Features:
Mount: Micro Four Thirds
Weight: 453 gm
Megapixels: 16MP
ISO range: 100 – 25,600
Video formats: 4K at 30fps
Connectivity: Wi-Fi
More features: 3″ vari-angle touch screen, 5-axis image stabilization, built-in flash, 2.36M-dot OLED EVF.
Pros:
Set your desired focus points during editing.

Dual IS produces clear handheld shots even in low light conditions.

Durable and all-weather frame.

Greatly detailed images.
Cons:
Controls are a bit complicated.

Continuous autofocus works only at 6fps shooting.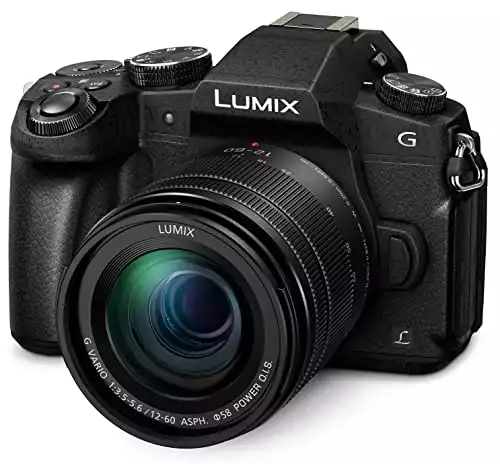 We earn a commission if you make a purchase, at no additional cost to you.
The Panasonic Lumix G85 is an SLR-style mirrorless camera featuring 4K video recording and 5-axis image stabilization. The camera delivers crisp detail with a 16-megapixel micro four-thirds sensor with no low pass filter.
Sturdy Structure
The G85 comes with a durable body that is splash and dustproof. The structure is weather-sealed with a magnesium alloy plate that allows you to take the camera in extreme weather conditions. Moreover, an electromagnetic shutter is incorporated to combat shutter shock.
Video Tools
Like most Panasonic cameras, Lumix G85 has many video tools such as focus peaking, microphone adjustments, and highlight warnings. The camera also has Cinelike Gamma D and Cinelike V for adjusting color grading in post.
Image Stabilization
The best affordable 4K camera for filmmaking comes with dual image stabilization and a 5-Axis gyro sensor for more effective handshake correction and compensation for shots up to 5 f-stops.
A live viewfinder with a 0.74x magnification ratio lets you frame and capture everything you see. Also, the 2360K-dot high resolution delivers high visibility. The rear touch-enabled 3-inch LCD adjusts for optimal viewing angles to maximize viewing.
Sony Alpha a6400 Mirrorless Camera
0.02 sec fast AF with real-time AF and object tracking, up to 11Fps continuous shooting, 3inch tiltable LCD screen, fast hybrid AF for smooth focusing for movies, offers 4K (3840 x 2160) recording.
Key Features:
Mount: E-Mount
Weight: 403 gm
Megapixels: 24. 2
ISO range: 100 to 32,000 (exp. 102,400)
Video formats: 4K at 30fps ,24fps
Connectivity: Bluetooth, Wi-Fi, NFC
More features: 3-inch 180-degree tilting touchscreen, Max burst: 11fps, EVF, quick and precise AF, built-in flash.
Pros:
Blazing fast Auto-focus with advanced real-time eye AF.

Records 4K videos up to 30fps and HD videos up to 120fps.

Incorporates Wi-Fi for easy file transfer and remote control.
Cons:
No in-built image stabilization.

The battery drains fast when shooting at 4k.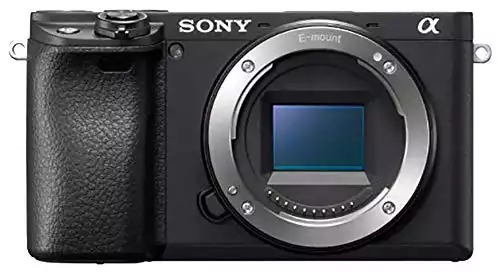 We earn a commission if you make a purchase, at no additional cost to you.
Sony a6400 is a small and compact camera that is packed with several video features. The durable body frame is weather-sealed, and being a new model, a6400 incorporates Sony's latest technologies.
No Pixel Binning
The a6400 offers 4K recording in super 35mm format with full pixel readout and no pixel binning at 2.4x oversampling, which is 6K equivalent for the ultimate 4K footage with exceptional detail and depth.
Real-Time Tracking Auto Focus (AF)
This best camera for filmmaking on a budget utilizes a Real-time Tracking feature that processes color, the subject's distance, brightness as spatial information, and AI information, including face and eye location, to ensure all subjects can be captured with extreme accuracy and precision.
Smooth Focusing For Movies
Effective use of the focal plane phase-detection system makes focusing during movie shooting fast and stable. The fast hybrid AF technology keeps your subject in constant smooth focus no matter how much it moves within the screen.
Again the "real-time eye AF" uses AI to detect eye data in real-time to continuously track eyes. Additionally, the subject's preferred eye can be manually selected as the focus point.
Tiltable Touchscreen Lcd
Sony a6400 comes with a 180-degree tiltable LCD, making it an ideal choice for many vloggers and video creators who regularly create and upload content online. You can tilt and rotate the screen for easier viewing when recording at angles that would otherwise be difficult to see the screen.
The APS-C camera can shoot up to 11fps continuously with continuous autofocus and auto-exposure. It's available in body-only, and body-plus lens options.
Panasonic HC-VX981K 4K Ultra HD Camcorder
18.91-megapixel MOS sensor, 20x zoom, backside illumination sensor, exclusive HDR, wireless Twin Camera, 3-inch screen, 5-axis hybrid optical image stabilization.
Key Features:
Weight: 428 gm
Maximum aperture: f/1.8 – f/4
Aspect ratio: 16:9
Video formats: 4K at 30fps, 24fps
Connectivity: Wi-Fi
More features: 3'' touchscreen LCD, 5-axis hybrid O.I.S., HDR, built-in mic and speaker, headphone jack.
Pros:
In-camera editing tools.

Remote control functionality.

Long zoom range: 20x zoom combined with the intelligent zoom to turn into 25x when shooting in 4K.

Multiple devices can be used for the PIP feature.
Cons:
Battery life isn't the best you'll find from the list.

No HDMI output; you can't control it remotely while broadcasting in HDMI.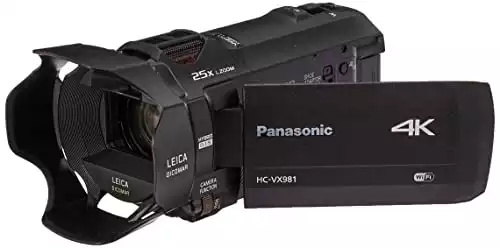 We earn a commission if you make a purchase, at no additional cost to you.
Panasonic 4K Ultra HD Camcorder HC-VX981K is a great device for the 4K recording experience. Equipped with a 20x optical zoom LEICA Decomar lens and a 5-axis hybrid optical image stabilization function, the camcorder makes your job simple.
In-Camera Editing Solutions
The best video camera for movie making is designed for shooters who don't prefer editing after shooting a video. That's why it incorporates editing solutions such as cropping, panning, zooming, and subject tracking stabilization so that anyone can capture and produce content without the need for complex software.
Optical Image Stabilization
The HC-VX981K comes with three O.I.S. systems. The 5-axis hybrid O.I.S. works for five-axis correction to suppress blurring from wide-angle to zoom shots. The adaptive O.I.S. automatically adjusts mechanical controls. The third one is ball O.I.S. which minimizes wear and improves correction for small hand-shakes.
As one of the cheapest 4K cameras for filmmaking offers a HDR mode that helps deliver high-quality videos, even in low lighting. The multi-camera functionality enables you to connect the device with another smartphone using the same Wi-Fi to enjoy picture-in-picture (pip) recording.
Canon EOS 90D DSLR Camera
Impressive image quality with 32.5 Megapixel CMOS (APS-C) sensor, continuous shooting of up to 10 fps, video recording at 4K UHD 30fps, fast and precise 45-point all cross-type AF system, multi-controller Customization.
Key Features:
Mount: Canon EF-S
Weight: 701gm with card and battery
Megapixels: 32.5 MP
Video formats: 4K at 30fps, 25fps
Connectivity: Wi-Fi, Bluetooth
More features: Dual pixel autofocus, fully articulating 3″ touchscreen LCD, optical viewfinder, 45-point all cross-type AF.
Pros:
Decent optical viewfinder and powerful zoom.

Articulating LCD helps to record cinematic shots. The uncropped 4K video feature is a big bonus.

Can be used as a webcam as well.
Cons:
Canon's raw file format isn't compatible with most of the applications.

The face recognition AF quickly changes its focus if the subject doesn't look at the camera directly, resulting in blurred shots.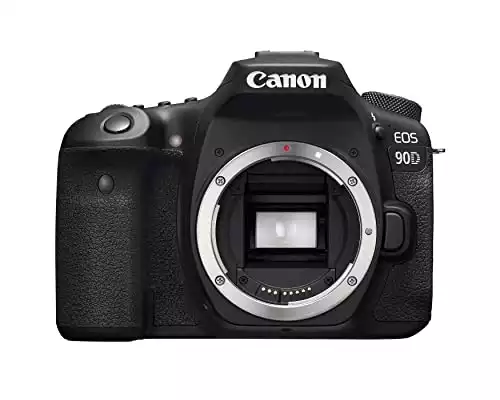 We earn a commission if you make a purchase, at no additional cost to you.
If you want the cheapest 4K DSLR camera for filmmaking with impressive face detection AF for easy tracking and superb focus, Canon EOS 90D would be the one. it comes with an 8-way multi-controller for enhanced control, making it perfect for all sorts of videography.
Dual Pixel AF
Apart from shooting at 4K 30fps, EOS 90D utilizes Canon's Dual Pixel CMOS AF system. When you switch to the live view mode, it gives no autofocus disadvantage as compared to a mirrorless camera.
Multi-Controller Customization
EOS 90D has many control buttons, yet they don't seem overcrowded, thanks to its large body structure. The multi-controller buttons make it easy to locate and control camera functions while viewing the viewfinder.
The touchscreen LCD is fully articulating with a side pivot that allows you to record angled shots in a better way. Moreover, the touch responsiveness is reviewed to be impressive.
Uncropped 4K Video
The central selling point of this cheap DSLR camera is shooting at 4K without using crop factors. It uses the entire width of the sensor at 4K recording.
This affordable budget camera is also compatible with a wireless connection that enables seamless workflow. The battery grip provides a comfortable and dedicated grip to hold the device for an extended period.
Fujifilm X-T3 Mirrorless Digital Camera (Body Only)
26.1MP X trans-CMOS 4 sensor, 4K 60fps movie recording, features a 3.69-million-dot high-resolution EVF 0.75x magnification ratio, high-speed continuous shooting, fast and accurate phase-detection AF across the frame.
Key Features:
Mount: Fujifilm X-mount
Weight: 534.3 gm
Megapixels: 26.1 MP
ISO range: 160-12,800(exp. 80-51,200)
Video formats: 4K up to 60fps
Connectivity: Wi-Fi, Bluetooth
More features: 3.0-inch dual-axis tilting touchscreen (1,040K dots), max burst: 30fps (1.25x crop), EVF.
Pros:
Supports internal SD card recording.

10bit color depth provides greater freedom of gradations.

Microphone and HDMI devices can be connected to the body for added mobility in videography.

High-speed burst modes and AF coverage on full-frame.
Cons:
No in-body image stabilization.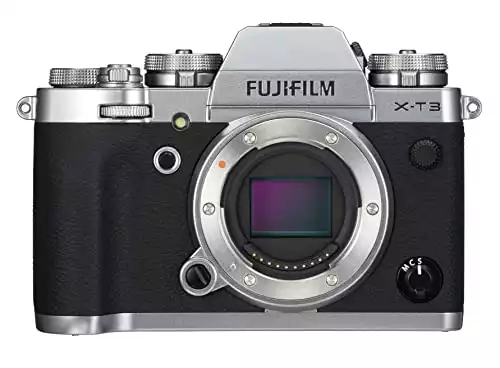 We earn a commission if you make a purchase, at no additional cost to you.
Fujifilm X-T3 is the best budget 4K camera for professional filmmaking with 26.1MP X trans CMOS 4 sensor. Its improved autofocus and recording performance make it one of the best still and video recording devices on the market.
High-Speed Continuous Shooting
The new high-speed processor and ability to read from the sensor quickly have made it possible to have AF/AE-tracking, blackout-free continuous shooting of up to 30 fps. This is possible in 1.25x crop mode using the electronic shutter. The rolling shutter distortion has been compensated compared to the previous generations.
You'll get continuous shooting up to 11fps while using the mechanical shutter.
Large EVF
X-T3 features a high-resolution EVF of 3.69-million-dot with a magnification ratio of 0.75x. The display lag time is close to zero, and the refresh rate is approximately 100fps using boost mode. It allows you to determine each subject's movement and adjust the focus accordingly.
Enhanced AF Processing
The X-Processor-4's high processing speed and enhanced phase detection algorithm help the camera to refocus and meter about 1.5 times more frequently than regular models. This improves the autofocus even when shooting fast and erratic movements across the frame.
Moreover, the face detection AF has been improved while the eye-detection AF works in AF-C mode, maintaining accurate focus-tracking with portraits.
How To Choose an Affordable 4k Camera For Filmmaking?
There are many filmmakers around us with the help of various social platforms. Many content creators prefer affordable yet good-quality 4k cameras for filmmaking.
To ensure my readers get the best budget 4k camera for filmmaking, I compared attributes such as build quality, video quality, stabilization, low light performance, and ease to use. I'll be discussing those in detail here to assist you in choosing the right camera for filmmaking in 4k.
Sensor Size
The size of the sensor matters. Usually, DSLRs and mirrorless cameras offer larger sensors that enable them to record in low-light situations and get shallow focus effects. Also, they allow you to use smaller apertures without softening the images.
Cameras come in three sensor sizes, full-frame, APS-C, and MFT. Full-frame sensors deliver the best low-light performance but are bulky and heavier. APS-C sensors are excellent for low-light conditions and provide better shallow focus than MFT sensors. MFT sensors are the most lightweight but aren't comparable with the other types based on performance.
Bitrate
The bitrate of the video camera indicates how much data is captured and written to disk every second the camera records. A higher bitrate gathers more information and usually generates better video quality. Higher bitrate also comes in handy while coloring correction in post-production editing.
Bitrate is particularly important to consider for searching for the cheapest professional 4k video camera as you don't want to deal with rough pixels in the end. However, you will always get a better bitrate in high-end 4K cameras.
Image Stabilization
Image stabilization is another crucial factor for buying the budget 4k camera for beginner filmmaking. It helps to get smoother footage, mainly when shooting while moving or handheld.
Manual Control
Check whether the camera you chose provides you the flexibility to customize aperture, white balance, exposure, or sound levels. If you're serious about filmmaking, these small things will matter for your growth.
Manual control indeed makes your job a lot easy. Nevertheless, when you search for the cheapest 4K video camera, you have little choice for manual control customization. Cheap cameras may not provide impressive manual control, but that should be enough if you are just a beginner.
Sound
Don't forget to check the in-built microphone quality of the camera. If there's any headphone jacks, you could listen to the sound while recording. Again, the device should have three-pin XLR inputs if you want to use pro microphones.
Low-priced 4K cameras may not offer the best sound quality. In that case, you need to buy additional microphones.
Ease Of Use
Don't ignore the easy-using factor. The controls should be easy-to-use and easily accessible. Having a touchscreen will make your job a lot easier. Microphone inputs also help you listen to the recordings instantly. If the camera comes with an accessory shoe, you can fit a microphone or light with it.
Frequently Asked Questions (FAQs)
Is 4K necessary for filmmaking?
4K has become defacto standard. Anyone who makes films should opt for a 4K device as most digital platforms prefer 4K. Even if you upload smaller 1080p videos, you'll have a higher quality version too.
Are DSLRs good for filmmaking?
Many professionals prefer DSLRs for filming as they are easy to use, have good colors and battery life, and have different lens options.
Conclusion
So, the cheapest 4K camera for filmmaking review ends here. I've tried to hightlight the best features for such cameras that allow you to film at high quality standards at very affordable prices.
Related Posts: