Because smartphones have put a camera in everyone's pocket, it's been effortless to experiment and dip your toe into the world of imagery. But, the more you learn about the principles of photography, you might feel that as wonderfully amazing smartphone cameras are, they are limited. They cannot do what a traditional, purpose-built camera for photography can do.
There are a variety of cameras to consider when it comes to photography, videography, YouTube, vlogging, etc. The most popular camera types currently are DSLR or mirrorless cameras.
These camera types are easy to use and the most recognizable. These dedicated units come with extra features or produce better results, and we'll get more into the weeds below on some options you should consider.
As you begin your buying journey, you'll see all the famous names from companies like Canon, Nikon, Sony, Fujifilm, Leica, Panasonic, and Olympus. And for a good reason, they all make great products and compete for the finest DSLR and mirrorless cameras.
Let's dive in!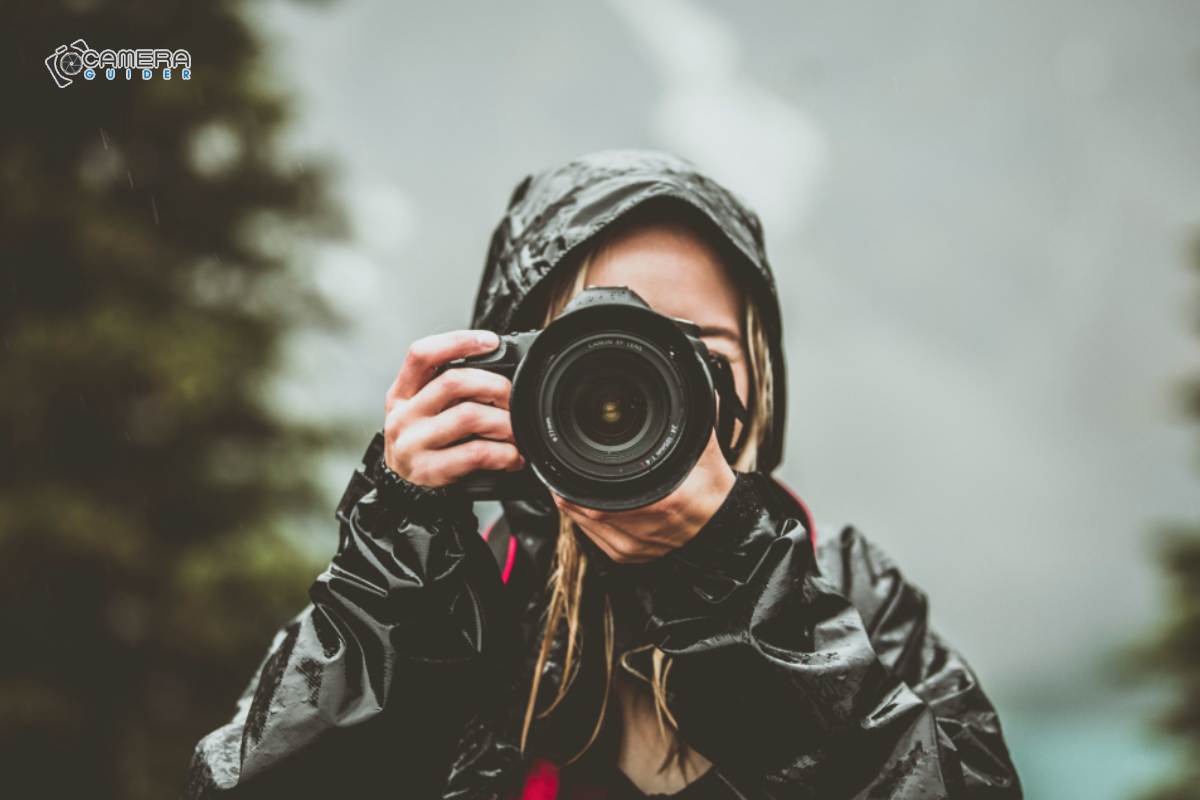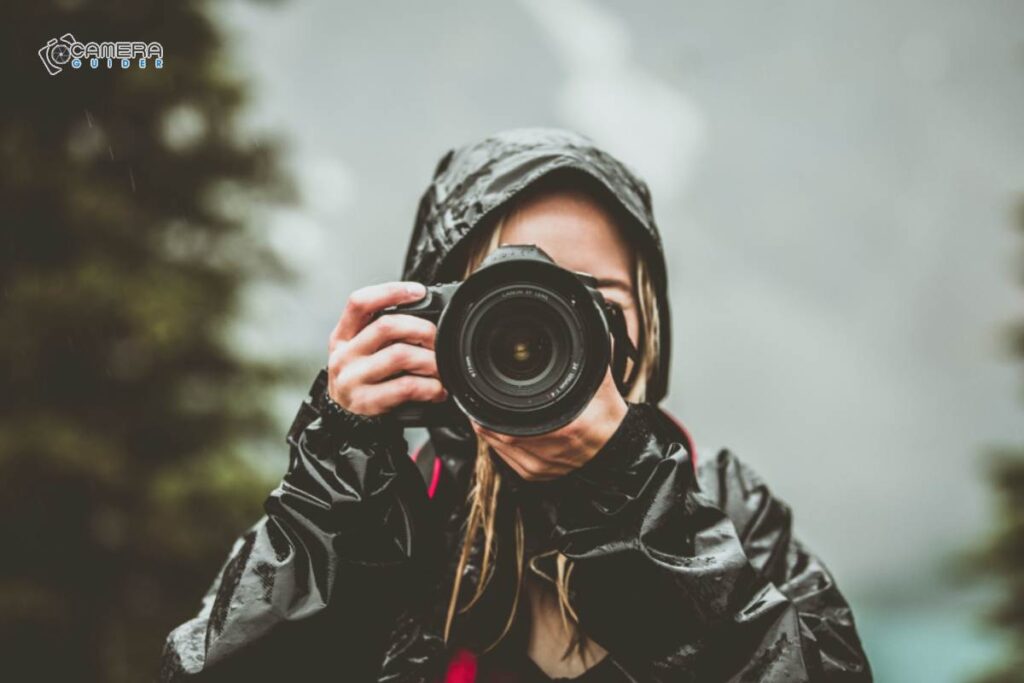 What is the best camera for photography?
Just like the pictures we take where beauty is in the eye of the beholder, the cameras we use are subjective to the price we can afford or the features we cannot live without. Depending on what that is for you will determine which camera stands out the most to you.
What I particularly love about Canon cameras is how easily their menu screen operates. As a beginner, the last thing you want is a complicated system that leaves you feeling lost every time you use it (*hmmph! Nikon*).
Most Affordable DSLR
Canon EOS Rebel T7 24.1MP
Key Features:
Resolution: 24.1MP
Aperture: F/3.5-5.6
Frame Rate: 30fps at 1080p
Lens: 4x zoom
Native ISO: 100-6400
Pros:
RAW file support

Wi-Fi connectivity.

Sharp LCD screen.

Shooting guide on the screen, which is very helpful for beginners.
Cons:
Lack of fast continuous shooting.

Fixed display.

No 4K video recording capability.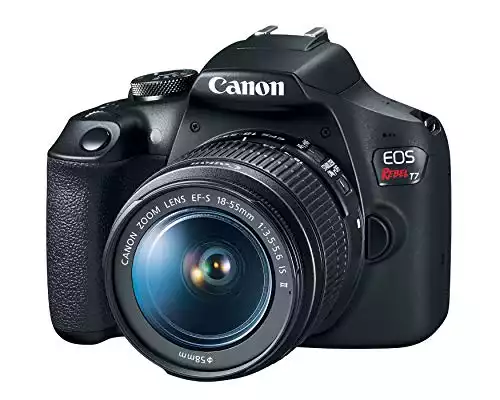 We earn a commission if you make a purchase, at no additional cost to you.
Amateur makes it sound worse than it is, but what I meant to say by this is that it is an excellent camera for those who are a bit more advanced or aren't strangers to DSLRs. It's not your first rodeo, as some might say.
Amazing Option!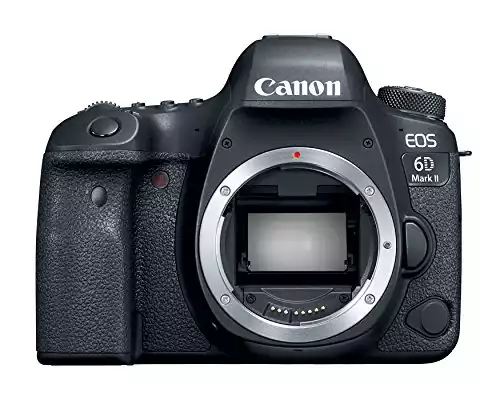 We earn a commission if you make a purchase, at no additional cost to you.
3. Fujifilm X-T3 – Best Entry-Level Mirrorless
It is easy to love how this camera can pack a punch in such a small, retro body. Here you're starting to see that beautiful blend of newer mirrorless technology with the tried and true DSLR form factor.
Fujifilm X-T3 Mirrorless Digital Camera (Body Only)
26.1MP X trans-CMOS 4 sensor, 4K 60fps movie recording, features a 3.69-million-dot high-resolution EVF 0.75x magnification ratio, high-speed continuous shooting, fast and accurate phase-detection AF across the frame.
Key Features:
Mount: Fujifilm X-mount
Weight: 534.3 gm
Megapixels: 26.1 MP
ISO range: 160-12,800(exp. 80-51,200)
Video formats: 4K up to 60fps
Connectivity: Wi-Fi, Bluetooth
More features: 3.0-inch dual-axis tilting touchscreen (1,040K dots), max burst: 30fps (1.25x crop), EVF.
Pros:
Supports internal SD card recording.

10bit color depth provides greater freedom of gradations.

Microphone and HDMI devices can be connected to the body for added mobility in videography.

High-speed burst modes and AF coverage on full-frame.
Cons:
No in-body image stabilization.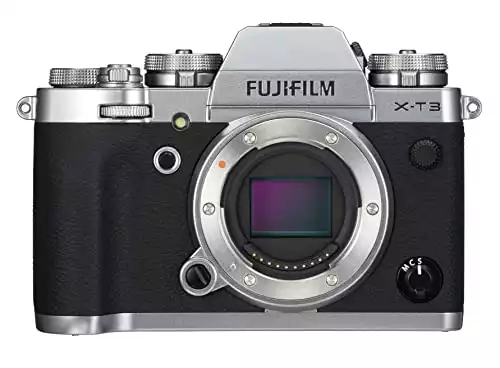 We earn a commission if you make a purchase, at no additional cost to you.
4. Canon R5 – Best Pro-Level Mirrorless
Getting a camera like this requires some justification, at least for me, because the price point is prohibitive. In other words, I need paying gigs to make this a worthwhile investment and, at the same time, produce exceptional, premium quality for clients.
Pro Level
We earn a commission if you make a purchase, at no additional cost to you.
What Camera Should I Buy If I'm A Beginner?
Choosing the right camera when you are just starting your photography is the most crucial thing to do. As we mentioned earlier, the best camera for you will depend on your budget and what you plan on photographing with it. If this is your first camera, we suggest getting started with something relativity inexpensive, making it easier to dabble in and get a sense of what you enjoy photographing the most. The more you experiment, the better off you'll be in selecting a more expensive, feature-rich camera.
The right camera should have easy functionality, adaptability, flash, and AutoFocus. You need something you can pick up and use without worrying about how things work.
Suggested Reading: Cheap Cameras for Beginners
What is the best camera for video?
The photography camera suggestions above also have video recording capabilities and would serve you well if recording videos is something you occasionally do.
If video capture needs to be your new camera's primary function, then look at these recommendations below.
You might also like reading: Cheapest 4K Camera For Filmmaking
5. Sony A6000 – Great for Vlogging
Even though this Sony camera model is six years old, a comparably old model to the new ones, and doesn't have the 4K video shooting feature, it's still great for the lightweight and compact build, and it has EVF built-in. It's one of the best mirrorless cameras Sony has ever provided for beginners. You can see the newer model here: Sony A6400.
Premium Entry-Level
Sony A6000 24.3MP
Key Features:
Resolution: 24.3MP
Aperture: F/3.5-5.6
Frame Rate: 60fps at 1080p
Lens: 0.21x zoom
Native ISO: 100-25600
Pros:
Good and quick autofocus.

Built-in EVF.

Great for Vlogging.
Cons:
Poor performance and handling with larger lenses.

No 4K video recording.

Poor image quality at the highest ISO level.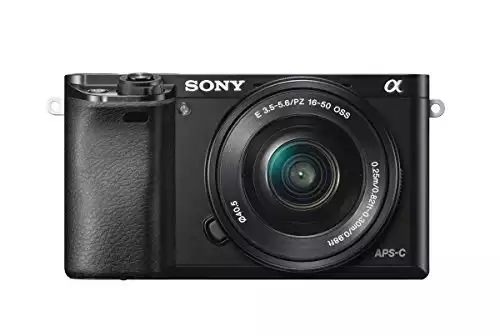 We earn a commission if you make a purchase, at no additional cost to you.
Being nearly the same price as the Sony A6000, this is a great alternative because what you gain with this camera is lost on the A6000, and visa-versa. It will just depend on what features are most important to you.
Panasonic LUMIX G7 Mirrorless Camera
Continuous shooting speed: 7, optical sensor resolution: 16 megapixels, 3x optical zoom, high visibility electronic viewfinder, fast & precise AF, built-in Wi-Fi. 4K ultra HD video at 30fps.
Key Features:
Mount: Micro Four Thirds
Weight: 410 gm
Megapixels: 16MP
ISO range: Auto, 160 to 25600
Video formats: 4K at 30fps
Connectivity: Bluetooth, Wi-Fi
More features: 3-inch LCD, Max burst: 7fps, EVF, high-Speed AF with DFD Technology, silent shooting, starlight AF.
Pros:
Compact and lightweight for a mirrorless interchangeable lens camera.

It includes three 4K photo modes.

The controls are straightforward.

AF is precise and fast.

Affordable price tag.
Cons:
No in-body stabilization.

No headphone jack, so you need to rely on the on-screen audio monitors for the best output.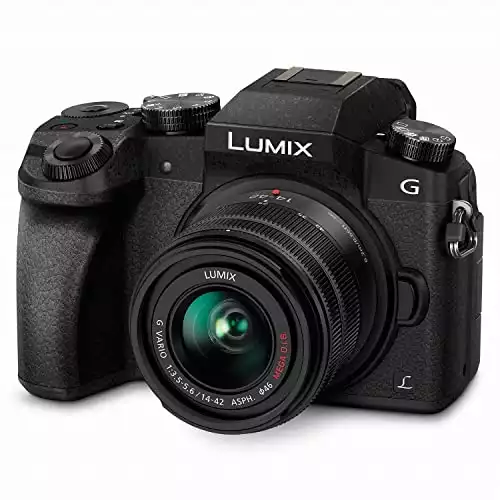 We earn a commission if you make a purchase, at no additional cost to you.
I personally LOVE the GoPro Hero cameras for video recording. They are so small and light and do an incredible job stabilizing your footage. It is a must-get camera capturing that epic footage if you travel or are outdoors.
There are some limitations with this camera in capturing that cinematic look, but it could be that perfect companion to another camera you might already have.
If you're on a budget, consider the GoPro Hero 9 Black.
Best Action Camera
GoPro HERO11 Black 27MP
Key Features:
Resolution: 27MP
Video: 5.3K 60fps
Native ISO: 100-6400
Pros:
Convenient front and rear displays.

Excellent image stabilization.

Stable wireless connection to the phone.
Cons:
Input can feel a bit slow.

The touchscreen can be non-responsive.

Costly accessories.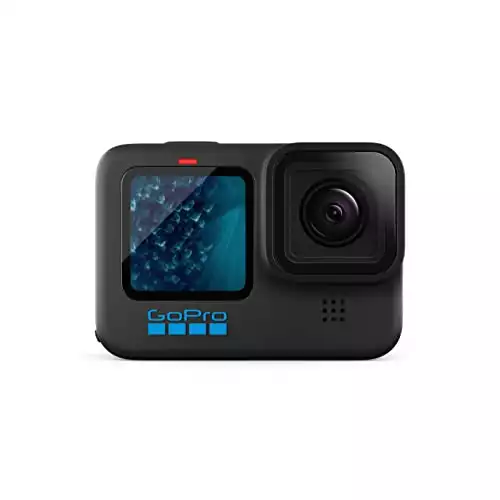 We earn a commission if you make a purchase, at no additional cost to you.
Beginners guide for photography camera types
These days, professional photographers use two types of cameras: DSLR and mirrorless.
To the untrained eye, it would be easy to assume there is a single type of camera. Physically, on the outside, these two types of cameras look nearly the same because they both have similar camera controls for shutter speed, aperture, and ISO. They both have viewfinders and display screens.
Consider reading: Full-frame DSLR vs Mirrorless
Let's break down the differences:
DSLR Cameras
DSLR cameras (Digital Single-Lens Reflex) are the most popular and versatile cameras for photography and videography. They have also been around the longest, which significantly gives them the edge regarding compatibility. The prices are also reasonable, but do range from inexpensive to, well, EXPENSIVE!
The most significant difference for DSLR cameras is that they use a reflex mirror system to reflect the image through the lens to the viewfinder so you can see it. When you click the shutter button, that mirror quickly flips out of the way to expose the imaging sensor. During that split second, everything in the viewfinder goes black, and you hear that oddly satisfying shutter sound.
But why are DSLR cameras the favorite of many photographers? Primarily because of the adaptability of the device. Photographers can build a collection of lenses and accessories to work with a particular brand and switch out the camera body as newer ones become available.
Canon, Sony, Pentax, Panasonic, Leica, Nikon, and Fujifilm are all well-known companies producing one of the best photography DSLR cameras in the world.
Mirrorless Cameras
While DSLRs have mirrors in them, Mirrorless cameras do not. Hence their name.
How it works is that the image coming through the lens directly hits the imaging sensor and is displayed on the screen or in the Electronic Viewfinder (EVF), which is a tiny little screen. Photographers of all stages love this camera type because it's much smaller and more straightforward than DSLR cameras. After all, there is no mirror system inside.
People are fond of this camera because it's lightweight and more compact, easy to carry anywhere. The EVF functionality lets us see in real-time how the photo will turn out based on our brightness, saturation, exposure, and contrast settings before we click the shutter button.
Many cameras make much noise these days, but not mirrorless cameras. They don't make any noise when you snap a photo unless you have a sound setting enabled. With no reflex mirror system, mirrorless cameras have higher shooting and shutter speeds, allowing even better rapid-fire shooting (great for sports or action).
All major brands have released their own versions of mirrorless cameras to compete for market share. Sony and Fujifilm were some of the earlier pioneers in bringing these technological advancements to the mass market.
Conclusion
The options to choose from for your first camera are overwhelming. But you'll do well to step back and consider first what you want to do most with the camera. That'll guide your buying journey and help ensure you're selecting the best camera.
For example, some cameras are better suited for picture-taking over video recording, even though they can do both.
If you're debating between Mirrorless or DSLR, don't get too hung up on that detail because either type of camera you choose will be a great first camera. After you become more comfortable with it and learn more photography fundamentals, you'll have a better sense of what you want your next camera to be.
Related Posts: