Getting into photography is easier than ever due to the many amazing advances in technology that allow for more affordable options to enter the market while. Yes, one can argue that smartphones have become true competitors in this space, but there is something to be said about having a dedicated device to record videos or taking tack-sharp photos.
Smartphones, as good as they are, rely heavily on software processing to make up for their shortcomings with hardware limitations.
Getting a purpose-built camera will often yield far greater results with higher quality imagery and the ability to manually set controls and accessories (like a speedlight). If you're just starting out, it can be overwhelming to consider your camera options, so here's what I think the best cheap camera for beginners is: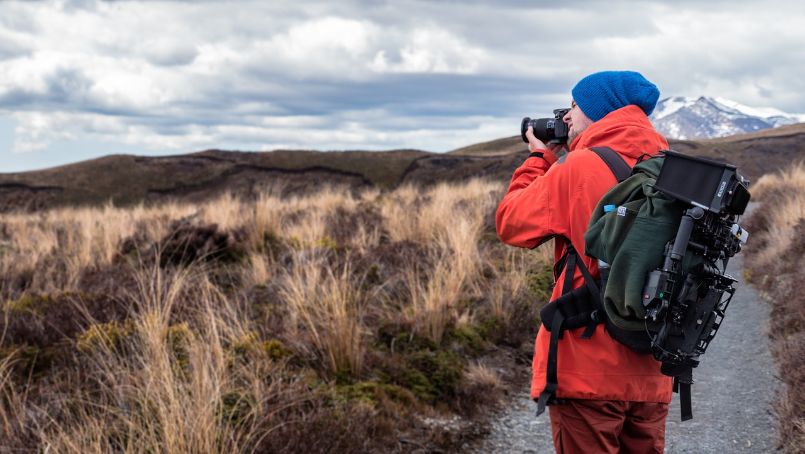 Here's what we have in store:
What is the Best Camera for Beginners?
As the old saying goes, the best camera is the one you have with you. So pick the one that best suits what you're hoping to capture the most of. Some cameras do overlap with what they are capable of, but they all have their strong suit, which should guide your buying decision.
1. Panasonic LUMIX FZ80
Excellent zoom, fast fps, and great bargain price are the primary reasons for choosing Lumix FZ80 as my top pick.
Best Overall
Panasonic LUMIX FZ80 18.1MP
Key Features:
Resolution: 16.1 MP
Aperture: F2.8 – 5.9
Frame Rate: 30fps at 4K
Lens: 60x zoom
Native ISO: 80 – 3200
Pros:
60x wide-angle zoom lens is perfect for experimenting with different types of photography. 10 FPS with RAW format.

Photo modes.

4K video recording.
Cons:
Image quality degrades significantly at the highest zoom level.

Low-ISO images are not very clear.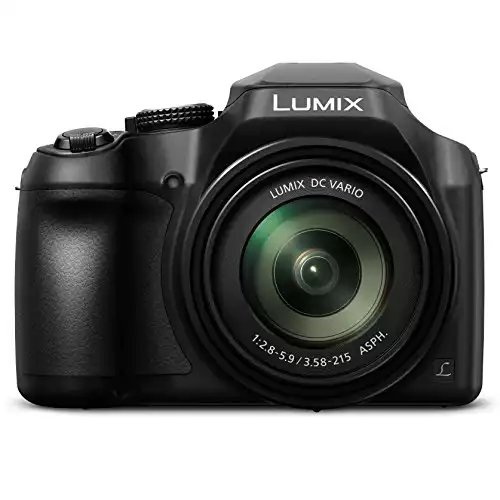 We earn a commission if you make a purchase, at no additional cost to you.
At the time of FZ80's release, it gained popularity because of the 60x superzoom lens. It is ahead of its predecessor, FZ70, because of having 4K UHD video recording capability. Let's find out more.
Shooting Performance
Operating the camera at ISO 80, the camera can reduce noise. But, the higher ISO you use, the more it struggles to reduce noise found in low-light photography.
Although 60x zooming is impressive, the end results show significant purple fringing.
You will find good metering, which helps exposure settings) performance in this Panasonic camera.
This camera tops out at 10 frames-per-second(fps); if you have auto-focus enabled, it drops to 6fps.
Video Recording
One of the most compelling parts of having FZ80 is recording 2160p videos at 30fps. You can also shoot videos at 1080p resolution up to 60Hz, and 720p up to 120Hz.
However, it doesn't have inputs for a microphone or a headphone jack, which can be a deal-breaker for many people.
Easy-to-use Features
You will love how easy the touchscreen interface is to use. The zoom toggle switch, shutter release, and other buttons won't give you trouble.
I want to mention the camera's color LCD with 1,166k dots because of its amazing quality. The rear 3″ LCD is a fixed display and is very helpful for reviewing the photos you're taking.
Tips: The menu options and selections can initially seem a bit overwhelming. But give it some time, and you will be familiar with them.
Summary
A high-resolution viewfinder, Wi-Fi connectivity, and good low-light performance make it the best cheap camera for beginners.
2. Canon EOS Rebel T7
At such a low price, a decent DSLR camera made me place it in the second position. I would have declared it as the best if it was not for the lack of a 4K video.
Most Affordable DSLR
Canon EOS Rebel T7 24.1MP
Key Features:
Resolution: 24.1MP
Aperture: F/3.5-5.6
Frame Rate: 30fps at 1080p
Lens: 4x zoom
Native ISO: 100-6400
Pros:
RAW file support

Wi-Fi connectivity.

Sharp LCD screen.

Shooting guide on the screen, which is very helpful for beginners.
Cons:
Lack of fast continuous shooting.

Fixed display.

No 4K video recording capability.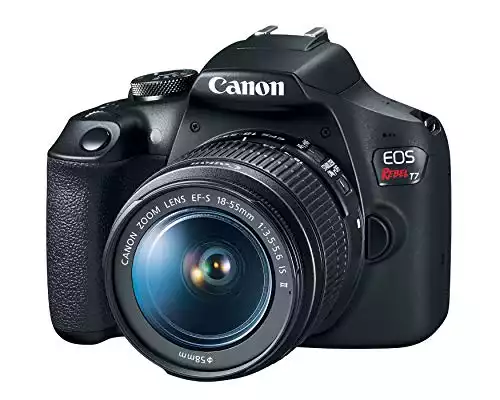 We earn a commission if you make a purchase, at no additional cost to you.
Are you looking for photography cameras for beginners cheap? Search no more because Canon EOS Rebel T7 is a well-made, affordable DSLR camera with many fantastic features.
Design
Like its predecessor Rebel T6, the T7 is a compact and small DSLR measuring only 5.1 x 3.9 x 3.1 inches.
Users love its ergonomic design with a rubber grip for a solid and comfortable hold. To some, the power switch and 4-way controller keys may seem stiff.
But you can use other navigation methods and easily access the most frequent options. Beginners can quickly find their way around the many features because of the color-coded categories for shooting, setup, and playback.
Performance
Considering the class of T7, you will be pleasantly surprised to see the stunning quality of images it can produce.
Bright and well-saturated pictures are expected, even after choosing an auto or standard style preset.
Besides landscape and portrait modes, Canon offers several other options so that you can be creative.
Now, let's talk about its low-light performance. Despite having an APS-C sensor, an ISO range of 100-6400 is more than sufficient for beginners looking to take some pictures at night or in dark spaces.
Even at ISO 6400, the camera can keep the details intact and reduce noise significantly.
Video
Putting T7 in the second-best position is simply because it doesn't have a 4K video recording option.
Canon likes to stick with the 1080p resolution at 30fps because pushing the limits further may have disappointed its users.
Tips: I have already mentioned that T7 is more suitable for learners with a low budget. However, more serious people should get Canon EOS Rebel T8i to level up their skills.
Summary
Indeed, the cons are hard to ignore, but those are the features one has to sacrifice when choosing a low-budget DSLR. I think that you, as a beginner, can embrace its good sides and unleash your potential with Canon EOS Rebel T7.
3. Sony A6000
Getting a premium mirrorless camera without spending much is like a dream come true. Sony A6000 needs no introduction because even experts like it a lot.
Premium Entry-Level
Sony A6000 24.3MP
Key Features:
Resolution: 24.3MP
Aperture: F/3.5-5.6
Frame Rate: 60fps at 1080p
Lens: 0.21x zoom
Native ISO: 100-25600
Pros:
Good and quick autofocus.

Built-in EVF.

Great for Vlogging.
Cons:
Poor performance and handling with larger lenses.

No 4K video recording.

Poor image quality at the highest ISO level.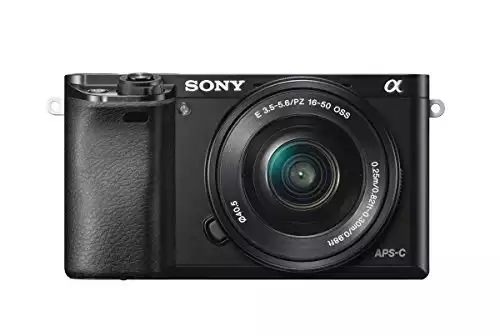 We earn a commission if you make a purchase, at no additional cost to you.
There is no better Sony camera for ambitious amateur photographers than this one. At the time of its release, you wouldn't have considered it a good camera for beginners cheap.
But now it is possible.
Great Hardware Capabilities
Hearing about its 24.3MP with over 175 on-chip phase-detection points, you won't be able to make sense.
The importance of such hardware is enormous. It supports more comprehensive coverage. As a result, one can easily and quickly acquire the focus and track moving objects accurately.
We also need to highlight the Bionz X processor, which can sharpen the scenes more. Another impressive feature of the A6000 is its superb dynamic range performance.
However, it gets decreases dramatically after increasing the ISO to its peak.
Build Quality
Ergonomic design with intelligent button placement makes A6000 easier to operate than most competitors.
So you won't feel the lack of touchscreen features. I have read some customer opinions, and they say that the camera can take some beatings.
There is no need to worry about the longevity of the body. Smaller E-mount lenses fit on them perfectly and don't give any trouble handling.
Overall Performance
An interesting fact is that the Sony A6000 mirrorless camera has a lens correction feature.
It forces some corrections on importing images using its ACR or lightroom AI. But you can opt-out of it if you don't like additional image processing.
Sony is proud of its AF capabilities, but the pride doesn't last long in low or dim conditions.
Compared to the previous model from Canon, it is slightly better because one can record FHD videos at 60fps.
Tips: Be careful to handle the camera with heavy and oversized lenses. Because of its compact size, it can be a struggle to hold comfortably while using telephoto lenses.
Summary
Sony A6000's design and the display will look outdated, considering the latest digital cameras. But the features and good Autofocus capacities are something lots of the latest cameras lack. So, give it a try, and you won't regret it.
4. GoPro HERO 11 Black
GoPro changed the definition of action cams. Read the full review of this model to know the reasons behind its hype.
Best Action Camera
GoPro HERO11 Black 27MP
Key Features:
Resolution: 27MP
Video: 5.3K 60fps
Native ISO: 100-6400
Pros:
Convenient front and rear displays.

Excellent image stabilization.

Stable wireless connection to the phone.
Cons:
Input can feel a bit slow.

The touchscreen can be non-responsive.

Costly accessories.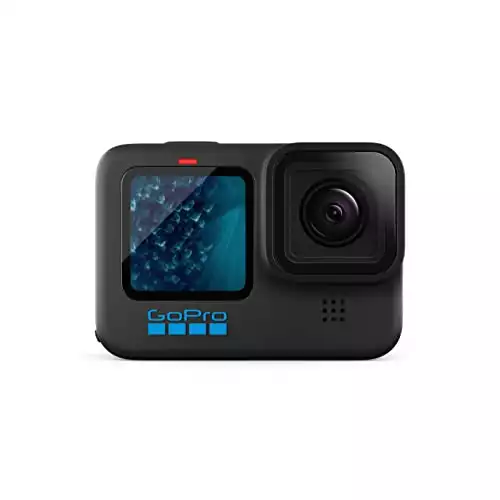 We earn a commission if you make a purchase, at no additional cost to you.
Action cameras have become more modular, and Hero 11 from GoPro dominates this segment. The company is working hard to beat its main competitor DJI.
Video Recording Performance
According to the spec sheet, it can shoot 5K video at 60fps, which no above cameras can provide.
With the help of Boost and HyperSmooth 4.0 features, images are intelligently stabilized across all resolutions.
Therefore, you can take perfect shots in any condition, which is a must for content creators who are always on the go.
But one should remember that the low light performance is not very good.
Better than Hero 8
Adding a front display, more polished software, and improved battery life are why you should buy this one instead of the predecessor.
5K video and better still photo-taking capabilities to let it stand out from the crowd and be lovable despite being more expensive.
Convenient
The 1720 mAh battery of the camera supports up to 101 minutes at 1080p resolution.
You can save the images and videos to your device from the microSD card or the GoPro app. Choose whichever is more convenient for you.
Tips: You will be glad to know that Hero9 can also be used as a webcam for Zoom or other online meeting software.
Summary
Considering how economical other cameras are on the list, you may think of GoPro Hero 11 as a misfit. Nonetheless, I beg to differ because of its features, benefits, and potential for beginners.
5. KODAK Fz152
Here is a simple point-and-shoot digital camera from Kodak that is perfect for travel bloggers and other photography hobbyists.
Best Budget Pick
KODAK Fz152 16MP
Key Features:
Resolution: 16.15MP
Aperture: F/3.3-5.9
Frame Rate: 30fps at 1080p
Lens: 15x optical zoom
Native ISO: 80-1600
Pros:
Lightweight, compact, and affordable.

15x optical zoom lens.

3" LCD monitor.

Great price for budding photographers.
Cons:
The build quality certainly reflects the price.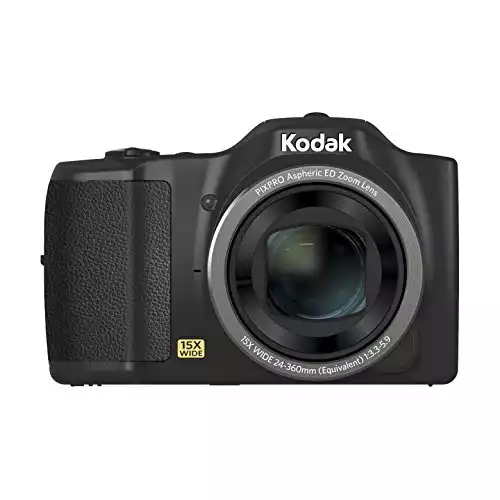 We earn a commission if you make a purchase, at no additional cost to you.
Some may think of KODAK 16 Fz152 as a cheap camera for YouTube beginners. But don't limit its capabilities. After reading the full review, you will know that sky is the limit here.
Good Sensor
You have already seen that the sensor has 16.15 megapixels. The 1/2.3″ CCD sensor is capable of recording 720p videos at 30fps.
The sensitivity range falls between 80 and 1600, so you can photograph in various lighting conditions.
Good Capabilities
I know that beginners constantly try to improve their skills. This model has a 15x optical zoom equivalent to a 24-360mm focal length range.
Therefore, one can practice with wide-angle to super-telephoto fields of view and discover new horizons.
It has a built-in flash which helps take shots in low-light conditions. You can also take advantage of the Face, Blink, and Smile Detection functions.
Convenient
Though FZ152 is capable of stabilizing images, don't expect too much. However, slight corrections are possible.
The battery inside the camera has enough juice to let you take up to 210 shots per charge. Also, you can charge it without taking it out of the camera.
Indeed, there are lots of reasons to hate FZ152 but look at the features and image quality that such a digital camera can provide.
Tips: As FZ152 is a small and compact camera, you should use a hand strap so that the camera doesn't slip accidentally.
Also, use a USB cable to transfer the contents from the camera to your PC because some users can't get the microSD card to work with card readers.
Summary
Those looking for the best cheap camera for beginners should look no further. No other model can offer hardware and performance like KODAK Fz152 within 100 bucks.
6. DJI Osmo Pocket
4K resolution is standard in many low-end cameras, but the smoothness of Osmo is way better than many high-end models. Popular reviewers consider it a game-changer.
Vlogging Runner-up
DJI Osmo Pocket 12MP
Key Features:
Resolution: 12MP
Aperture: F/2.0
Frame Rate: 60fps at 2160p
Lens: Not specified
Native ISO: 100-3200
Pros:
Fantastic stabilization.

The battery life is far better than its competitors.

Easy and simple controls.

Viewfinder and touch auto-focus help you take pro-level shots.
Cons:
Can't shoot underwater without an enclosure.

It is not possible to mount the camera after connecting an external microphone.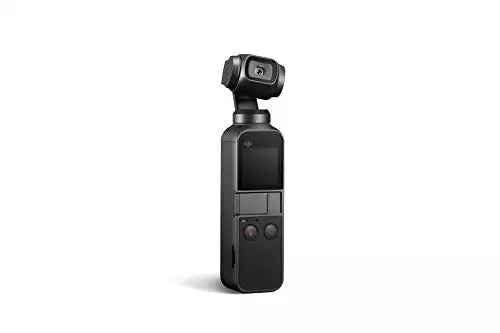 We earn a commission if you make a purchase, at no additional cost to you.
When it comes to stabilization, you won't find a better match than DJI Osmo Pocket. The GoPro Hero series has some good features but can't beat DJI in this category.
User-friendly Operation
Besides operating DJI Osmo Pocket independently, you can also connect it directly to your phone.
But that requires a USB-C port. With the latest phone models having that port, it won't be an issue.
Due to having a small built-in screen, people love connecting it to the phone and enjoy a larger view which takes filming to the next level.
The gimbal allows 360° rotation and necessary stability. Travel bloggers and beginner filmmakers cherish this feature.
For more convenience, you can wirelessly attach a Bluetooth adapter and connect it to the phone.
Video Quality
Few action cameras under 200 dollars have 4K video recording capability at 60 frames per second.
It has an ISO range of 100-3200, providing satisfactory results under various lighting conditions.
Please don't take my words for granted. Take a quick look at its performance in real life.
Tips: With a single and short power button press, you can quickly switch between video and photo mode.
Summary
For all those features and reliable performance, I also consider it the best budget camera for beginners. Under 200 dollars gimbal stabilizer, 4K@60fps recording, and different connectivity options are rare in other models.
7. Fujifilm Instax Mini
You are looking at Fujifilm's premium instant camera, which you can buy without spending more than 90 bucks.
Instant Film Camera
Fujifilm Instax Mini 40
Key Features:
Resolution: Not specified
Aperture: F/5.6-16
Frame Rate: N/A
Lens: 60mm Fixed Focus
Native ISO: 800
Pros:
Easy to switch out batteries and film canister.

Small mirror on front to aid with selfies.
Cons:
Build quality is not premium.

Cannot disable flash (problematic in some situations).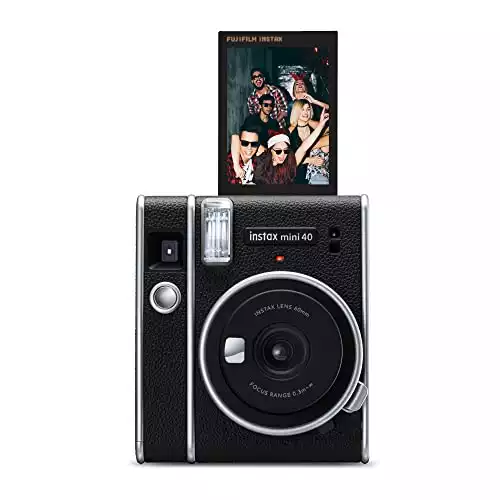 We earn a commission if you make a purchase, at no additional cost to you.
No shaking requirement, instant prints, and affordable pricing are the reasons that have made Instax 40 a hit.
Best Instant Camera Features
The camera can hold up to 10 printable films at a time. Its design resembles the predecessor models giving it a retro feel.
Nevertheless, don't think about the tech as backdated. You can get instant prints and complete pictures within 90 seconds without shaking.
The mini optical viewfinder helps take perfect shots at your desired angle. It would be best if you used the camera close to the subject for the best results.
Compared to other instant cameras, it has the better image quality and convenient features. Especially the selfie mode is a champ.
Tips: I recommend this instant camera user read the manual first. It can help you get along with the device without having any frustrating moments.
Summary
I think Fujifilm Instax Mini can be a great tool to make you an adventure challenge book. Keep the memories alive in retro style. If you are not too serious about photography and want real fun, go for it.
How to Choose the Best Budget Camera for Beginners?
Here are some factors you can consider while making the final decision. However, don't follow the point blindly. Improvise and give your requirements more importance.
Type
First, think about the type of camera you want to start with. For example, digital cameras, DSLRs, mirrorless cameras, instant cameras, action cameras, and more.
If you have a budget of fewer than 400 bucks, you will find at least one model from the categories in this article.
Interchangeable Lens
Those hyped about devices with interchangeable lens support should hold their horses. Research the market, see lens prices, and think whether you can afford them afterward.
Easy-to-use Features
Beginners need to buy such a model with no complicated options or methods of operation.
If you aren't using the camera frequently, it'll be easier to forget how to work something with a more complicated interface.
Most of the cameras are capable of shooting at 4K. But not all of them. Also, the speed varies a lot.
How Did I Pick?
You will find many budget cameras from different reviewers and blog sites. But not all of them are focused on addressing the needs of beginners.
After going through lots of forum threads and user opinions, I was able to shortlist a few camera models that are suitable for learners.
A common characteristic among the selected ones in this list is that they are the perfect gateway to becoming a pro.
You can start your humble journey as a photographer without spending thousands of dollars. And gradually build up your skills and interest to justify a high-end camera and lens.
I have included different products so you can choose according to your level of expertise and the content you're creating.
You must read the buying guide carefully, set your priorities, read the reviews, and buy the right one.
Final Thoughts
Which one do you think is the best value camera for beginners?
From the list, you can see that almost all types of cameras are included so that you can be your dream photographer.
Identify your requirements and buy the right one that meets your needs.
Related Posts: