If you own a Canon EOS camera and you are in search of the right external flash, you can run for so many options. From Godox to Nikon, Canon to Neewer, there are hundreds of brands for your Speedlite flash needs.
But if you are just a beginner, you might confuse between loads of options that tell you all of them have got perfect tilts and swivels with the right buttons! Wait a bit, we are here to cut through the confusion of Godox v860ii vs. Canon 430EX II, let's go!
Comparison between Godox v860ii and Canon 430EX II
The Godox V860 II is one of the latest flashes by Godox and they are compatible with the Sony, Nikon, and Canon users. This flash will afford you rear curtain sync. In some cases, the camera doesn't provide this but if you have Godox, you can enjoy this.
Also, with Godox, the high-speed sync you are getting will let the flash units be used both on-camera and off-camera. This works at a shutter speed of up to 1/8000 seconds.
On the other hand, Canon 430ex II is a standard Speedlight flash with a lot of functionality and power. With this, you are going to enjoy 20% quicker and silent recycle time with manual mode settings in 1/3 stops increments and a lot more!
This one works with the Canon EOS SLR cameras both analog and digital and gives you the necessary flash you need!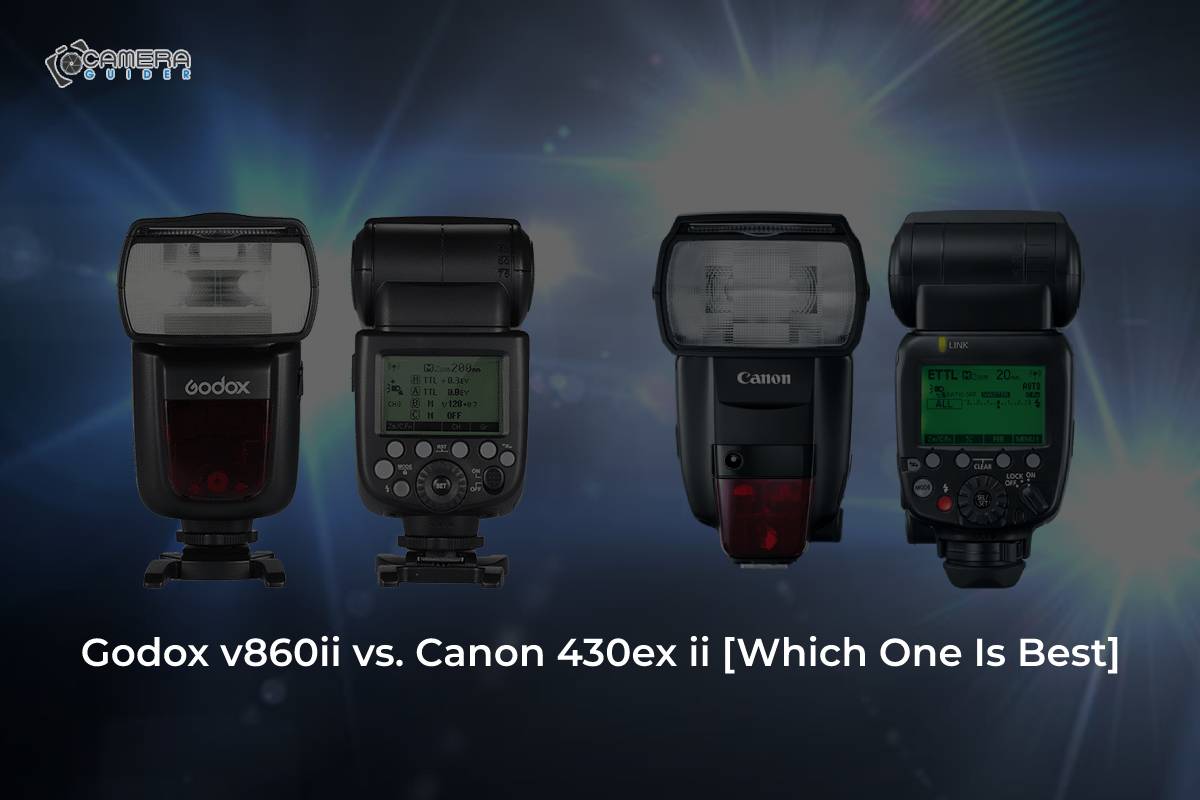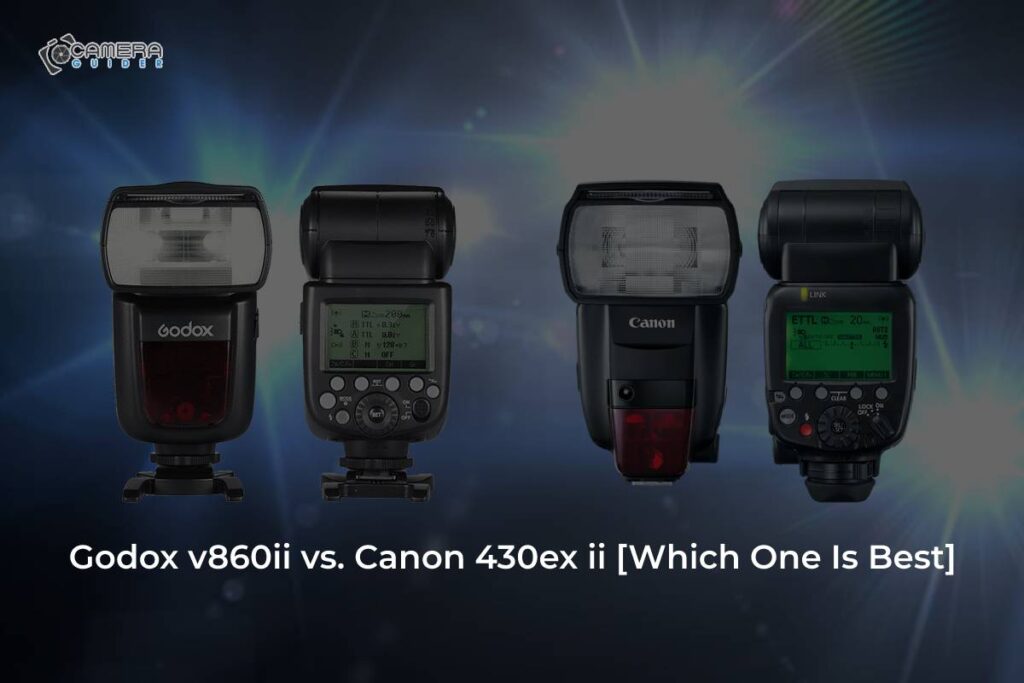 Tilt and Swivel
Godox- the brand affords you comprehensive swivel and tilt positions. As a result, you can direct the coverage in all directions. However, you cannot go downwards in this case! The head mechanism is a lot more flexible than other brands in the same price range.
You can tilt it from -7 degrees to 90 degrees. Also, you can rotate the flash to 180 degrees. Even if you own a Sony camera, you can check out the best Godox flash for Sony here– as they have got good tilts and swivels, they won't disappoint you!
The flash head of Canon 430exx II comes with the feature of tilting up from 0 degrees to 90 degrees. There are four settings available for this. You can go to the left from 0 degrees to 18- degrees in seven different settings.
However, on the right, you can only go from 0 degrees to 90 degrees and here, four settings are available. The flash head of Canon is capable of covering the essential angles. No matter whether you are firing it straight at your subject or you are setting it as the fill-light or background light- Canon works amazingly.
With the unit, you will get a flash stand. You can simply set it down on your floor. You can add it to your table too. It works as an off-camera light source and you won't need your hands to hold it any longer!
Power
The Canon flash can be powered with the help of dour AA batteries. Keep in mind that this device is power-hungry. So, you need to keep your backups ready if you are out for a shoot. The best thing you can do is go for some separate rechargeable batteries. These will help you power this device.
In the case of powering the Godox flash, you will get a Li-ion battery with it! Yes, compared to the AA batteries of Canon, the Lithium-ion batteries are convenient to use. Also, these are more reliable when it comes to powering your device.
Who doesn't want their device to be powered for long? This is what happens when Li-ion batteries are given more importance than the standard AA ones. No doubt, the batteries of Godox last longer than the Canon one for this benefit.
But keep in mind that Godox flash has a charger that won't match with the other chargers. So, this is a drawback for this flash because you always need to carry your charger to charge them when you are out for a shoot.
Along with this, the problem is that when there is no electricity and the power of your flash is out, you cannot go for new batteries like Canon. All you can do is wait for the electricity. The battery life of Godox is rated at 650 full-power shots. And compared to other standard flashes, this is a lot!
Recycle Time
The recycle time for Godox is 1.5s at full power. On the other hand, the recycle time is 0.1s at powers below 1/32.
On the contrary, Canon has a recycling time that is faster than the previous model Canon 430EX. With the 20% faster-recycling speed; you are free to take another shot faster!
In case you are confused about recycling speed, it is the amount of time or how fast you can take another shot with your camera having full flash power after you are done with the first shot.
Wireless and Radio Features
Canon flash can be used wirelessly with any camera that is compatible with it. As a result, you get the TTL manual exposure along with flash exposure compensation. Also, you will get the rear sync and the repeating flash with it.
Yes, it can be used as a wireless receiver flash unit but it should be triggered by the appropriate sender flash unit in that case. The wireless system of canon depends on the light. And in this case, it will require a direct line of sight or the surfaces that bounce the light.
It is easy for the radio-controlled systems to penetrate objects like the walls. For creating the Canon wireless Speedlite system, you will require a controller and a remote flash.
The V860 II offers you TTL metering. You also get the off-camera controls through a wireless 2.4GHz radio system in this Godox. When you deal with the output, you will see that it's enough healthy. You get an official guide number of 60m/190ft @ISO 100 at 200mm- isn't that good?
Godox comes with radio triggers, flashes, strobes, and a receiver and they use a 2.4GHz signal. Yes, you might be thinking that this can interfere with the wireless or Wi-Fi connections. But to ensure that nothing like this happens, Godox flash units have a combined trigger and receiver unit.
As a result, you can enjoy any flash and you can also trigger the other one via radio. The dedicated receiver unit will help you add the non-Godox and even any non-radio flash in your setup too!
Zoom
In terms of Canon, the flash head is capable of zooming from 24mm. And the zooming capability extends to 105mm! With this flash head, you will be able to focus on the burst of light. Also, you will find it easier to suit your need for photography.
If you settle for the pop-up flashes, you won't get this benefit. When the other photographers hesitate in the wide-angle photography, you can enjoy this flash as it has a pull-down filter added.
With Godox, to cover the angle of the view, you can check the head. It has zoom positions for you. This works with the lenses from 20-200mm. Along with this, if you are going for the wide-angle diffuser, you will enjoy the focal lengths of a minimum of 14mm!
Here, you can zoom from a full frame of 254mm to 200mm at best. Where the standard range is 105mm, this one gives you 200mm- what do you want more?
It can focus the light beam even on the smaller areas when you are dealing with a wide scene. As we have already said, you will be able to widen it to 14mm if you are going for the built-in adapter.
Wrap Up
We have only described some major differences between the Godox and Canon flashes. However, if you check on them carefully, both of them stand out. There are basic differences between them but they work flawlessly as affordably priced good-grade external flashes.