Sony launched their A7 IV model in 2021 whereas Canon EOS R6 was still in the market from 2020. When the price of both Sony A7 IV and Canon EOS R6 are quite similar, there is other a lot of technical differences that can keep them poles apart in the list of the users.
From the resolution to ISO sensitivity, dynamic range to autofocus capability, there are major and minor dissimilarities standing in between.
We will talk about the major differences between Sony A7 vs. Canon EOS R6 here- you will be amazed to know how minor changes can change the entire game! Let's learn the noteworthy dissimilarities that aid to pick up one between them!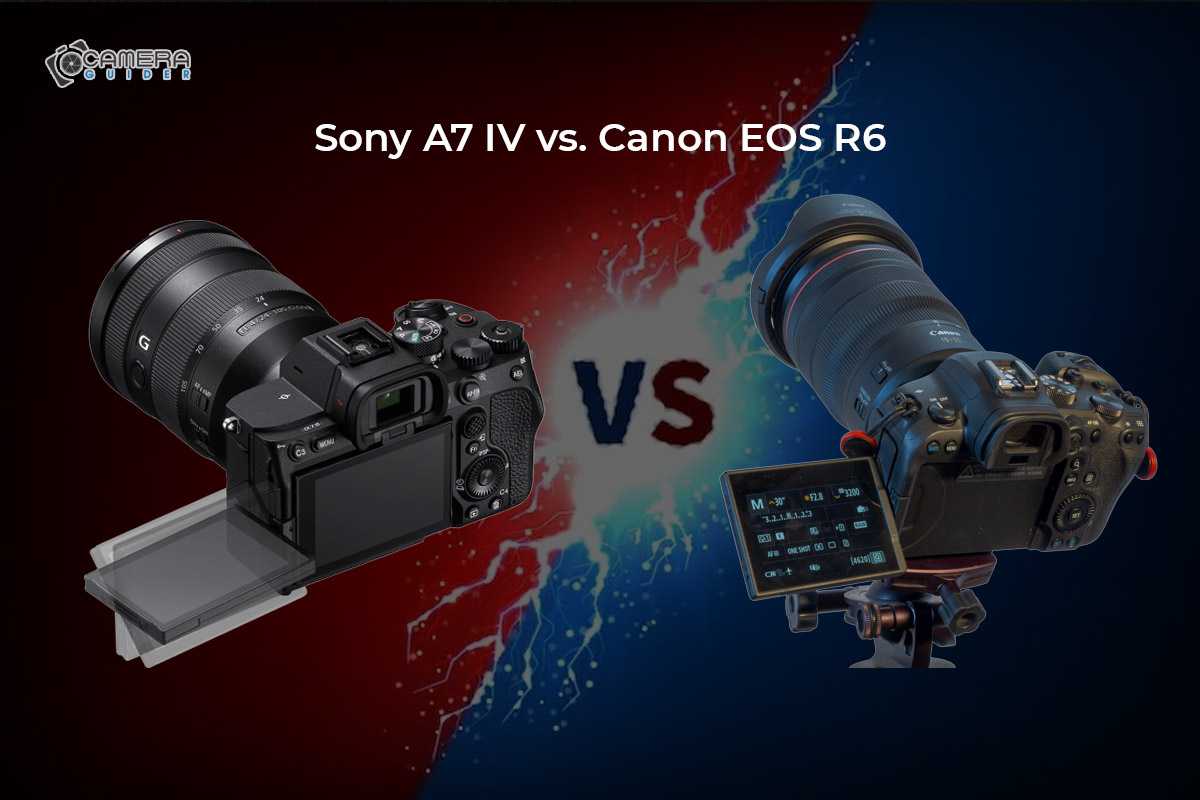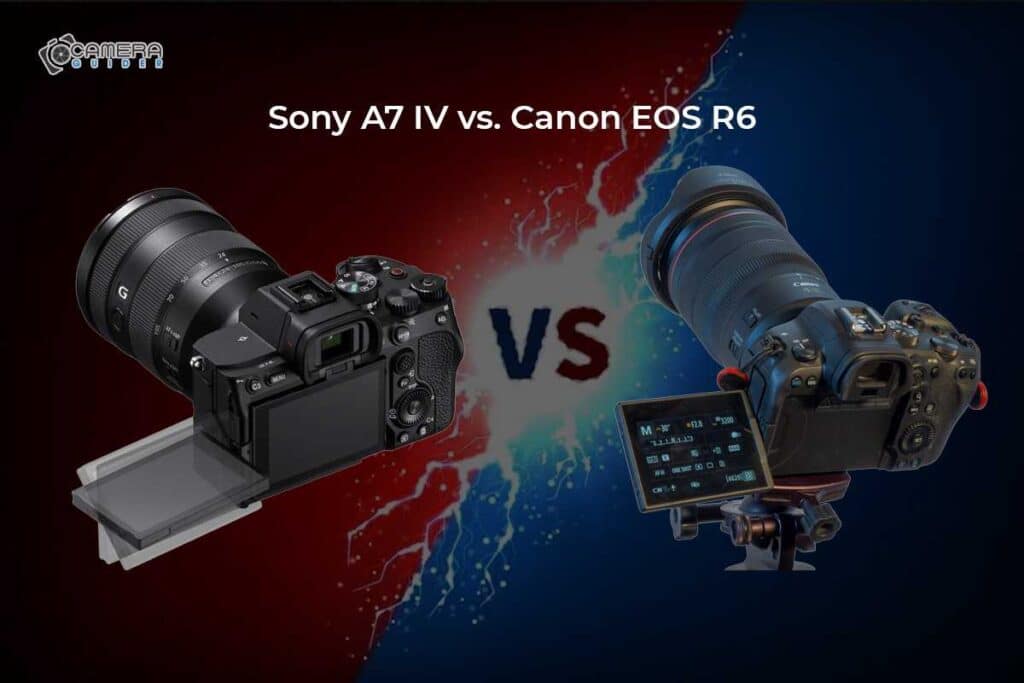 Major Differences between Sony A7 IV vs. Canon EOS R6
We have listed some major contrasts between Sony and Canon's recently launches cameras. Though the features are quite similar, the details are like chalk and cheese. Don't forget to check out the comparison chart after you head towards the detailed analysis on them.
Resolution
The resolution of both of these cameras differs a lot. If you take a look at the Sony A7 III, there are quite a several technical improvements. The Sony ZV-E10 has a 24.0MP APS-C sized SMOS sensor but A7 IV is better! But is Sony ZV-E10 worth buying– go check it out if your budget is a bit tight!
Moving on to our topic, A7 IV is way better than the 24MP and now offers 33MP. On the other hand, compared to Sony, the Canon has a resolution of 20MP. In that case, even the Sony A7 III has a better resolution than the Canon EOS R6.
If you are in search of a detailed picture, Sony wins with better grades. However, while Canon has a lower resolution, it offers amazing ISO sensitivity. Also, in the case of low-light performance, Sony gets the higher ground.
The RAW files of Sony are crisper than the ones of Canon. If you are settling for a high megapixel, you get better pictures even if you crop it. The APS-C mode is available in both of these cameras where the Sony gives you an output of 14MP and the Canon provides you 8MP. EOS R6 has a low pass filter. But we the A7 IV aren't much better than Canon either.
ISO Sensitivity
We have described above already that Canon is going to win this, right? Let's check out the details. The difference in the ISO in both of these cameras is not much. The Canon R6 one has an ISO (normal) of 100-102,400 while the Sony A7 IV has 100-51200.
However, the ISO (extended) is quite similar in both of these. Both of them have 50-204800 ISO (extended.) But though the ISO is close, the brightness is not identical if you are going for the same shutter speed, aperture, and ISO.
In this case, Sony A7 IV gets a little brighter than EOS R6. In this case, you must check the light transmission between the lenses too. If you keep all the variables equal, the Canon will offer you less noise in the image.
Users that deal with JPGs the most will get to enjoy Noise Reduction settings in both of these cameras. However, you can get more color noise in Sony than in Canon if the NR is switched off. When it comes to Low or Standard options, Sony won't have any color noise.
In this case, Canon will afford you a clearer image overall. With Canon, you will get two additional steps here. Firstly, you get the opportunity to reduce the details a bit. The other one has Multi NR mode. It will help in merging three images and eventually will help in reducing the noise more.
With this one, you will get a perfect balance between sharp details and low noise. However, try not to use this with moving subjects- it won't work accordingly.
Construction and Design
Firstly, we will talk about the construction and the design of the camera because outlook matters. While Sony has had a good improvement throughout all these years, Canon has developed its features and outlook a lot if you compare it to the 1979's Canon AE-1 VS Olympus OM-10. Well, we can't disagree that it is still the most wanted camera for SLR lovers!
When it comes to the size and the weight of Sony A7 IV and Canon EOS R6, they are close. If they are compared, you will find Canon EOS R6 a little larger than the Sony one. The body of these cameras is made of magnesium alloy and to deal with the weather, they have weather-sealing capability.
With the other physical controls and joystick at the back of both of these cameras, Sony has better customization options available. Here, you will get to enjoy dials and custom buttons for a better experience.
While you will get a mirrorless line in Canon, the Sony has a customizable control ring on their RF lenses. If you are in search of easy switching between photo, video, and S&Q modes, you can do it better with Sony.
There are extra switches added under the classic mode dial there. The image stabilization and IBIS of both of these cameras are proven to be one of the bests. In Canon EOS R6, you will get 5 stops of image stabilization.
If you pair it up with the image-stabilized lenses, the total stops will be 8. On the other hand, Sony has only 5 stops. Both Sony and Canon have two card slots as storage but with Sony, you will get a dedicated slot.
This one is compatible with the ultra-high-speed Express Type A card. Along with this, it also doubles as UHS-II slots in Sony. Compared to Sony; Canon has two UHS-II card slots in total.
Battery Life and Power
While fully charged, Sony A7 IV can take 520 shots while Canon EOS R6 can take 380 shots in total. Sony has a 35% higher capacity here. In the case of shooting a video, both of these cameras can receive constant power through USB.
With Sony, you will get a USB cord added so that you can charge the camera. This is not a wall charger. When it comes to charging a second battery, you will need a separate charger for that.
Dynamic Range
The sensor of both Sony and Canon is 35 mm. As we have described above, Sony has more resolution already and it also has the benefit of the BSI design or back-illuminating feature. This will help you collect light better than any standard design.
In the case of dynamic range, you will get to see more noise in terms of 4 stop recovery in the Sony file. On the other hand, Canon gives more color artifacts even in the darker zones. If you settle for the 3 stop recovery, you will get the same outcome.
Here, Sony will offer more noise and will have less color shift in the dark areas. In the brighter zones, the highlight preservation will be almost identical. If you check the image files, Sony can shoot 14-bit RAW. You will get three levels of compressions here.
There are Uncompressed, Lossless Compressed, and Compressed levels of compressions available with Sony while Canon has only two. One of them is the 14-bit RAW which is lossless and the compressed one is C.RAW.
To control the JPG output, there are several additional settings available in both of the cameras. You get the DR Optimizer in Sony along with the 5 levels to adjust. This helps in the case of the shadows. On the contrary, Canon has Highlight Tone Priority mode. This helps in increasing the ISO by one stop.
Video Capacity
If you check the papers, yes, both of them have 4K 60p, 4:2:2 10-bit settings for recording. However, checking videos shot from these two cameras, you can find some particular differences too. Just like the previous Alpha models by Sony, this one too has an unlimited limit for recording.
However, Canon has limits of 30 minutes when it comes to the videos. While recording on both slots, there are overheating restrictions added to both of the cameras. Make sure you check it. Canon EOS R came with the 1.7x crop feature while shooting videos.
Yes, the R6 model is better than the previous ones as this has the 1.07x crop feature while shooting at 4K 60p. On the contrary, Sony has a 1.5x crop feature added.
Autofocus
The autofocus facility is added to both of these systems. However, the A7 IV has got hybrid phase-detection feature. It has 759 phase-detection points. As a result, it is capable of covering 94% of the sensor without any glitch.
On the contrary, the EOS R6 comes with the Dual Pixel CMOS AF II feature. This one gives the benefit of 6079 single focus points. That means Canon can cover 100% of the sensor which is better than Sony!
Yet, there is an exception to think about while you are dealing with the autofocus. The low light capability threshold is a factor to think about. The Canon is a little better than Sony.
Canon EOS R6 vs. Sony A7 IV: The Comparison Chart
Here's a comparison chart between Canon and Sony cameras- check out the major attributes and features!
| | | |
| --- | --- | --- |
| Camera Feature | Canon EOS R6 | Sony A7 IV |
| Release Date | July 9th 2020 | October 21st 2021 |
| Mount Type | RF Mount | E-Mount |
| Sensor Resolution | 20 MP | 33 MP |
| Sensor Type | CMOS | Exmor R CMOS |
| Sensor Size | 36 x 24mm | 35.9 x 23.9mm |
| Low Pass Filter | Yes | No |
| Sensor Pixel Size | 6.56µ | 3.76µ |
| Image Size | 5,472 x 3,648 | 7,008 x 4,672 |
| Image Processor | DIGIC X | BIONZ XR |
| In-body Image Stabilization | Yes | Yes |
| Max Buffer Capacity (Rated, RAW) | 240 images (UHS-II) | Unlimited (CFexpress Type A) |
| Native ISO Sensitivity | 100-102,400 | 100-51,200 |
| Boosted ISO Sensitivity | 50-204,800 | 50-204,800 |
| Dust Reduction/Sensor Cleaning | Yes | Yes |
| Calibrations | No | No |
| Viewfinder Type | (Electronic) EVF | (Electronic) EVF |
| Viewfinder Resolution | 3.69 million dots | 3.69 million dots |
| LCD Screen | 3″ | 3″ |
| LCD Articulating Screen | Full Articulating | Full Articulating |
| Built-in Flash | No | No |
| Storage | 2x SD (UHS-II) | 2x SD (CFexpress Type A + UHS-II) |
| Continuous Shooting Speed | 20 FPS* (electronic)12 FPS (mechanical) | 10 FPS |
| Max Shutter Speed | 1/8000 to 30 sec | 1/8000 to 30 sec |
| Auto Focusing System | Dual Pixel CMOS AF II | Hybrid Phase-Detection |
| Number of AF Positions | 6,072 | 759 |
| AF Detection Range | -6.5 to +20 EV | -4 to +20 EV |
| AE Bracketing Range | ±3 EV | ±5 EV |
| Video Max Resolution | 4K 60 FPS | 4K 60 FPS |
| 1080p Video Max Frame Rate | 120 FPS | 120 FPS |
| Internal Recording | 4:2:2, 10-bit | 4:2:2 10-bit |
| Video Crop | 1.07x | 1.5x |
| Max Recording Time | 30 minutes | Unlimited |
| Audio Recording | Built-in stereo microphone, optional external stereo microphone | Built-in stereo microphone, optional external stereo microphone |
| Headphone Jack | Yes | Yes |
| LCD Resolution | 1.62 million dots | 1.04 million dots |
| Pixel Shift | No | No |
| Wi-Fi | Yes | Yes |
| Bluetooth | Yes | Yes |
| Battery Type | LP-E6NH (380 shots) | NP-FZ100 (520 shots) |
| Shutter Durability Count | 300,000 | Not Officially Stated |
| Weather-Sealed Body | Yes | Yes |
| USB Version | USB-C | USB-C |
| Weight | 1.5 lbs | 1.45 lbs |
| Dimensions | 5.45 x 3.84 x 3.48 in | 5.07 x 3.81 x 2.74 in |
| Price | $2,499 (Changeable) | $2,498 (Changeable) |
Reference: https://www.pictureline.com/
Wrap Up
We have described the basic differences between Sony A7 IV and Canon EOS R6. However, this requires a lot more discussion to know which one you should prefer.
Apart from the differences we have mentioned here, there are slight differences in the AF performance and settings, manual focus assist, shutter speed for continuous shooting, the limitations of an electronic shutter, buffer, stabilization system, bitrate, audio, and other additional settings.
But for now, these can help you out. To know more, keep your eyes on our site- we have more detailed reviews on these two cameras and the others too! Don't forget to check them out!
Related Posts: