If you're on YouTube, you should've heard about David Dobrik, who is without question one of the most popular vloggers at the moment. He makes mostly funny and semi-scripted videos and achieved enormous followers, 18.4 million to be exact as of April 2021.
If you're a follower of him, you probably wonder what camera does David Dobrik use and David Dobrik camera lens for the vlogs? Well, be with me to get to know about those.
Here's a quick list of Dobrik's cameras for vlogging:
Now' let's read the detail about Dobrik's vlogging gadgets below.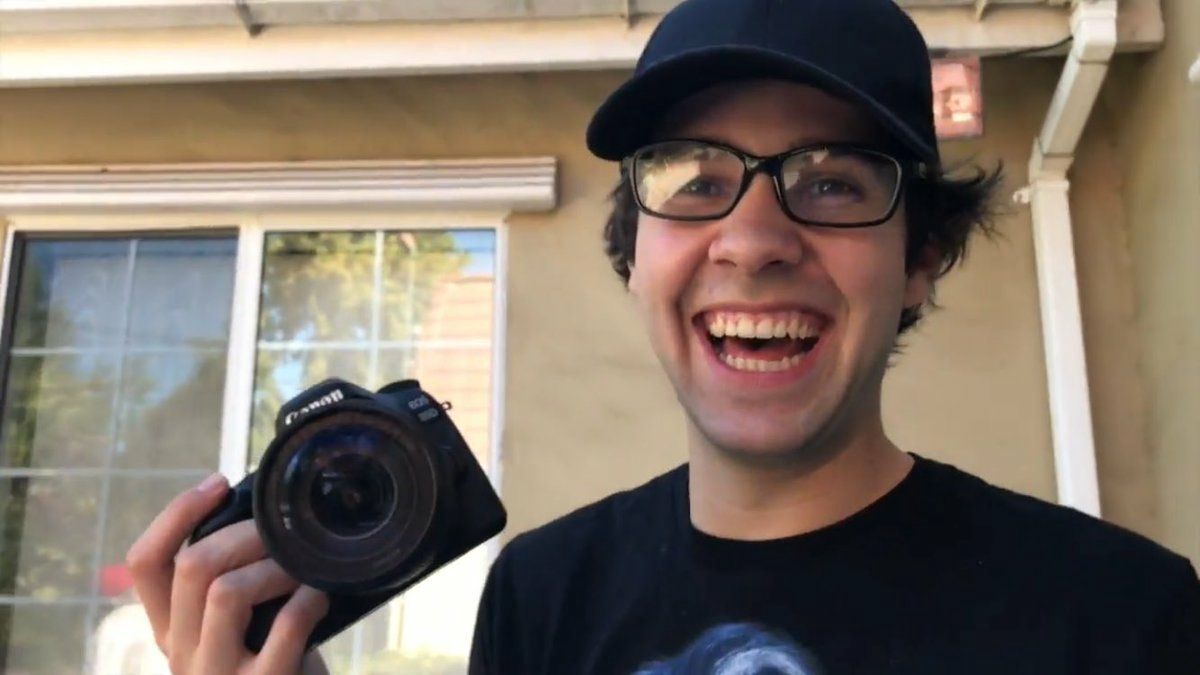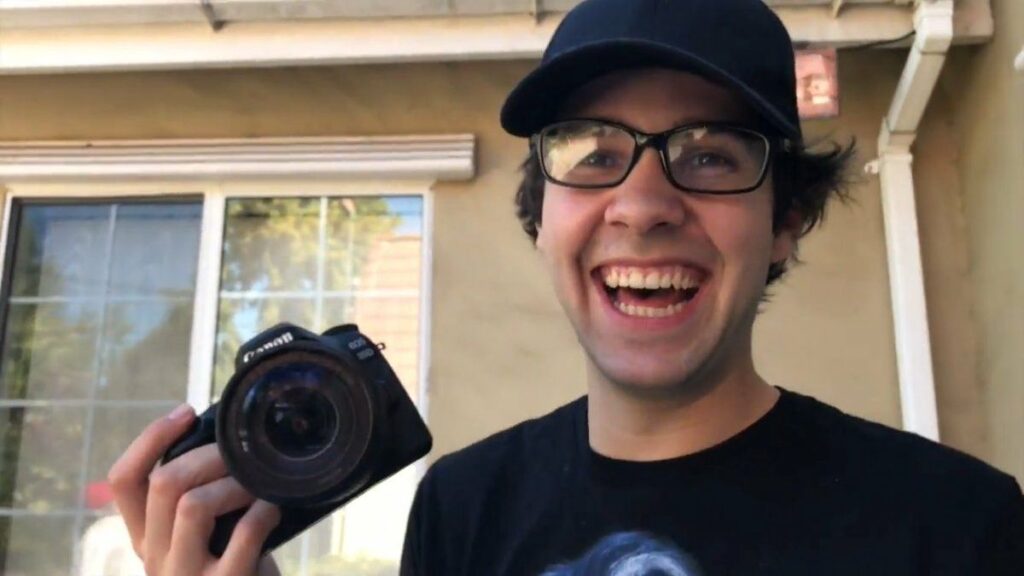 What Camera Does David Dobrik Use?
Okay, the truth is David Dobrik is affluent enough to change his camera equipment anytime he wishes. Obviously, with the latest devices coming on the market, he would change his cameras to keep up the good work at the best resolution. For now, I can discuss what camera does David Dobrik use to vlog currently.
Type: DSLR
Weight: 1.40 lbs
Sensor Size: 24MP (APS C) CMOS
Video Capture Resolution: 1080p
Optical Viewfinder: Yes
Screen Size: 3 inches
Canon EOS 80D is very popular amongst enthusiasts which is a successor of 70D. It comes with a 24MP APS-C sensor and like the 70D, it offers a dual pixel autofocus system.
The Canon 80D features a polycarbonate exterior and magnesium alloy chassis, which allows it to be resistant to dust, dirt, and moisture. The overall design is quite similar to the previous version allowing you to control most of the things through the articulating 3-inch rear touchscreen.
The lightweight of the camera helps it to hold easily. Also, the grip materials used for the camera and its relatively curved body give you a better feel when picking the camera on your hand.
As said earlier, Canon 80D gives you an upper hand over most DSLRs on the market featuring its dual pixel phase detection autofocus sensor. It gives you smooth and fast autofocus in live view which is a big bonus for a vlogger like Dobrik.
However, if you need to shoot fast-moving subjects, the viewfinder's autofocus aka the 45-point phase-detection system performs better than the live view. It can track down moving subjects really fast and even in darkness.
Well, even if the EOS 80D doesn't shoot at 4K, it can record at 1080 pixels at 50fps and offers a headphone port for audio monitoring. It gives you quite sharp images with a 24MP image sensor as well.
As a YouTuber, you want a camera that lets you adjust features and settings quickly and effortlessly. Also, you want a raw camera so that you don't have to give much time on editing. The EOS 80D is a great device as it allows you to have a good degree of customization which makes the user experience more intuitive.
The video shows why you should buy a Canon 80D for vlogging. Check this out!
Type: Point & Shoot
Weight: 1.05 Pounds
Sensor Size: 18.2MP EXMOR R CMOS
Video Capture Resolution: 1080p
Viewfinder: Electronic
Screen Size: 3 inches
The Sony DSCHX80/B is Dobrik's old video camera which in fact, was used to make his early videos. The small point & shoot camera is perfect for the new and intermediate vloggers.
The Sony camera records Full HD videos and the 18.2MP CMOS sensor captures superb low light images with a built-in electronic viewfinder. We all know how good is Sony's sensors and, in this case, also you won't be disappointed with the clarity of the stills and videos.
The camera features Lock-On AF which allows you to point a focus point with subject recognition and the camera keeps it focused even when moving. This is a much-needed feature if you make vlogs just like Dobrik.
Again, the vlogging camera comes with a 3-inch LCD that can rotate up to 180˚ allowing you to take selfies effortlessly or showing your face while vlogging. Also, the device has 5-axis image stabilization that helps to reduce motion blur. It's easy to connect to your smartphones to upload to your channel in quick time.
Sony DSCHX80/B is definitely a decent entry-level vlogging camera that helps beginners to start their career smoothly.
Watch the video to know how to operate Sony DSCHX80/B effectively.
What Camera Lens Does David Dobrik Use?
David Dobrik uses the Canon 18-135 mm lens with the EOS 80D to shoot his videos. Here's the details about the lense:
Type: Telephoto
Weight: 1.16 lbs.
Camera Mount: Canon EF
Focal Range: 24-105 mm
The 18-135mm lens with Dobrik's Canon camera serves him the best whatever he's doing. The lens features a unique dynamic image stabilization that provides up to four stops of shake correction throughout the zoom range. It is ideal for vlogging when you need to move with the camera as you see in David and his friends do.
Again, the lens can effectively reduce chromatic aberration throughout the zoom range to deliver beautiful stills that help you to capture perfect thumbnails for the videos.
Canon 18-135 mm, however, is a bit expensive. If you're a newbie, I recommend sticking with the kit lens until you earn a handsome amount to afford a premium lens like the 18-135mm.
Frequently Asked Questions (FAQs)
u003cstrongu003eWhat camera do most YouTubers use?u003c/strongu003e
YouTubes, those are already famous use the latest gadgets available on the market. The latest technology gears help them to shoot efficiently so that they can provide the best quality videos to the viewers.
u003cstrongu003eWhat camera do most vloggers use?u003c/strongu003e
Well, most vloggers usually use a portable and lightweight camera for convenience as they need to move around with the gears always. Canon EOS 80D, Sony a7R III, G7 X Mark II are the most common cameras used by prominent vloggers.
u003cstrongu003eHow much is David Dobrik worth?u003c/strongu003e
David Dobrik's net worth is around $20 million. His maximum earnings come from ad revenues, brand endorsements, and his merchandise.
Verdict
That's all of the David Dobrik camera equipment that he's using currently. I hope now you know what camera does David Dobrik use for his vlogs.
If you're a tech enthusiast, you probably want to know what camera does Marques Brownlee uses? Do let me know if you're interested to know about the camera gears of any other YouTubers. Till then, stay safe.
Related Posts: