While YouTube has become a mainstream social media today, many people foresaw its worth and started their career based on this platform. Marques Brownlee aka MKBHD is one of the earliest tech YouTubers who is extremely popular amongst tech enthusiasts.
Before buying a recent gadget, many people watch the review of this guy regarding that particular product. He started making YouTube videos using a webcam in his early days. With gaining enormous popularity, he's the one using the latest gadgets available on the market.
As there're lots of teens who want to start their career on YouTube and dream to be just like Brownlee, have you wondered what camera does Marques Brownlee use? Well, this article will help you know better about the Marques Brownlee camera gears he uses to shoot his videos. so, let's begin!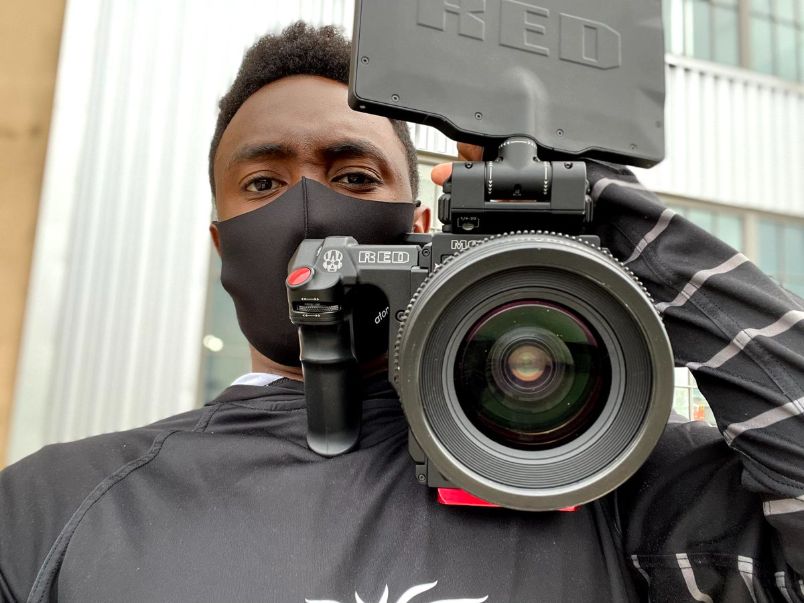 The Camera of Marques Brownlee
Okay, it's time to talk about the camera that MKBHD and his team uses. One thing I want to mention that the camera setup changes now and then as they need to use lots of devices to review. Also, being a professional and so-called affluent channel owner, he has the privilege to try the latest cameras.
So, what camera does Marques Brownlee use?
Brownlee primarily uses the RED Monstro DSMC2 BRAIN camera with an 8K sensor to shoot professional videos which is undoubtedly a high-end camera. He described the camera as "totally overkill" being so satisfied with the performance of the camera.
Red cameras are popular for providing stunning resolution and image quality. Brownlee mentions two things he enjoys the most about the RED camera and those are "realism" and "resolution". Brownlee wants to make the videos as realistic as possible using the latest technology. He says, "When I'm holding a phone in my hand in the video, it kinda looks like you're holding in your hand."
Brownlee uses Sony A7S III for doing handheld videos or car videos. The 12.1MP Exmor R sensor is optimized for 4K. Also, the new BIONZ XR processing engine delivers 8x more processing power. It offers fast hybrid AF for accuracy and tenacity and low noise images. The camera has a powerful focus control and unique heat dissipation. The most interesting part is its capability to record at 4K 120fps without any pixel binning.
Again, to take still images for making thumbnails or Instagram, he uses the Canon EOS R5. The 45 MP CMOS sensor allows the camera to deliver phenomenal image quality. DIGIC X powers 8K capture, enhances detail, reduces noise and more with high speed and efficiency. It can also shoot continuously up to 12 fps at mechanical shutter and 20 fps using electronic shutter. The camera tracks subject fast using deep learning technology! High-tech device for the tech guy.
Watch the video to know what Marques Brownlee keeps in his (tech) bag.
What Lenses Does Marques Brownlee Use?
Okay, it's time to know about the lenses that Brownlee uses daily. He uses a variety range of lenses starting from wide-angle to macro.
Brownlee is a huge fan of Sigma's wide-angle zooms. His team uses zooms more than prime usually. He specifically loves the 24-35mm that he uses in most of the videos. The device is designed for prime performance with the versatility of a zoom lens. Its design structure allows to capture excellent level of brightness. The fast AF algorithm produces smooth and accurate images while multi-layer coating reduces flare and ghosting. The lens offers a minimum aperture of F16 with minimum focus distance of 28cm.
Then, Brownlee has Zeiss Otus 55mm that he calls the medium telephoto. The lens produces an impressive level of detail and color rendition even in low-light conditions. Brownlee mentions the lens as, "very sharp, very fast, very bright lens, quality stuff." The lens is optimized for the full-frame DSLR camera sensors. Its wide aperture with Zeiss optical glass and coating produces the 55mm f/1.4 to transmit an impressive degree of detail and color rendition even in low light situations. The lens is equipped with floating elements which create images without color fringing or distortion.
How could a tech-reviewer doesn't use a macro lens? Yes, Brownlee is also a fan of Canon's 100mm F2.8 macro lens. The lens is popular for having tight focal distance on the subjects so that you get the little detail of things. Additionally, the lens includes Canon's sophisticated image stabilization. The lens with its 1:1 magnification ratio has the closest focusing distance of 0.99ft.
In the following video regarding the MKBHD gear tour, he showed all the gears he uses for professional shootings.
Frequently Asked Questions (FAQs)
u003cstrongu003eHow much is Marques Brownlee worth?u003c/strongu003e
Marques Brownlee is now one of the most popular tech-YouTubers around the world. His estimated net worth is about $4 million. Apart from YouTube, he started MKBHD merch as his own merchandise.
u003cstrongu003eWhat phone does Marques Brownlee use?u003c/strongu003e
Currently Brownlee uses two smartphones at a time. Both of them are flagship phones and the best in their version. He uses the OnePlus 9 Pro and iPhone 12 Pro as his daily drivers.
Conclusion
Marques Brownlee studio setup is pretty dope, isn't it? Well, if you think that's just come anyway, you're living in a fairy tale. It demands hard work and dedication for what you're seeing. Brownlee started his journey a long ago and with never-ending hassle he's now what we see him today.
Hey, I'm not discouraging you. Rather, I'm showing you the path of how people will search for you like the way you search for Marques Brownlee camera comparison.
So, what camera does Marques Brownlee use? I hope you get the answer. Thanks for reading so far. God bless you.