As a wildlife photographer, you know that the camera you use is essential to getting the ideal shot when capturing nature's beauty. What makes a camera suitable for nature photography? It's all about the features that help you seize the essence of the wilderness.
A camera suitable for nature photography has specific features such as weather-sealing, fast shutter speed, good low-light performance, and extended battery life. These features will help capture the unique details of nature without sacrificing quality.
Let's quickly explore the top three cameras good for nature photography that will enhance your experience in the great outdoors.
What are the Top Cameras Good for Nature Photography?
We have picked these three nature photography cameras based on their ability to capture the beauty of nature in a wide range of conditions while providing excellent-quality photos. Below we take a look at the Sony a7, the Nikon D7500 DX, and the Canon EOS 7D Mark II.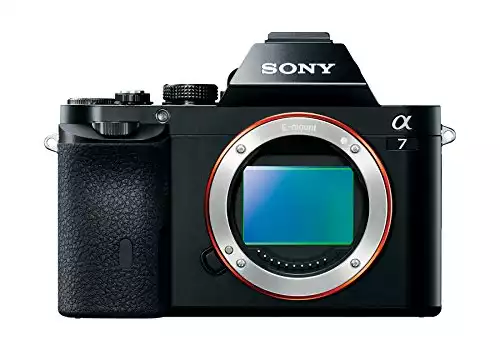 We earn a commission if you make a purchase, at no additional cost to you.
Capturing the beauty of the environment and wild animals can be a moment of pure magic. That's where the Sony a7 comes in. The full-frame mirrorless camera offers a high-quality, fast-speed video capture resolution of FHD 1080P, perfect for capturing every detail of a picturesque scene.
The bayonet mount ensures that your lenses attach seamlessly, while the 24.3-megapixel image sensor and 14-bit RAW output mean your pictures will have incredible detail and clarity. Composing and reviewing your shots couldn't be easier with the three-inch screen.
The Wi-Fi sharing feature of the camera also makes it easy to transfer your photos to your computer or phone to share your incredible nature shots with the world. Overall, the Sony a7 is among the best cameras for wildlife photography and will undoubtedly enhance your abilities.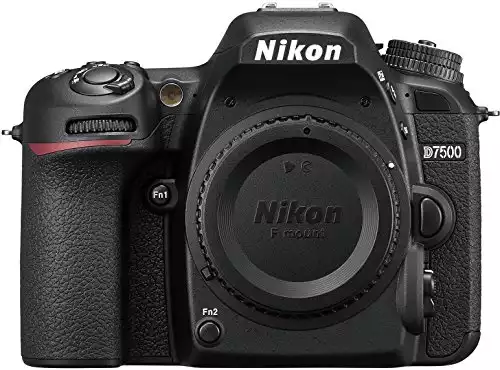 We earn a commission if you make a purchase, at no additional cost to you.
The Nikon D7500 DX is a perfect mirrorless camera and an affordable option for capturing nature in all its glory. With its 20.9 MP sensor and EXPEED 5 image processor, you can be sure your photos will be sharp and detailed every time.
What sets this camera apart is its ability to shoot 4K ultra HD and 1080p full HD video with stereo sound. Imagine capturing the sound of a babbling brook or a chirping bird alongside stunning footage of the natural world, without any extra microphones or other bulky camera equipment.
Since you don't always know what weather conditions you'll encounter, you can take this camera on any adventure with its temperature range of 0°C to 40 °C and humidity tolerance of up to 85%. Its tilting LCD screen with touch functionality makes it easy to get those hard-to-reach shots.
Advanced features such as the optical viewfinder, in-body image stabilization, Wi-Fi sharing, and Bluetooth connectivity all make capturing and working with photos extremely convenient. The Nikon D7500 DX is an excellent choice for amateurs and pros alike looking to capture a high-quality image of nature's beauty.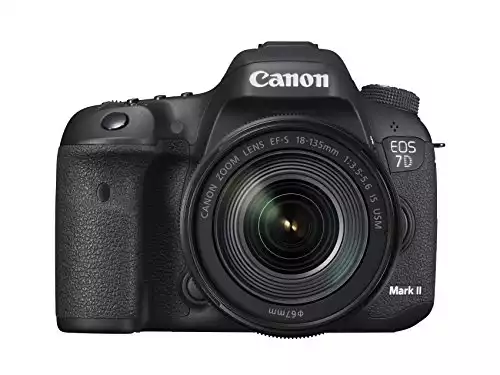 We earn a commission if you make a purchase, at no additional cost to you.
The Canon EOS 7D Mark II is equipped with a lens that can capture stunningly vivid details in your photographs. It's lightweight which makes it easy to carry on all your adventures.
For those who want to capture clean images of fast-moving subjects like birds in flight, the high-speed continuous shooting of up to 10.0 fps with a mechanical shutter is a standout feature. And with the additional Wi-Fi Adapter accessory, you can easily transfer your photos to a compatible smartphone or tablet or even remotely shoot stills.
Its 3.2-inch screen size and auto-focus function make it even easier to use in the field. The ISO performance range of 16000 gives you enough flexibility to capture even in low light. The Canon EOS 7D Mark II is one of the best cameras for nature photography.
Bottom Line
All three options are cameras good for nature photography. Each camera has unique features that make it suitable for capturing the beauty of nature in incredible detail and offering an excellent quality image in a dynamic range. Whichever camera you decide will be your perfect companion in nature, let your passion and skills guide you to the best pictures possible. Each camera has great features that will complement your abilities nicely, but you are ultimately the true professional in your unique craft. Happy adventuring!