It is understandably difficult to determine which type of camera would be better for filmmaking. On one side of the camp, you have a traditional DSLR that is mostly tried and true. Can't go too wrong picking up one of these units.
In the other camp, you've got mirrorless cameras that look like DSLRs but are on the frontier of camera technology. They don't come with the reputation that their traditional counterparts do and, in the early going, developed a bit of a bad rap for underdelivering in comparison.
However, as the years continue to fly by and mirrorless technology gets better and better, we've finally arrived at a crossroads of even asking the question: Is a Mirrorless or DSLR better for filmmaking?
We'll dive into some of the basic fundamental differences between the types of cameras to help give you a better idea of things compare and, with any luck, make it easier to decide which camera is going to be best for your style of filmography.
Let's get to it.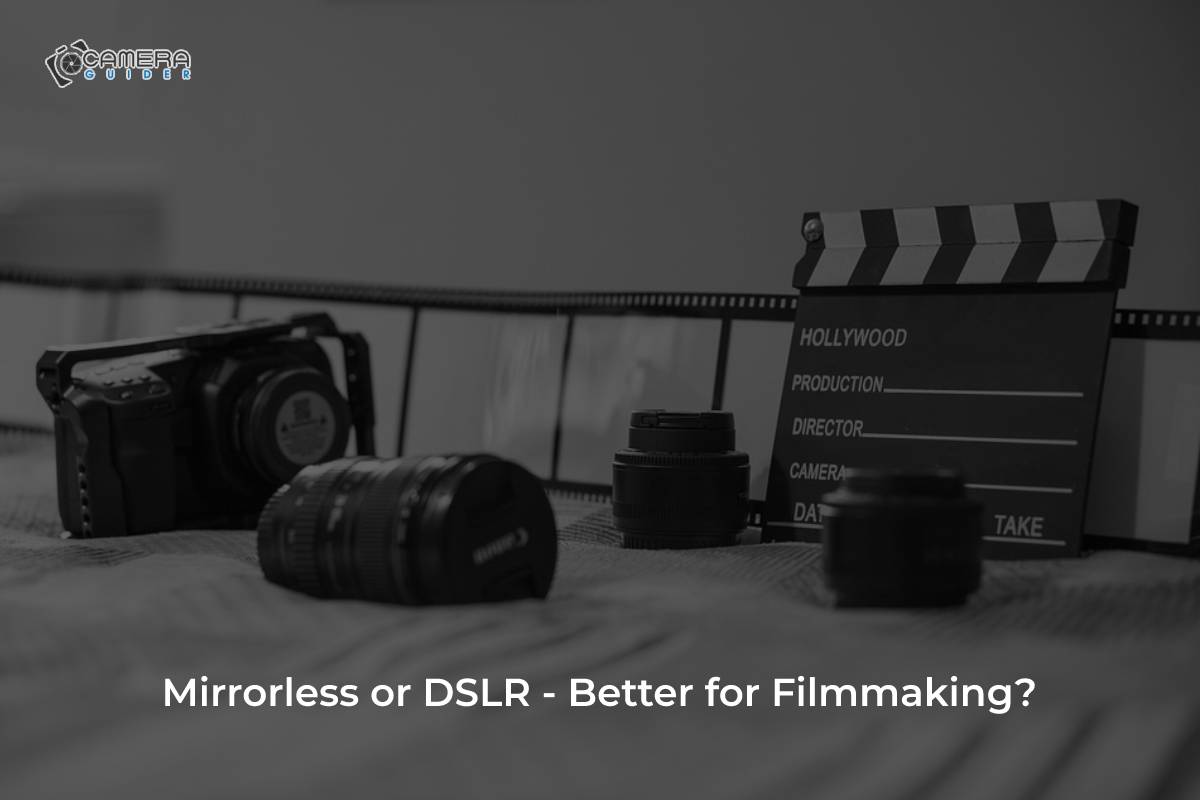 Is a Mirrorless or DSLR Better for Filmmaking?
Despite both cameras being incredible in ensuring quality videos with their bigger lenses, they are not equal in performance. Meaning one has better characteristics than another. Let me show you!
Manual & Auto Focus System
Based on the specifics of autofocus speed, it's clear that the DSLR camera is far better than the Mirrorless. The main reason is the physical manual focus which is an important element in making films.
With Mirrorless, you won't see the manual focus in the body, but there's a twistable ring for electronic control to adjust the autofocus.
Also, the DSLR can fix the autofocus fast even in different modes like Program (P), Aperture (A), Shutter (S), or Manual (M).
Winner: DSLR.
Weight & Size Point
Regarding weight and size, the Mirrorless will blow most DSLRs (Digital Single-Lens Reflex Camera) out of the water. It is smaller and lighter to carry, making the DSLR feel like a burden in your hand or neck strap. Most photographers find it quite fatiguing to carry a big DSLR on long journies or for extended periods.
Winner: Mirrorless.
Video Shooting Quality
One of the many reasons mirrorless cameras are better for filmmaking is because of the top-notch video stability and resolution.
Some mirrorless cameras record sharp videos while applying awesome effects and filters to help speed up the post-editing process (this depends on your camera model).
We're seeing even low-priced camera options delivering exceptional video footage that the high-end DLRs are not capable of currently.
Winner: Mirrorless.
Screen Viewing
There is something to be said about a "Live Preview" of how something will look. That is where mirrorless cameras shine over DSLRs. What you see on the screen of a mirrorless camera is processed in real time right on the image sensor, removing any guessing of how an image or video might turn out.
So, does this make a Mirrorless camera good for filmmaking? Well, yes (I think so anyway), due to the EVF (Electronic View Finder) and the LCD screen being a game changer for capturing video footage with fewer issues.
Plus, the EVF makes it much nicer and easier to see what is happening in the camera in bright sunlight. Conversely, a DSLR doesn't contain EVF and LCD screens to see live during the shoot because it relies on a mirror system to preview anything coming through the lens.
Winner: Mirrorless.
Resolution & Clarity
Pixels per inch (PPI) and frames per second (FPS) will greatly influence what a camera can do when it is time to record a video. Often, if you want or need a higher frame rate to do slow-motion scenes or have smoother footage, you can't record a full fidelity.
In other words, the higher the FPS, the fewer PPI you can record at. Check your camera's spec sheet to see what PPI/resolution you can record and what the FPS is for that resolution. This will tell you if that camera is sufficient for your needs.
If you're recording action shots, you'll want a camera that has some built-in image stabilization. This helps ensure your footage stays as clear as possible while removing unwanted jitter from walking, vehicle vibrations, and more.
While DSLRs are decent at holding their on this one, we think Mirrorless cameras do it a bit better.
Winner: Mirrorless.
Battery Life
Although the DSLR is lacking in many areas, this will be a great choice over the Mirrorless in terms of battery life. Mirrorless cameras are more power-hungry because of the extra electronic components (like the EVF) that aren't as prominent in a DSLR.
The Mirrorless battery mostly lasts for around 4 to 8 hours. While most DSLRs last for up to 8 to 10 hours in heavy use.
For a complete guide on battery life, read this article.
Winner: DSLR.
Price Tag
Nearly all DSLRs in the market are pricier than Mirrorless. The exact specs will have your new camera costing anywhere from $100 – $4,000.
Because Mirrorless cameras are smaller and require fewer parts, they are inherently cheaper than a comparable DSLR. Check the cheapest 4K camera for filmmaking if you're looking for something only good at recording video.
Winner: Mirrorless.
Mirrorless vs. DSLR Pros And Cons
Mirrorless Camera
Let's dive into mirrorless technology's good and bad sides to help in your buying decision.
Benefits Of a Mirrorless Camera:
Tiny & compact.
Lightweight.
Quieter shutter noise, no mirror system.
Less flicker or shake issues.
High-quality video modes.
Unlike DSLR, using the electronic viewfinder is possible in video mode.
Drawbacks Of a Mirrorless Camera:
Short battery life, smaller batteries.
Maybe a bit too small for larger hands.
Lens selection is limited in comparison.
DSLR Camera
There are tons of DSLR models, ranging from entry-level to ultra-professional, but each type exhibits the same list of positives and negatives.
Benefits Of a DSLR Camera:
Long-lasting battery life.
Vast lens selection.
The autofocus is pretty fast.
Great in both bright and low light conditions.
Easy to change controls.
Rock-solid body to use in any weather.
Drawbacks Of a DSLR Camera:
Fairly large and heavy.
Expensive price tag.
Need daily maintenance.
Favorite Cameras
Buy on Amazon

We earn a commission if you make a purchase, at no additional cost to you.

09/22/2023 12:10 pm GMT

Key Features:

Resolution: 24.3MP
Aperture: F/3.5-5.6
Frame Rate: 60fps at 1080p
Lens: 0.21x zoom
Native ISO: 100-25600

Pros:

Good and quick autofocus.

Built-in EVF.

Great for Vlogging.

Cons:

Poor performance and handling with larger lenses.

No 4K video recording.

Poor image quality at the highest ISO level.

Buy on Amazon

We earn a commission if you make a purchase, at no additional cost to you.

Key Features:

Resolution: 24.1MP
Aperture: F/3.5-5.6
Frame Rate: 30fps at 1080p
Lens: 4x zoom
Native ISO: 100-6400

Pros:

RAW file support

Wi-Fi connectivity.

Sharp LCD screen.

Shooting guide on the screen, which is very helpful for beginners.

Cons:

Lack of fast continuous shooting.

Fixed display.

No 4K video recording capability.

Buy on Amazon

We earn a commission if you make a purchase, at no additional cost to you.

09/22/2023 09:29 am GMT

Buy on Amazon

We earn a commission if you make a purchase, at no additional cost to you.

09/22/2023 08:50 am GMT

Key Features:

Resolution: 27MP
Video: 5.3K 60fps
Native ISO: 100-6400

Pros:

Convenient front and rear displays.

Excellent image stabilization.

Stable wireless connection to the phone.

Cons:

Input can feel a bit slow.

The touchscreen can be non-responsive.

Costly accessories.

Buy Now

We earn a commission if you make a purchase, at no additional cost to you.

09/22/2023 10:25 am GMT
Final Thoughts
Over the last few years, mirrorless cameras have developed leaps and bounds. Making them a worthy contender when considering a new camera to replace our trusty DSLR. But DSLRs still have their place and should be worth a look too.
Creating a YouTube channel as a primary source of income is easier than ever, but you need something reliable and high-quality so that your channel stands a chance. And we're looking for a camera that can be great for many things, one of those tasks being video recording. Which is why we set out to answer this simple question: Is Mirrorless or DSLR better for filmmaking?
We have a clear winner: Mirrorless Cameras are better for filmmaking.
There are drawbacks to both types of cameras, to be sure, and only you can decide if one of those downsides is a deal breaker.
Related Posts: