We all have that friend who's never seen without a camera in hand, snapping away at every moment. They're the ones who always seem to capture the perfect shot, even if it means contorting their body into a pretzel or climbing a tree to get the right angle.
But finding the perfect gift for these photography wizards can be a bit of a challenge. You don't want to break the bank, but you also don't want to give them something that's going to end up collecting dust in the corner.
To help you decide on the perfect gift, we've put together a list of some cheap gifts for photographers that'll make their day!
What are the Best Cheap Gifts for Photographers?
Shopping for someone who loves photography can be tough, but we are here to provide some great options for any camera lover. Below, we take a look at the FUSTMW Camera Keychain, the GARRULAX USB Flash Drive, and the eye-popping Chasing Y Camera Lens Coffee Mug!
FUSTMW Photographer Gift Camera Keychain
Pros:
Stylish and eye-catching design

Durable construction with chip-resistant coating

Lightweight and easy to carry around

Available in three colors
Cons:
May not be suitable for people who prefer a more discreet look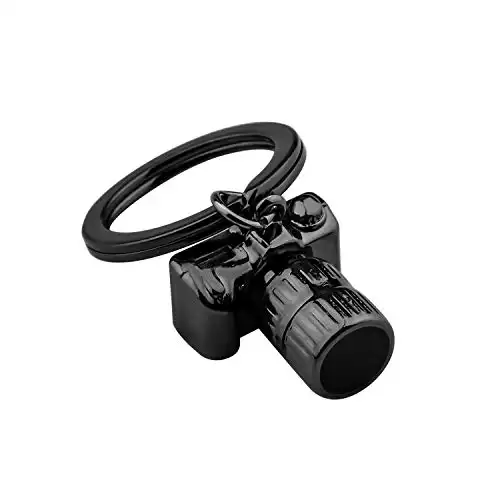 We earn a commission if you make a purchase, at no additional cost to you.
The FUSTMW Camera Keychain offers a delightful blend of style and functionality. This meticulously crafted keychain features a stunning 3D camera pendant and has stainless steel construction to withstand the test of time.
The camera pendant is the perfect size to be easily noticeable while maintaining a lightweight feel. This keychain has ample space to hold multiple keys with ease. Plus, it has a snap closure that makes it easy to remove or add keys as needed.
This keychain comes beautifully packaged in a beautiful velvet gift pouch, ready to be presented to that special someone on birthdays, holidays, or even as a thoughtful "just because" treat.
GARRULAX USB Flash Drive
Pros:
Eye-catching miniature camera design

16 GB storage capacity

Durable, waterproof construction

Wide compatibility range
Cons:
Loose holder prone to accidental drops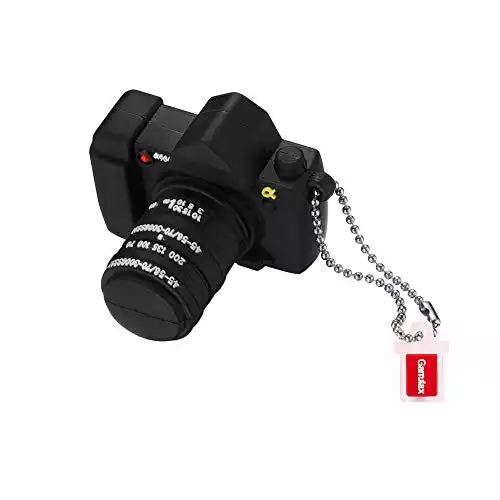 We earn a commission if you make a purchase, at no additional cost to you.
With the amount of data that photographers generate, the GARRULAX USB Flash Drive with 16 GB storage capacity can provide a safe and reliable way to store their images.
Thanks to its user-friendly plug-and-play interface, you don't have to install any additional software or drivers.
This durable flash drive is equipped with anti-vibration and anti-electromagnetic interference features, ensuring your data remains safe and secure during everyday use.
Chasing Y Camera Lens Coffee Mug
Pros:
Unique camera lens design

Extra stable construction

Vacuum insulated for temperature control

Leak-proof lid to prevent spills and messes
Cons:
The lid may wear over time
We earn a commission if you make a purchase, at no additional cost to you.
Whether your special someone is a professional photographer, an avid hobbyist, or simply a fan of unique and eye-catching accessories, the Chasing Y Camera Lens Coffee Mug makes a thoughtful gift. This innovative coffee mug mimics the appearance of a professional camera lens, combining style and functionality for a one-of-a-kind drinking experience.
Crafted from high-quality stainless steel, this camera lens coffee mug is vacuum-insulated to keep beverages piping hot or refreshingly cold for extended periods. It even has an upgraded leak-proof lid.
It also doubles as a nifty pen holder or can be used to hold loose change or store small items, such as paper clips or thumbtacks.
Buying Guide: Other Gifts for Your Favorite Shutterbug
Following are some thoughtful gifts you can give to a shutterbug:
Memory Cards
A memory card is a photographer's best friend, as it serves as the storage for all their precious shots. While professional photographers may opt for high-capacity cards, there are affordable options that still deliver reliable performance.
When choosing a memory card, consider the photographer's shooting habits. For casual shooters, a 32GB or 64GB card provides ample space. However, for high-resolution images or 4K video, a 128GB or higher card might be necessary.
Flexible Tripod Stand
A flexible tripod stand is a great gift for photographers who like to take photos in unusual locations. These mini tripod stands can be wrapped around tree branches, railings, or other objects to provide a stable base for the camera. Look for a stand with a high weight capacity and flexible legs that can be positioned in a variety of ways.
Reflectors
Reflectors are a must-have for portrait photographers. They can be used to bounce light onto a subject's face, creating a flattering and natural-looking effect. When buying a reflector, look for a reflector with a silver and gold side, as well as a white side for more subtle lighting effects.
Camera Straps
A comfortable camera strap is essential for photographers who spend a lot of time on their feet. Look for a strap with a wide, padded shoulder pad and a non-slip surface. Some straps even come with pockets for memory cards or other small accessories.
Lens Cleaning Kit
A lens cleaning kit can be a great gift for photographers who are always on the go. As the name implies, it allows you to keep your lenses clear, allowing you to capture sharp and clear photos. Look for a kit that includes a cleaning solution, a microfiber cleaning cloth, and a brush for removing dust and debris.
Lens Cap
A lens cap is a simple but essential accessory for any camera lens. It protects the lens from scratches, dust, and other debris. Before buying a lens cap, ask your friend about the type of lens they use and choose one that fits snugly.
Camera Bag
A camera bag is more than just a storage solution; it's an essential accessory that protects gear and keeps it organized. Consider the photographer's gear and personal style when choosing a bag. A compact bag may suffice for a mirrorless camera, while a larger bag is necessary for DSLRs with multiple lenses. If your budget allows, look for one with additional pockets for accessories like batteries, memory cards, and lens filters.
What to Look for Before Buying Budget-Friendly Gifts for Photographers
To ensure your gift is well-received and useful, it's essential to keep the following factors in mind:
Personal Interest
Understanding the photographer's personal interests and style will help you select a gift that resonates with them. Are they passionate about landscape or portrait photography? Are they wildlife photographers, or do they like to capture street shots? Do they use digital, instant, polaroid, or vintage cameras?
Once you get an idea about their preferred photography genres and techniques, it'll be easy for you to find a gift that complements their unique approach and enhances their shooting experience.
Practicality
A practical gift will be appreciated by any photographer, regardless of their skill level. Consider gifts that can improve their photography experiences, such as useful accessories, equipment upgrades, or items that help maintain and protect their gear. Examples include lens cleaning kits, lens cap holders, film strips, tripods, or even photography books and workshops for those looking to improve their skills.
Quality
While budget-friendly gifts may not always be top-of-the-line, it's still important to ensure that the chosen gift is of decent quality. A quality gift will not only be more durable, but it will also contribute positively to the photographer's work.
Before buying any product, whether it's a camera bag or a flash drive, evaluate different brands and read reviews from other photographers. This simple method will help you identify products that offer a good balance between affordability and performance.
Compatibility
Compatibility is a crucial factor to consider, especially when purchasing accessories or equipment. Always check whether the chosen gift is compatible with the recipient's camera model and photography gear. If you're unsure about compatibility, opt for universal gifts like camera straps or even gift cards to reputable camera stores.
Final Words
Photography is a passion that requires significant investments in equipment and accessories. However, when it comes to gift-giving, there are plenty of cheap gifts for photographers that'll show your appreciation for their craft without being too heavy on your wallet.
If you're not sure what to get, a gift card to a photography store or website is always a safe bet. This way, they can choose the specific accessory or item they need for their photography journey!