Most people taking pictures today use digital filters that are designed to make any photograph look fun. But what about the joy of taking an authentic picture without the use of computerized filters?
The more work you do upfront in getting the perfect shot means less time editing afterward. And it all starts with the camera lens. Beginners might feel daunted by the overwhelming number of camera lenses on the market, while experts could always use a refresher to invest in their craft and keep current with the latest equipment.
We'll explore the types of camera lens filters available as well as the three best lens filter kits for beginners who want magazine-worthy photos.
What Should You Look for When Comparing Types of Camera Lens Filters?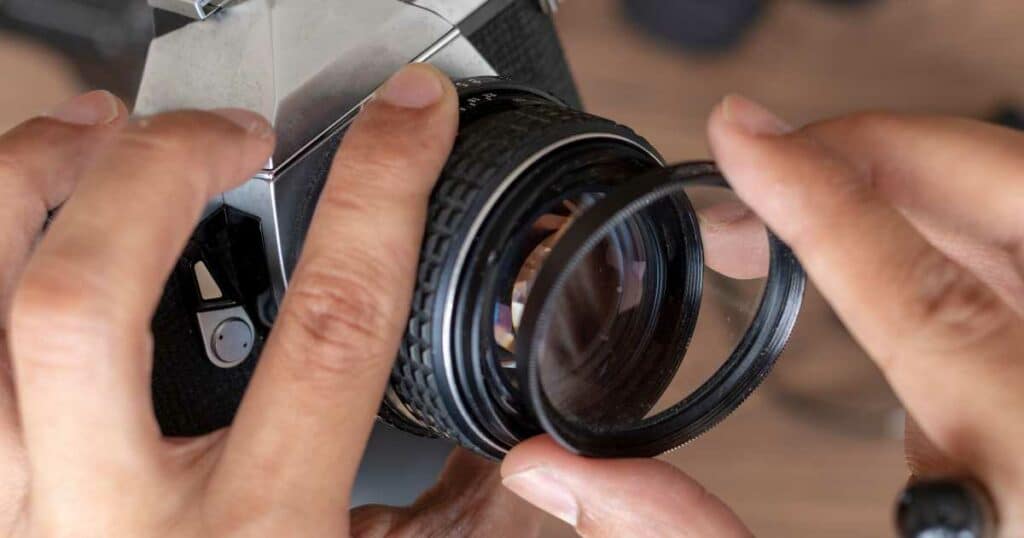 Shopping for a camera lens filter can be overwhelming. With so many variables at play, what should you even look for? We think you should focus on price, lens type, size, and quality before making your decision. Let's dive into the things you'll want to keep in mind when you purchase your lens filter before we look at the best products.
Price
Photography can be a very expensive hobby so you should evaluate the price-to-value ratio of every accessory. Some lenses are ridiculously expensive, but the results they provide are often on-par or just slightly better than their cheaper brethren.
On the flip side, if we buy cheap filters, the image quality suffers drastically to the point that the filter only makes the image worse. Finding the sweet spot where price meets quality can be a challenge.
Certain filters are crafted specifically for the conditions they'll be used in, which can be reflected in their price tag. For example, if you want to do landscape photography in areas with damp climates, you'll want a Kaeseman filter.
These expensive lens filters one up the standard polarizing filters because of their extra weather-proofing seals. Most new photographers wouldn't need such an expensive filter for their work.
Unless you're absolutely sure that the extra features in a lens filter are necessary, standard filters are acceptable.
The Different Types of Camera Lens Filters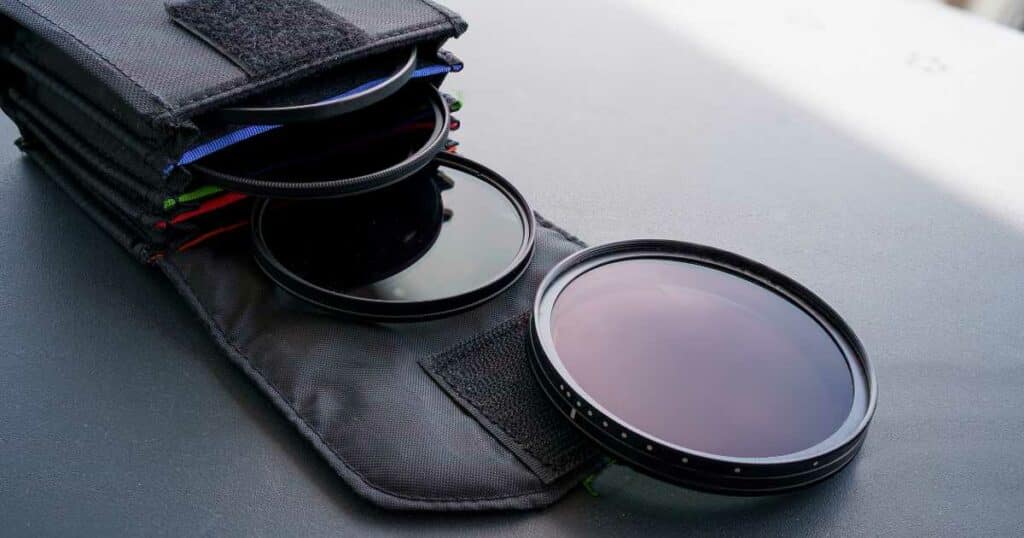 There are various types of lens filters on the market, each with a unique image effect. Let's explore each one.
UV Filter
A UV filter for your camera lens protects the glass from UV light. This is the most common type of filter and every photographer should have one.
Polarizing Filter
These are also a photographer's best friend. Circular polarizer filters can reduce glare and reflections and enhance the saturation of your image.
Neutral Density Filter
Neutral Density filters appear gray in color. They act like sunglasses by blocking all wavelengths of bright light without changing color.
They're perfect for long exposure times which use slower shutter speeds and wider lens apertures. The resulting pictures will have a classical motion blur effect which makes these filters perfect for landscape photography.
Color Filter
A lot of people think color filters are only good at blocking a certain type of visible light from entering a camera. For example, it's easy to think using a green color filter will make the resulting picture look green.
However, color filters are great for black and white photography since they can be used to get more accurate white balances in monotone images.
Other Filters
The expansive world of filters includes uncommon filters that only the very niche photographers would use. These include close-up filters, skylight filters, diffusion filters, infrared filters, and filters for special effects.
Size Measurement
Filters commonly come in various sizes ranging from 58mm to 77mm. Before you buy a filter, make sure it fits your lens. You'll easily find a measurement on the lens indicating the filter size it can use, indicated by this symbol: ⍉.
If you have more than one lens, buy a filter size that goes with the largest lens in your inventory. You can always use step-up rings to make the larger filter compatible with your other lenses.
Lens Quality
Camera lens filters are made from glass, but the quality can vary drastically. A good rule of thumb is the thinner the glass, the better images it'll produce.
Various factors can impact the quality of the filter as well. Better quality lenses often have a coating applied on them to minimize flare. These lenses will more often maintain better color and contrast levels. Cheaper filters will often ruin the image quality more than you'd think.
Compare the price-to-value ratio of a lens filter before you buy it. If you're going to be using a certain lens often, it's smarter to go with the more expensive filter so you know you'll be getting consistent quality. After all, it could be more expensive in the long run to keep buying new cheaper lens filters as opposed to splurging on a higher-quality filter up front.
3 Best Lens Filter Kits for Beginners
You're in the right place if you're just starting out and aren't sure which type of filters to purchase. There are a lot of great products out there, but here are the top three lens filter kits we feel would be a great addition to your camera bag.
K&F Concept 43mm UV/CPL/ND Lens Filter
Pros:
The 18-layer coating allows the glass to be waterproof and heat resistant.

With the included pouch and microfiber cloth, you can carry your lenses anywhere, and easily clean them if they get dirty.

The kit provides great value by including all the necessary lens filters for most photographers.
Cons:
The filters can sometimes be hard to remove from the lens.

The included ND filter is quite weak.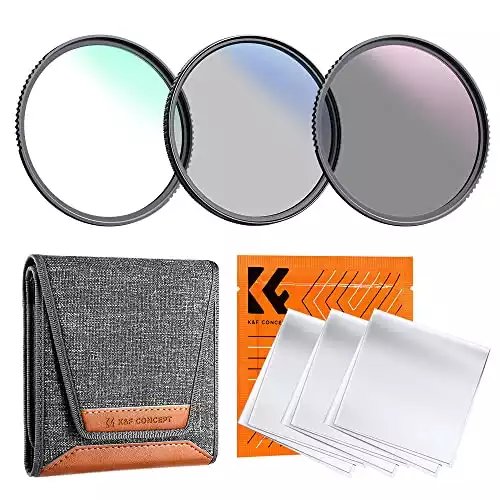 We earn a commission if you make a purchase, at no additional cost to you.
This lens filter package contains all the common filters a photographer would require. It comes with a UV filter to help with outdoor shots. The CPL circular polarizer filter will allow you to take perfect daytime images without any glare. And with the ND filter, you can use a wider lens aperture and slower shutter speed shots to create natural-looking motion blur effects in your image.
The 18 layers of nanometer coatings ensure that your images don't get any haze, reflection, or glare. It also includes an anti-static microfiber cloth to clean your lenses and a filter pouch that can fit all three filters for easy carrying.
NEEWER 58mm ND2 ND4 ND8 UV CPL FLD Lens Filter
Pros:
The price-to-value ratio of this kit is superb. This kit should be enough for any new photographer.

The two different types of lens hoods and two filter holder pouches are a bonus.

Unlike the K&F filter kit, the Neutral Density filters in this kit work very well.
Cons:
The filters only fit 58mm lenses.

They don't have any protective coating on them and can get smudgy easily.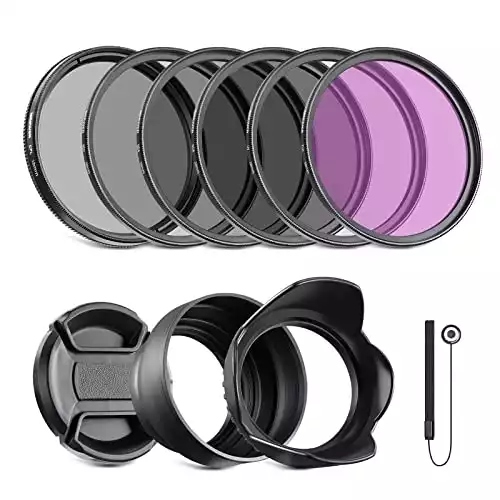 We earn a commission if you make a purchase, at no additional cost to you.
This lens filter set gives the best value for money, containing six different lens filters. Apart from the three types of ND filters, it also contains a UV, polarizing, and a fluorescent FLD filter.
All six filters are compatible with 58mm lenses only. You also get additional accessories with the package, including two filter pouches, a 58mm Tulip lens hood, a 58mm rubber lens hood, and a snap-on lens cap. It also has a microfiber cloth.
58MM Lens Filter Kit by Altura Photo
Pros:
The kit is very reasonably priced.

The filters offer superb quality.
Cons:
The included filter case can be a bit too thick, making it difficult to put inside a camera bag.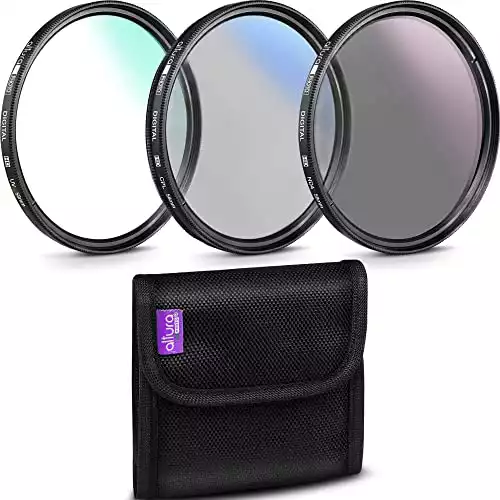 We earn a commission if you make a purchase, at no additional cost to you.
Last but not least is a filter kit by Altura Photo that has three filters and a travel pouch.
The best thing about this kit is its affordability for overall quality. Plus, if you don't want any extra ND filters or an FLD filter, this is the perfect option.
Conclusion
Whether you want motion blur in your photos by using long exposure shots with slow shutter speed and larger aperture, or landscape photographs that don't have any glare, lens filters make all the difference. There are many types of camera lens filters available, so choosing wisely can save you a lot of time and effort up front.