That circular thing right in front of the camera is the lens hood. But what does it do? It creates a shadow so that light flares cannot ruin your photo!
In easier terms, the lens hood hoods up the camera, reduces flare making the picture crisper and sharper. And throughout the process, it ends up protecting your lens too!
If you are still not convinced that you should buy it, let us help you out! What is the purpose of a lens hood that makes it desired by the users- do you want to know?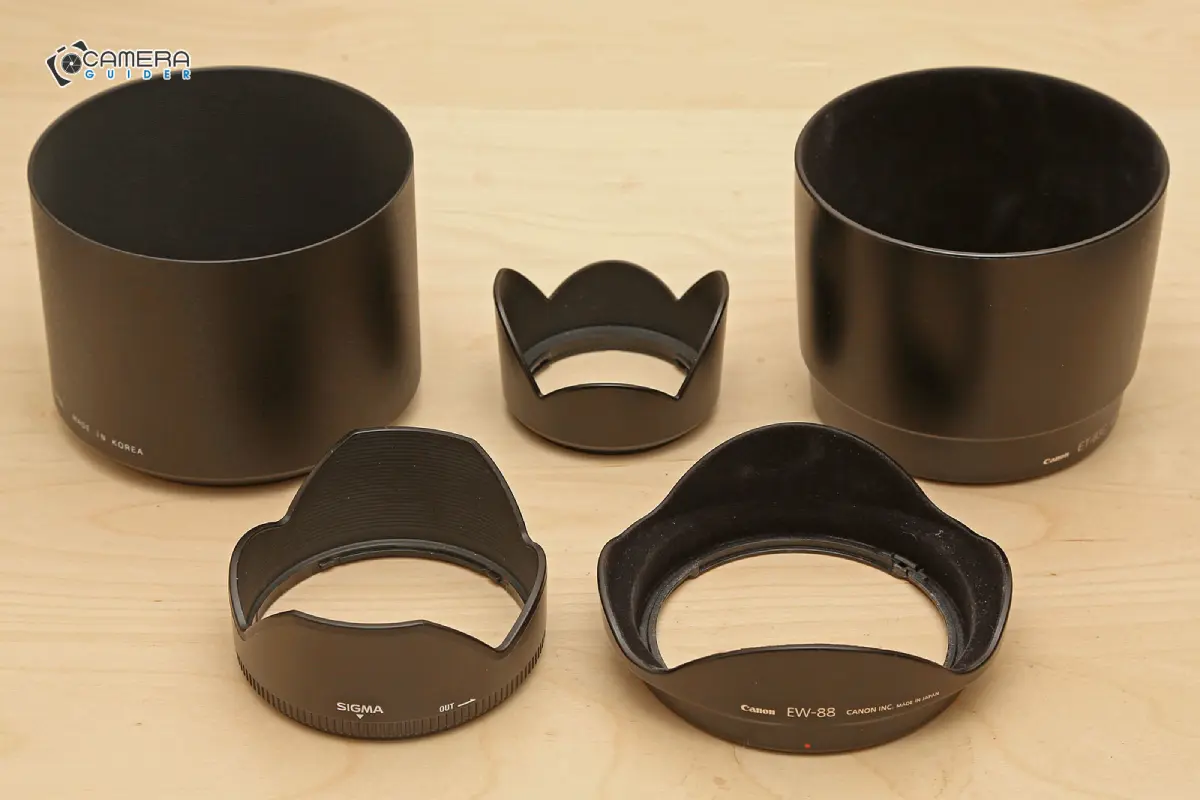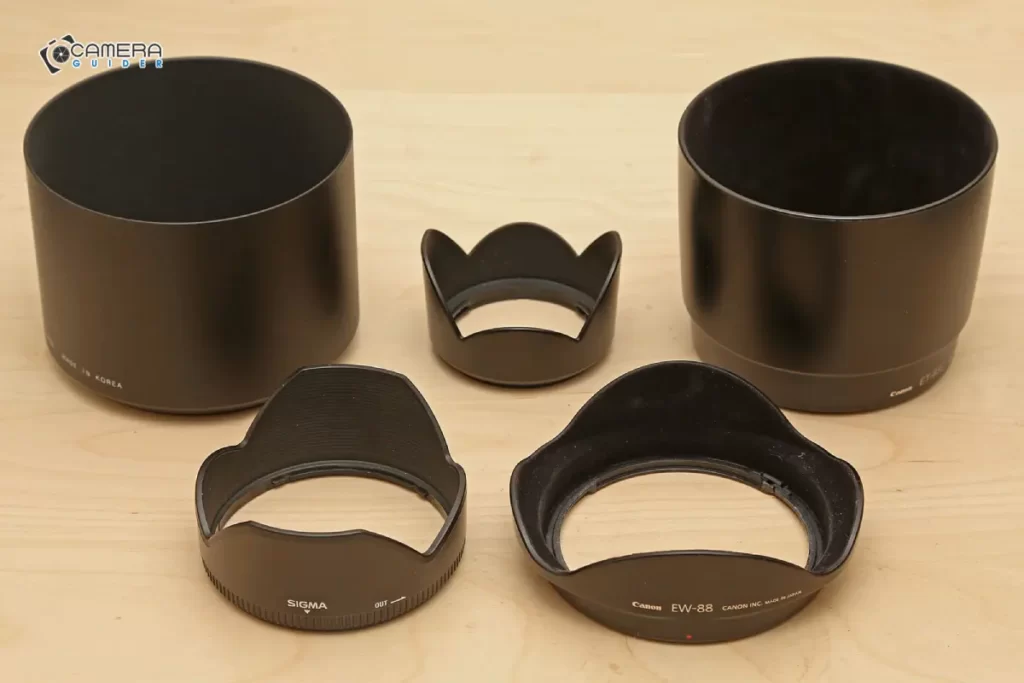 Purpose of Using a Lens Hood – Explained
Some will tell you lens hood isn't necessary. Well, this isn't something compulsory but if you want to be unforgettable as Nick Nichols, you won't mind getting a shot on a lens hood.
Apart from this, we think using a lens hood is necessary. What is the purpose of a lens hood on camera and why should we use it- you can know every detail here!
1. Prevents Lens Flare
While taking photos, your lens will flare. And this will result in strong glares. It will hit the lens and eventually, your view will be blocked. Flare and glare are the scattered light. They will hit the lens from outside the frame at an angle that will make it hard for you to see.
Have you ever stepped into the bright light right after you woke up? Yes, the situation is the same! After you take the photos in this condition, if you check them out, you will see that they are washed out! Yes, glares and flares will wash out your photos.
In the worst-case scenario, you will see it has produced discoloration too! Flare and glare affect your picture. Yes, we agree that flares can be interesting if you can use them right. But it can distract the viewers of the photo.
When the flare and glare cover the subject of your photo, it doesn't look good. In some cases, flare can cover most of your scene! You can stop it with a good-grade lens hood. Whenever you are tangled in the unclear view, a lens hood can be the solution.
And thus, you can get the perfect photo just like your imagination! Most people keep asking what the difference between a photo taken with a lens hood and the one that didn't have it is. Well, if you test, you will know for yourself!
Set the same exposure settings and take pictures. You will see how the picture quality is higher in the lens hood one compared to the other one. That's how you know what's best for you. But wait, you can check out to know about the best lens hood list here if you want to buy!
2. Protects the Lens
The second thing that comes in when we talk about the lens hood is the protection of your lens. But what is a lens hood used for? A hood is what a hood does! Yes, just like an umbrella protects you from the rain, a lens hood protects the lens.
So, what does it protect your lens from? When you are using the lens, there are chances of scratches. Along with this, fingerprints are harmful to your lens too. If you take your lens out when you are there to picture something, the dust and debris can ruin your lens.
We all want perfect snaps, but well, rain and snow are the biggest enemies of your lens if we discuss the weather. But here, you don't need to think twice if you have a camera lens. The additional external layer a lens hood provides will ensure the safety of the lens' outer body.
At times, we often see accidental impacts on the lens. This is when the lens hood will come into work. So, in short, we can say that the lens hood helps in adding an extra layer of defense to certify the lens is kept in good condition. Well, you might want to talk about the UV filter or the lens cap you use.
Let's tell you that they are protective too. But if you want a good-grade guard for the lens, there's no competition for a lens hood. If you live somewhere where the weather is naturally harsh, you can rely on the lens hood.
In the case of shooting in tough-to-deal climates, the lens hood will shelter the lens. As a result, the weather won't affect the lens at all! It works even when you are taking photos. Who would mind such protection!
3. Adds Contrast
For a perfect picture, the right shape of the lens hood is necessary. The shape of the hood is designed depending on the lens you are using. Don't forget to get your hands on the lens hood shapes and differences to pick up the best deal!
As we have mentioned above, the contrast will be higher when you have a lens hood added to the lens. With this equipment, stray light will not enter the lens. As a result, the vision will be clear and neat.
If you do not use a lens hood, there's a chance that the contrast will be reduced and the picture quality will be compromised. Nobody wants this to happen. The additional work of the lens hood is to afford you a clear view of the scene so that you can end up taking a balanced photo.
Is Lens Hood Necessary Every Day?
We have discussed above how a lens hood can protect your lens and make the picture just like your imagination. But is it necessary to use a lens hood for every shot?
Are lens hoods really necessary for everyday use? Can you skip using a lens hood? Let's check out when you need to use a lens hood and when it's not that important.
If the subject you are choosing is backlit, it expands the purpose of the lens hood.
At times, we use off-camera flash. Here, a lens hood is necessary. When you are going for any other bright or off-camera light source which will create lens flare- a lens hood is a must.
The shots that are planned for the night near the street lamps will require a lens hood. In the cased of the cars that have their lights switched on or the buildings where there are lights added you should get a lens hood.
When you are settling for shooting into or near a strong source of light, make sure you have the lens hood with you.
In the cases of long shoots, we might not get enough time to put on a protective lens cap. A lens hood can be a savior here!
What is the Best Lens Hoods?
You might be thinking about buying some lens hoods. Well, here's a list of a few best lens hoods available in the market now.
JJS Camera Lens Hood shade for Canon EF-M 15-45mm f/3.5-6.3 IS STM Lens is designed for minimizing flare through deflecting stay light so that it cannot enter the lens. The finish is non-glare matte for stopping reflections with the reverse attachment options for storage. It has a petal shape for increasing the hood coverage. Thus, results in no scratch, bumps, or impacts!
Designed for Canon, the Tulip Flower 55mm Lens Hood is compatible with Nikon and other 58mm camera lenses too. Though it is not for wide-angle shots, it has a professional tulip shade with a hard rubber hood. It gives a solid and lightweight feel and includes a rear locking ring for rotation. This easy-to-use screw mount hood prevents flare for both beginners and professional photographers.
Compatible with Cannon 50mm lens, the professional design allows a non-glare matte finish on the interior to limit flare. It works with a 49mm filter and 49mm lens cap too. The hood can protect the lens from impacts and accidental scratches. The bayonet mount will work with a reversed position for easy storage. The ABS-constructed hood has a lightweight body but you must check the compatibility of the hood before you buy.
Should you Use a Lens Hood for Video?
We had a thorough discussion on the purpose of the lens hood and when you should get it during shooting. But is it all about a photo? Can you use a lens hood for shooting photos?
Well, you can and you should use a lens hood for video. We say, particularly, you should get a video lens hood for videos. Why? When you are shooting a video, it's easy for the lens to catch flare. And eventually, it will ruin the whole video.
Along with this, whenever you think about the protection of your lens hood, no matter it's on the road or while shooting, a lens hood is a must!
Can you Use a Lens Filter with a Lens Hood?
Often, the users get confused between picking up a good lens filter and a lens hood. Why do you need to go for one when you can go for both of them? Yes, you can use both lens hoods and a lens filter together.
Wrap Up
No matter it's eliminating flares or just for protection, if you have spare money, invest in a lens hood. We agree that lens hood isn't necessary but it is always better to be safe than sorry, right? Compared to ND lens filters, on the road, a lens hood is going to provide you with the best safety.