Midnight Rebel
2010 Chevy Camaro – Composite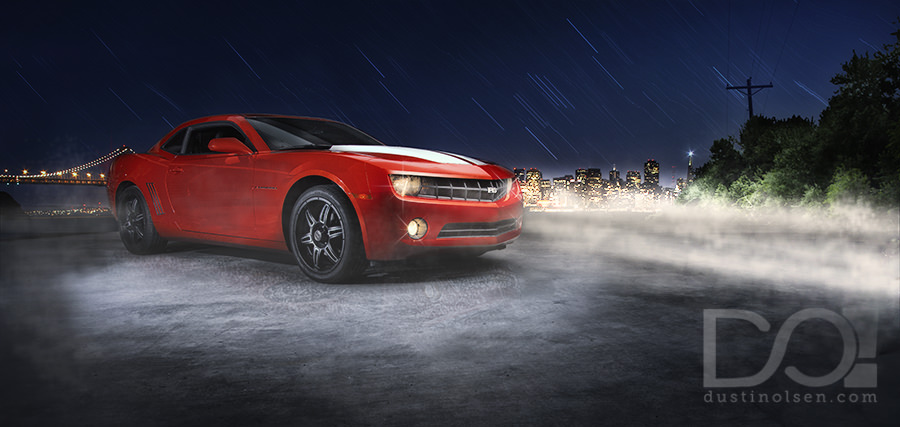 The editing of the final product included a lot of lighting adjustments to focus your eye on the car and then to the environment. The different things that were added after the fact were: The Fog, The light beams, and the Ground Lighting.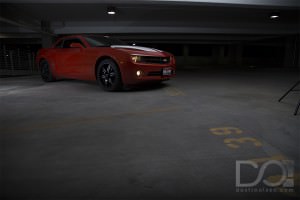 The Camaro
I photographed the car inside of a parking garage. I was going for a completely different series of photos that you can see here: 2010 Chevy Camaro.
But after looking at them for a while, I got the idea of doing a composite and placing the car somewhere else with ambient effects around it. I didn't do much editing to this photo until the final image started to take shape.
San Francisco
This is a wide-angle shot take of the San Francisco bay from Treasure Island.
I ultimately picked this photo because it blended well with the dark, dramatic, lighting of the car. Again, not much editing to really do on a photo like this. The biggest challenge I had was getting the perspective right with the horizon so the city looked more like it belong in the distance as opposed to floating or sinking and looking out of place.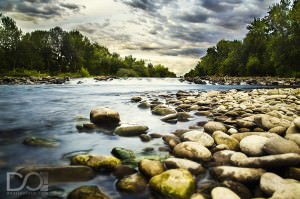 Boise River
I used this element to add depth to the photo. The car is in the foreground, the city is apart of the background, but that's it. Using the trees from this photo helped add some middle ground and lead the eye through the photo.
This photo was already edited, the most I had to do with the editing of it was to adjust the lighting to match the tone and feel of the final product.
Star Trails – SKY
This photo is the sky. It looks like rain when you first look at it, but it's star trails in the sky. I also used the Telephone poll as an extra element to provide interest and the sense of depth.
However, I did have to clone and recreate several the star trails in the final product because I simply needed more to fill the entire sky.