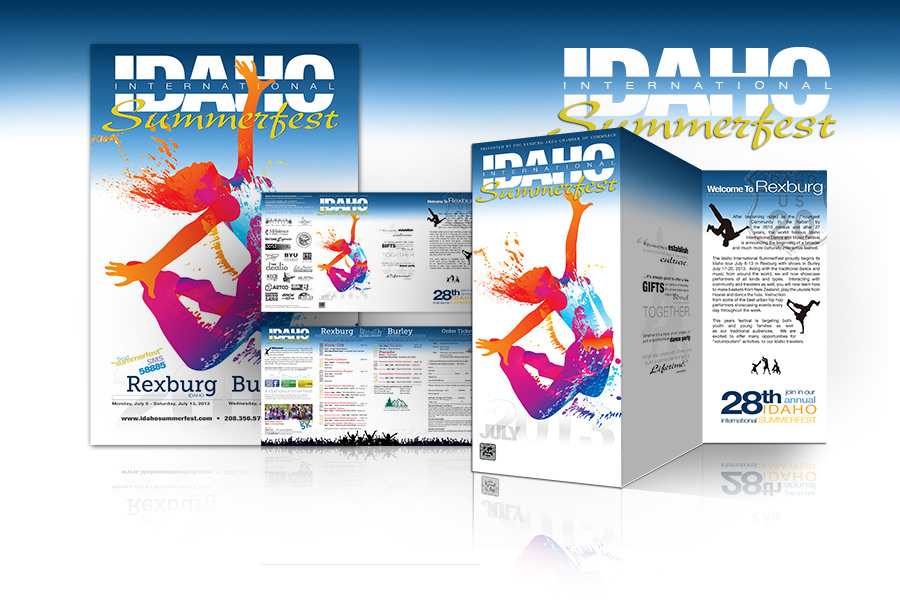 In 2013, there was a complete overhaul of the "Dance & Music Festival." The committee decided they wanted to market more towards the college student population in Rexburg and increase community participation at the different events.
The festival is now called The Idaho Summerfest and such a change required a completely different feel and look. A younger look. I worked hard to make everything look trendy and bright to encourage the fun and excitement that comes from attending the different events.
In 2014, I was told they wanted to keep the same design for brand recognition with the younger demographic. All I did for this year was update relevant information for the year and that's it.
The challenge I had in 2011 and 2012 carried over more than ever for the new Summerfest program. With a whole new slew of events, sponsors, and design – finding space felt nearly impossible! There was an email I sent to the Executive Director stating that we did not have much room for anything else. That we might need to consider directing anyone with more questions or needing more information go to the website. The website now plays a larger roll in the whole scheme of things for the Summerfest.